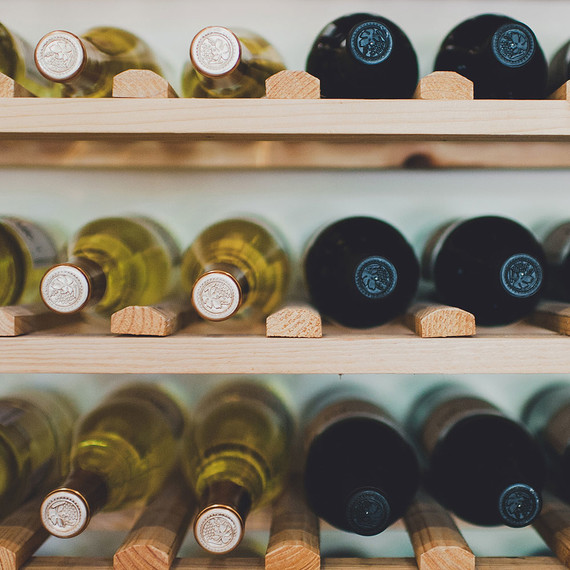 Wine is one of the most popular drinks in the world, but many people find the subject itself a little intimidating. Jancis Robinson, a four-time James Beard award-winning wine writer, aims to change that with her new book, "The 24-Hour Wine Expert." Her goal is to help you learn the essentials of wine as easily and quickly as possible. She condenses all of the knowledge she's accumulated over 40 years as a wine critic into a compact, beginner-friendly crash course on wine. It includes everything from how to store wine and how to pair it with food to a cheat sheet on grape varieties and wine regions and her advice on choosing a bottle below. Sounds like required reading to us!
1. Steer clear of light and heat exposure
Avoid bottles that have been stored close to strong light (you don't want one from the shop window) or heat sources. This can rob a wine of its fruit and freshness.
2. Location, location, location
Look specifically for wines bottled as close as possible to where the grapes were grown. All European and most international wine labels have to state the address, or at least the post code, of the bottler, if it was not the same person as the producer. American wine labels must state the city and state of the bottler. Be wary of, say, a New Zealand wine that was bottled in the United Kingdom. An increasing proportion of wine is shipped around the world in bulk, which may be ecologically sensible for inexpensive wine, but really serious wine producers will insist on bottling their wines themselves. Look for "Mis en bouteille au domaine/château" on French wine labels.
3. The cork matters
If the wine is stoppered with a natural cork, choose one that has been stored horizontally, which keeps the cork damp and oxygen out.
4. Inspect the neck
Check the fill level in the neck. You don't want a space of more than an inch or so above the surface of the wine in an upright bottle, as this would be a sign of too much harmful oxygen in contact with the wine.
5. Remember the Rule of Five
For fine wines it can be extremely difficult to remember exactly which year is best in which region. A useful shortcut may be my Rule of Five: all vintages since 1985 divisible by five (ending in 5 or 0) have been pretty good.
6. Decode the back labels
Be wary of back labels that are too specific in their flavor descriptors and recommended food matches. It could suggest an excess of marketing gloss. Personally, I prefer details of how the wine was made.
7. Consult the experts
Take your smartphone so that you can check the ratings and opinions of critics and other wine enthusiasts.
8. Don't be afraid to ask
Head for independent wine retailers and ask for advice. If they give you bad advice, try another one until you are happy.
9. Younger is sometimes better
For inexpensive white and especially pink wines, choose the youngest vintage available.
10. Check why it's on sale
If a bottle is on special offer, ask why. Sometimes it is because the wine is in bad condition or is too old.
Reprinted from "The 24-Hour Wine Expert." Copyright © 2016 by Jancis Robinson. Published by Abrams Image, an imprint of ABRAMS.