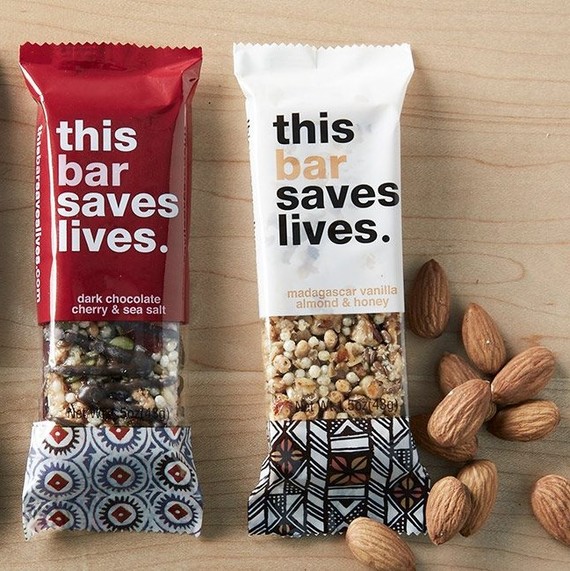 The "buy one, give one" business model isn't just for the fashion world (looking at you, TOMS and Warby Parker). Granola bar company This Bar Saves Lives has their own take on it -- for every bar purchased, a life-saving packet of food is sent to a child in need. The bars themselves only use non-GMO, organic, and fair-trade ingredients. The food aid includes Plumpy'Nut, a nutrient-packed paste made from peanuts, milk powder, sugar, and vegetable oils that helps kids suffering from malnutrition in war- or disaster-torn regions. It's shelf-stable and requires zero cooking or prep.
This Bar Saves Lives was founded by four actors (defying the stereotype of actors launching second careers as musicians or directors!) -- Kristen Bell, Ryan Devlin, Todd Grinnell, and Ravi Patel. They witnessed the impact of Plumpy'Nut firsthand on a trip to Liberia and wanted to find a way to contribute. They started This Bar Saves Lives in 2013 and have distributed more than 1 million meal packets around the world since.
That number is about to get a lot bigger. This week on "The Ellen Degeneres Show," Bell announced the launch of the 10,000 Meal Challenge, a partnership between This Bar Saves Lives and Thrive Market, an online grocery store that's all about organic products. For every box of snack bars that's given away, a packet of food will be donated to a child in need. The goal is to provide meals to 10,000 kids. All you have to do is sign up for a free 4-pack of bars at Thrive Market (and pay the shipping). Healthy snacks that are delivered right to your door AND do a little good in the world? Talk about a win-win.