Keeping your family organized can be tough, but with these super-organized and efficient mudroom ideas, your high traffic area just might become your favorite room in your home. Make the most out of your mudroom or entryway and get inspired to create your own functional room by incorporating extra storage space, hooks, bins, and benches.
Take a look at these inspiring mudroom ideas to transform one of your most important rooms into an organized paradise.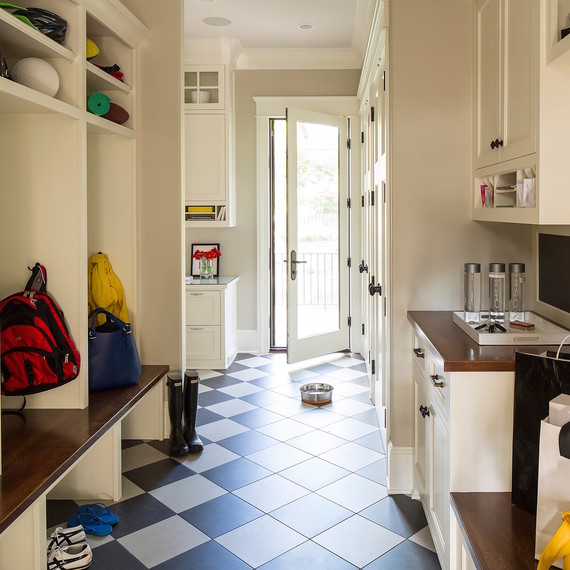 1. Room for it all
Make room for everything from sports gear to backpacks by utilizing every space in your mudroom. This mudroom and entryway located in the back of the house focuses on accessibility and convenience with plenty of cubbies, closets, and even extra storage underneath for shoes.
Image Credit: Martha O'Hara Interiors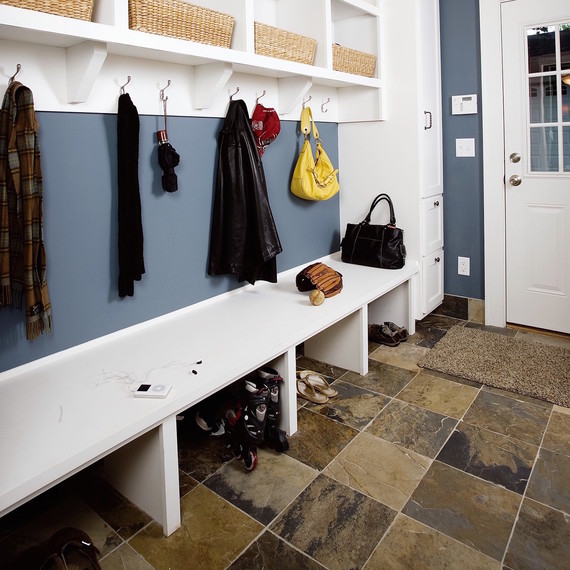 2. Extra hooks
When working with a small mudroom or entryway, you can never have too many hooks. This tidy mudroom uses every inch of space by doubling up on wall racks to hang coats, purses and more.
Image Credit: Anna Berglin Design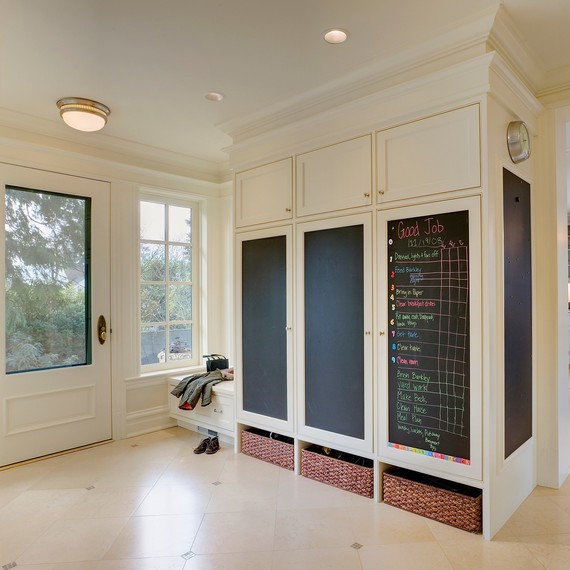 3. Chalkboard closets
Closets are the perfect way to keep clutter at bay without investing in a full storage system for your mudroom. These closets dressed up with chalk paint provide a fun and effective way to store items and create lists, chore charts or coloring space for kids.
Image Credit: Colleen Knowles Interior Design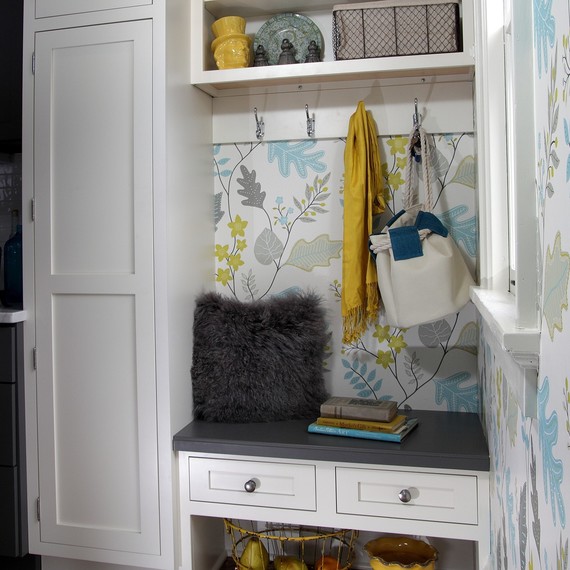 4. A decorative touch
If you don't need space for sports equipment or extra coats but are still looking to clean up your mudroom, try adding decorative touches to create a functional and pretty room. Polish off your small mudroom by decorating it with colorful wallpaper and bright accents for an inviting place to welcome you home each day.
Image Credit: Advantage Remodel LLC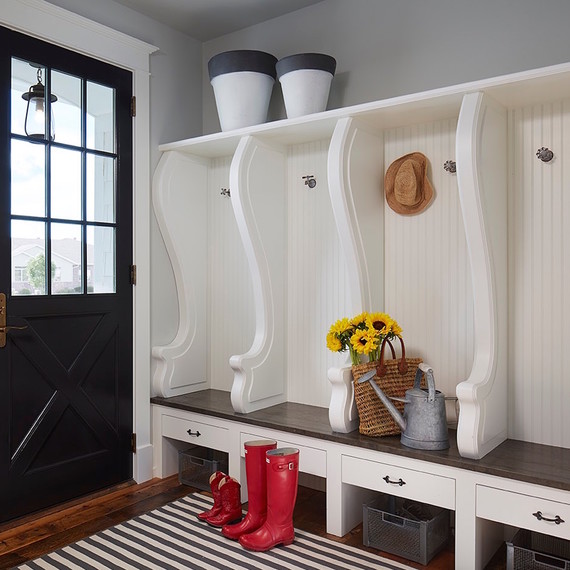 5. Kid drop zones
If keeping your mudroom organized with kids is your biggest challenge, create a family-friendly mudroom by designating personal drop zones for each member of your family. Having specific areas for each child will help keep clutter in order while also making sure every permission slip, jersey, and textbook won't go missing.
Image Credit: Martha O'Hara Interiors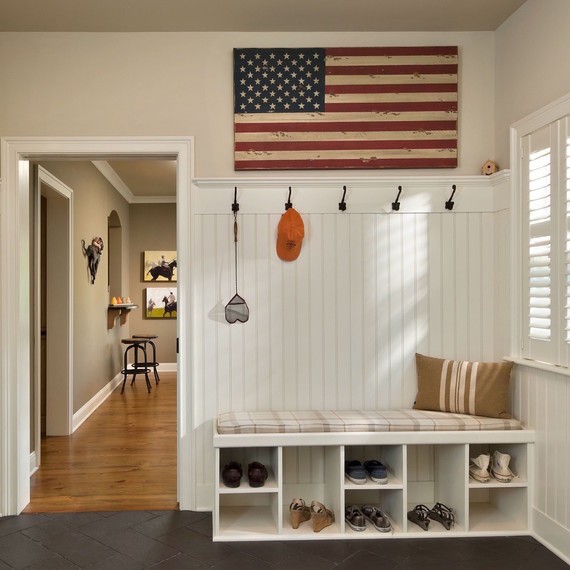 6. Bench seating
Whether you add a small bench or go big with built-in seating, a plain entryway or mudroom can be converted into a functional space by incorporating additional places to sit. A seat for guests to remove their shoes or a place to set down books and knickknacks, benches are an easy way to update your mudroom.
Image Credit: Witt Construction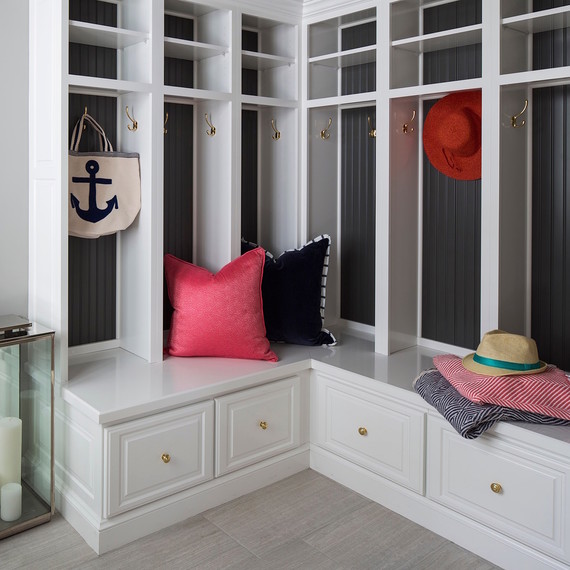 7. Storage solutions
When it comes to creating simple storage solutions for your mudroom, make room for bins and baskets in cabinets, shelves, and drawers. Creating a space for shoes, coats, umbrellas, hats, papers and keys will help arrange items and provide easy access.
Image Credit: Martha O'Hara Interiors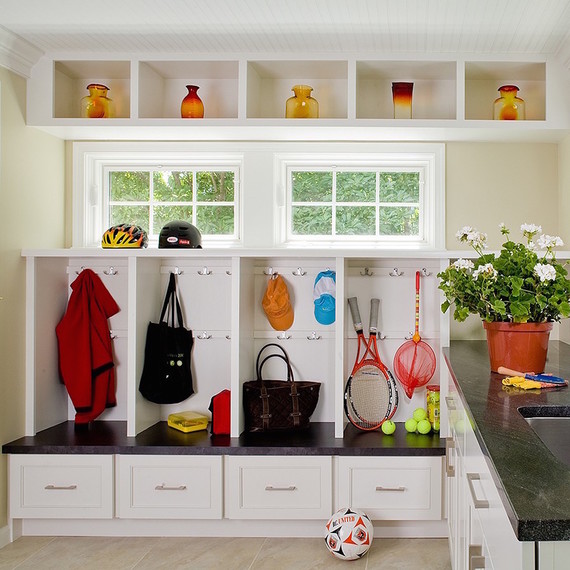 8. Sports center
A sports center storage area is the perfect solution for the sporty family! Make your mudroom fully equipped to store all sports equipment and gear with cubbies to hold clothing, drawers to store balls, hooks to hang hats, and a sink area to rinse out stains or wash dirty hands.
Image Credit: Wentworth, Inc.