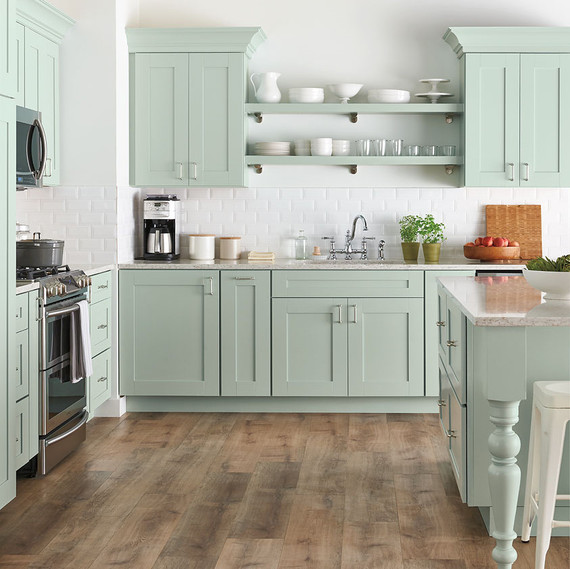 Kitchen renovations are no easy endeavor. Which is why Martha Stewart Living Cabinetry experts will be on hand at various The Home Depot locations across the country (see below for list of stores) this week to help you make your oh-so-important design choices. It's an event we're calling Ask the Experts and it's happening from September 20-22!  Stop by with any design and remodelling questions during the designated 2-hour sessions (check your local store for more information) and walk out with your dream kitchen planned!

You'll get the latest trends (like mixing materials, and going all-gray) and learn all about the new Purestyle colors (Rainwater and Brook Trout), see demonstrations of the new Purestyle kitchen solutions (like the pet-feeding center, pull-out knife block, and dry-erase insert), discover ways to personalize your kitchen, and get ideas on how to optimize storage in the most important room in the house! Side note: Purestyle is great for other rooms as well. Just check out our new bathroom cabinets!
[GET MORE: See All of Our Best Kitchen Design Ideas]
Want a beautiful kitchen that really works? This is your chance to get all the advice you need. "Every kitchen can be beautiful and functional no matter what the size. To make the most of your kitchen space, use every inch of your kitchen," say the Martha Stewart Living Cabinetry experts. And they mean it. Just check out all these nifty new features in the Martha Stewart Living cabinetry line. Who knew all this was possible!?
Be sure to visit one of the Ask an Expert events this week. Scroll through to see if we'll be stopping by The Home Depot near you!
September 20
Boca Raton Home Depot
Boynton Beach Home Depot
Casselberry Home Depot
Forest City Home Depot
Key West Home Depot
Bradenton Home Depot
East Bradenton Home Depot
Osage Beach Home Depot
Beechmont Home Depot
West Chester Home Depot
North Avenue Home Depot
Elston-Leavitt Home Depot
Cuyahoga Falls Home Depot
Canton, OH Home Depot
Hanley Rd & 40 Home Depot
Sunset Hills Home Depot
Maplewood Home Depot
Bloomington Home Depot
Olathe Home Depot
South Olathe Home Depot
Butler Home Depot
Allison Park Home Depot
Randhurst Home Depot
Palatine Home Depot
Council Bluffs Home Depot
Central Omaha Home Depot
Homer Township Home Depot
Frankfort, IL Home Depot
East Madison Home Depot
West Madison Home Depot
Pontiac Home Depot
Orion Township Home Depot
Woodhaven Home Depot
Allen Park Home Depot
Traverse City Home Depot
Bear Creek Home Depot
Steele Creek Home Depot
Greer Home Depot
Falls Church Home Depot
Springfield Home Depot
Woodstock Home Depot
Merchants Walk Home Depot
Kitty Hawk Home Depot
Celebration Station Home Depot
South Huntsville Home Depot
Madison Home Depot
Destin Home Depot
Ft. Walton Home Depot
North Knoxville Home Depot
Maryville Home Depot
Chalmette Home Depot
Slidell Home Depot
Honolulu Home Depot
Palm Springs Home Depot
La Quinta Home Depot
Rancho Cordova Home Depot
Power Inn Home Depot
Boulder Home Depot
Arvada Home Depot
Kifer Rd Home Depot
Campbell Home Depot
East Kennewick Home Depot
West Richland Home Depot
North Scottsdale Home Depot
Scottsdale-Shea Home Depot
East Portland Mall Home Depot
Jantzen Beach Home Depot
Bitterlake Home Depot
San Rafael Home Depot
Napa Home Depot
Sports Arena Home Depot
Fairmount Ave Home Depot
Hawthorne Home Depot
Lakewood, CA Home Depot
West Hills Home Depot
Thousand Oaks Home Depot
Louisville, CO Home Depot
Broomfield Home Depot
Glasgow Home Depot
Bel Air Home Depot
Rehoboth Beach Home Depot
Ocean City Home Depot
Brick Home Depot
Hazlet Home Depot
Union-Vauxhall Home Depot
Union - Rt 22 Home Depot
Mt Laurel Home Depot
Cherry Hill Home Depot
Honesdale Home Depot
Newton Home Depot
Binghamton Home Depot
Clay Home Depot
Catskill Home Depot
Harriman Home Depot
Bellport Home Depot
South Setauket Home Depot
Manhattan West 23Rd St Home Depot
Manhattan 59Th Street Home Depot
New Rochelle Home Depot
Southeast-Brewster Home Depot
Danbury Home Depot
Berlin, CT Home Depot
Saugus Home Depot
Salem, MA Home Depot
Natick Home Depot
Bellingham Home Depot
Rockland, ME Home Depot
Topsham Home Depot
Issaquah, WA Home Depot
September 21
Issaquah, WA Home Depot
Lake Park Home Depot
Jupiter Home Depot
Gainesville Home Depot
Millenia Home Depot
Oakland Park Home Depot
North Hollywood - Stirling Home Depot
East Fort Lauderdale Home Depot
Palm Harbor Home Depot
Clearwater Home Depot
Crescent Springs Home Depot
East Hamilton Home Depot
Lincoln Park Home Depot
Kimball & Addison Home Depot
North Olmsted Home Depot
Fairlawn Home Depot
Manchester Road Home Depot
South County Home Depot
St. Louis Park Home Depot
Eden Prairie Home Depot
Merriam Home Depot
North Overland Park Home Depot
North Fayette Home Depot
Collier Home Depot
Evanston Home Depot
Lincoln & McCormick Home Depot
Southwest Omaha Home Depot
South Lincoln Home Depot
Downers Grove Home Depot
Oakbrook Terrace Home Depot
Delafield Home Depot
Lake Geneva Home Depot
Troy Home Depot
Madison Heights Home Depot
Saginaw Home Depot
Fenton Home Depot
Kentwood Home Depot
White Lake Home Depot
South Charlotte Home Depot
Winston-Salem Home Depot
Leesburg Home Depot
Sterling Park Home Depot
Buckhead Home Depot
Midtown Home Depot
Cary Home Depot
Lynchburg Home Depot
Memphis In-Town Home Depot
Cordova Home Depot
Panama City Beach Home Depot
Panama City Home Depot
Bellevue Home Depot
St. Matthews Home Depot
New Orleans Centeral Home Depot
Gretna Home Depot
Maui Home Depot
Rancho Cucamonga Home Depot
South Corona Home Depot
Roseville, CA Home Depot
Auburn,CA Home Depot
Golden Home Depot
Highlands Ranch Home Depot
Bollinger Home Depot
San Jose Home Depot
Hermiston Home Depot
College Place Home Depot
Scottsdale Home Depot
Tatum & Bell Home Depot
Oregon City Home Depot
Salem, OR Home Depot
Bothell Home Depot
Colma Ii Home Depot
Daly City Home Depot
Oceanside Home Depot
Vista Home Depot
Whittier Home Depot
Glendora Home Depot
Monrovia Home Depot
Simi Valley Home Depot
Ft Collins Home Depot
Loveland Home Depot
Timonium Home Depot
Westminster, MD Home Depot
Annapolis Home Depot
South Annapolis Home Depot
West Long Branch Home Depot
Toms River Home Depot
Paramus Home Depot
Jersey City, NJ Home Depot
West Norriton Home Depot
Hilltown Home Depot
Mechanicsburg Home Depot
Carlisle Home Depot
Greece Home Depot
Henrietta Home Depot
Saratoga Springs Home Depot
Clifton Park Home Depot
Syosset Home Depot
Huntington, NY Home Depot
Bulova-Queens Home Depot
Long Island City Home Depot
Nanuet Home Depot
Mt Pleasant, NY Home Depot
Waterford Home Depot
Glastonbury Home Depot
North Conway Home Depot
Somersworth Home Depot
Watertown Home Depot
South Bay-Boston Home Depot
South Portland Home Depot
Portland Home Depot

September 22

West Palm Beach Home Depot
Royal Palm Home Depot
St. Augustine Home Depot
Jacksonville Beach Home Depot
North Miami - Biscayne Home Depot
Coconut Grove Home Depot
St. Pete Home Depot
West St. Petersburg Home Depot
Branson Home Depot
Fields-Ertel, OH Home Depot
Miamisburg Home Depot
Northlake Home Depot
Schererville Home Depot
Mentor Home Depot
Highland Heights Home Depot
Ellisville Home Depot
Chesterfield, MO Home Depot
Inver Grove Heights Home Depot
Richfield, MN Home Depot
Independence Home Depot
Liberty Home Depot
West Mifflin Home Depot
Greensburg Home Depot
Gurnee Home Depot
Glenview Home Depot
Darien Home Depot
Bolingbrook Home Depot
Grafton Home Depot
Mukwonago Home Depot
Brighton Home Depot
Livonia Home Depot
West Branch Home Depot
Portage - Kalamazoo Home Depot
Roosevelt Park Home Depot
Durham Home Depot
Hillsborough, NC Home Depot
Warrenton Home Depot
Dale City Home Depot
Wages Drive Home Depot
Cumberland Home Depot
Intown (Richmond) Home Depot
Midlothian Home Depot
Inverness Home Depot
Hoover Home Depot
Tallahassee Home Depot
Bluffton Home Depot
Westport Home Depot
Oak Ridge Home Depot
Baton Rouge Home Depot
Lafayette Home Depot
North Upland Home Depot
South Chino Home Depot
West Reno Home Depot
Reno Home Depot
Greenwood Village Home Depot
Park Meadows Home Depot
Soquel Home Depot
Seaside Home Depot
North Spokane Home Depot
East Spokane Home Depot
Cave Creek Home Depot
Thunderbird Home Depot
Tigard Home Depot
South Beaverton Home Depot
Bellevue, WA Home Depot
Redmond,WA Home Depot
Concord Home Depot
Martinez Home Depot
Mission Viejo Home Depot
Laguna Niguel Home Depot
Huntington Beach Home Depot, 19101 Magnolia St
Huntington Beach Home Depot, 7100 Warner Ave
San Luis Obispo Home Depot
Goleta Home Depot
Stapleton Home Depot
Thornton Home Depot
Christiana Home Depot
Newark, DE Home Depot
Aspen Hill Home Depot
Silver Spring Home Depot
South Brunswick Home Depot
Oxford Valley Home Depot
East Hanover Home Depot
Riverdale, NJ Home Depot
E Whiteland/Frazer, PA Home Depot
King Of Prussia Home Depot
Downingtown Home Depot
Allentown South Home Depot
Victor Home Depot
Penfield-Rochester Home Depot
Williston Home Depot
Glens Falls Home Depot
Riverhead Home Depot
Coram Home Depot
Brooklyn, NY Home Depot
Cropsey Home Depot
Norwalk Home Depot
Fairfield, CT Home Depot
North Kingstown Home Depot
Warwick Home Depot
Tilton Home Depot
Hooksett Home Depot
Middletown Home Depot
South Attleboro Home Depot
Reading,Ma Home Depot
Danvers, MA Home Depot