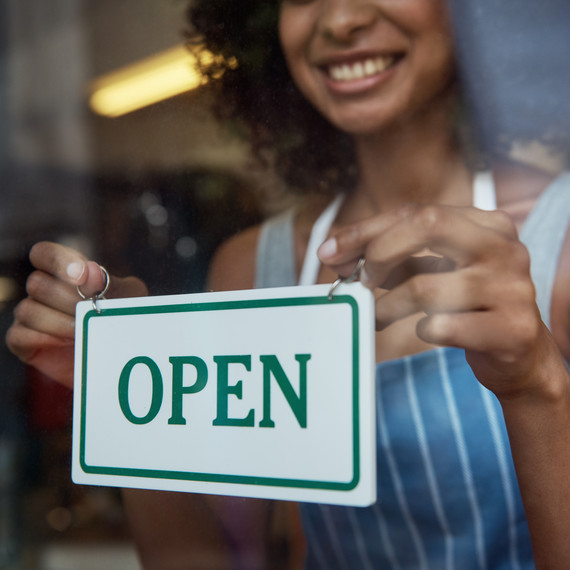 Come up with a brand story.
"Small businesses have stories," explains Jahje Ives, founder of Baby Jives Co. "We make choices that add value to our products like using only organic materials, employing local labor, or whatever you do that makes you special and different….
People want to connect with you, so let them in." Inspired to create a design shop while pregnant with her baby Jives, Ives started her company out of an extra room in her Philadelphia home, where she made mobiles between naps. Now Ives works with independent seamstresses and partners to produce her whimsical goods and sells them to smaller shops and larger brands like The Land of Nod and West Elm.

Along with a compelling brand story also comes the actual branding, which Kate Kennedy, founder and C.E.O. of Be There in Five, learned the hard way. "When I first started, I shared an unbranded, horrible quality photo of my doormats on my personal social media pages…. That photo was quickly re-pinned by several people and within a few weeks it had spread across thousands of Pinterest users. It has now been immortalized by the internet and I still see it everywhere with comments from people asking where to get it. If only the photo had branding on it then they'd know!"
[GET MORE: Tips for Starting a Business]
Kennedy's Pinterest-friendly doormats, which are sold through her Etsy shop, were born from a bad habit. After one too many mornings of feeling rushed and scatter-brained, she decided to paint "turn off your curling iron" on her doormat as a friendly reminder. The simple D.I.Y. idea turned into a booming business; Kennedy has since sold more than 6,000 mats thanks in large part to social media promotion.

Plan for growth.
Kennedy says that newbie business owners need to plan for success, not failure. "Instead of planning tentatively in case you fail, spend more time figuring out what you're going to do if it works. Have a plan for being able to take on additional volume so you can harness every opportunity that comes your way," she says. Adding, "you don't have to have all the answers or the entire infrastructure ready before it's necessary, but prepare yourself with the knowledge and resources to act quickly if the opportunity comes. You'll learn that being nimble and having the ability to embrace change is just as important as being profitable."

Ives echoes that sentiment, saying that one of the biggest oversights you can make when starting out is neglecting to develop a growth strategy. "I struggled to keep up with demand for much longer than I should have but it was a hard process for me to let go of the production of each item within my studio, which is why I think it took so long for me to finally find a manufacturer to work with," she says. Kennedy recommends finding a manufacturer who takes you seriously, despite your size, and aligns with your vision and values. "View the time it takes to hire, train, and develop quality partnerships as an investment that will pay off exponentially when you start to scale," she says.

Ask for advice -- but don't always act on it.
While you might think Google has all the answers, reaching out to industry experts (and not just the internet) can save you lots of time and bandwidth -- literally. "I wish I had sought out experienced business owners and asked more questions instead of figuring out everything myself," Kennedy says. "I'm constantly amazed that someone with experience can tell me in 15 minutes what it would take me a whole weekend and 37 browser tabs to research."
[WATCH THIS: Tips for Small Business Owners]
Although she strongly recommends asking questions, Kennedy also cautions that some advice should be taken with a grain of salt. "At the beginning, there can be a lot of opinions from your immediate reference group about what you should and shouldn't be doing." When considering this solicited (or unsolicited) feedback, Kennedy says to always keep your target customers in mind. "Are these people [who are offering advice] going to be the end users? Are they an adequate cross-section of your market? Are they a significant enough sample size that you should project their isolated opinion upon your entire idea? Probably not." So you should listen to comments, but weigh them carefully. "Don't let anyone but the customer shape what you're doing," she says. "You won't find a single entrepreneur that didn't have someone try to talk them out of it."
You just have to keep on believing and trusting yourself.
[SEE MORE: 5 Things We Learned from Starting a Business from an American Made Winner]