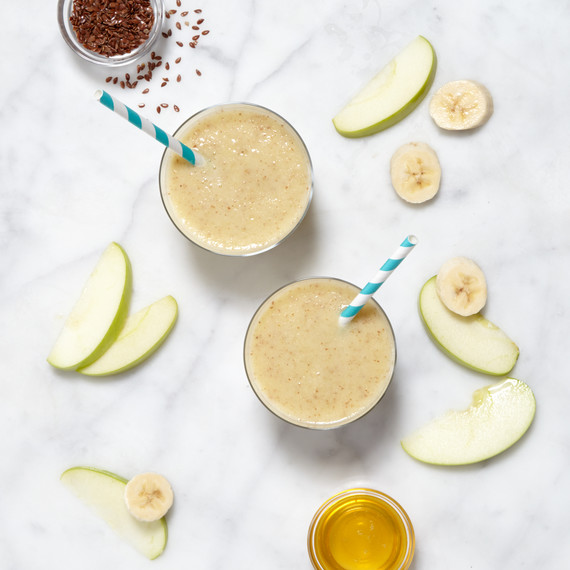 Apple Smoothie
If apples aren't part of your usual smoothie rotation, now's the time! This morning elixir pairs orange juice, banana, and a touch of honey with chopped apple for a refreshingly autumnal start to the day (or mid-afternoon pick-me-up).
Get the Apple Smoothie Recipe
Chestnut and Apple Stuffing
Sweet, tangy, and able to stand up to heat, apples are a perfect addition to this holiday-ready stuffing. Fragrant sage and crunchy cooked chestnuts add even more depth to the stuffing, which gets its heft from bite-size pieces of Italian bread. 
Get the Chestnut and Apple Stuffing Recipe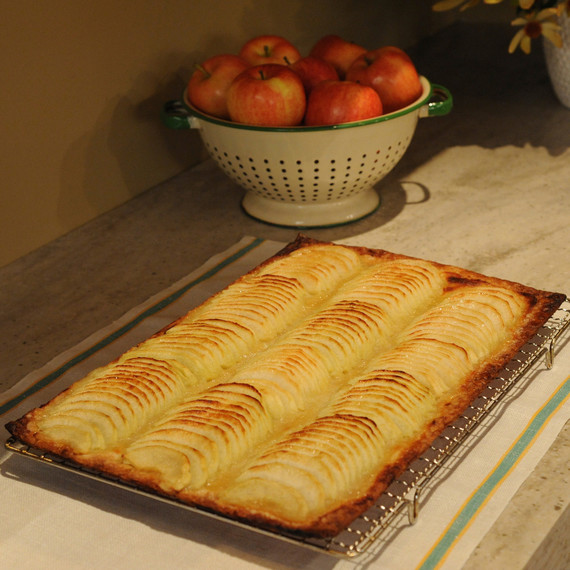 Apple Pizza
This sweet twist on pizza is as close to pie as we're going. It's one of those magic desserts that screams elegance and hard work but is really a snap to make. Pie dough is topped with applesauce then artfully layered with Granny Smith apple slices before being baked to golden perfection. A drizzle of warmed apricot jam adds a final flourish to this apple-centric version of pizza.
Get the Apple Pizza Recipe
Slow-Cooker Pear and Apple Butter
Sure to become a staple at your table, this apple and pear butter is a delicious way to diminish your overwhelming apple haul in a jiffy. Brown sugar, a touch of coarse salt, cinnamon, apples, and pears meld together in the slow cooker -- and emerge as the very essence of autumn. Plus, this fruit butter serves as the base for these crowd-pleasing Apple Pie Pops which are, quite frankly, irresistible.
Get the Slow-Cooker Pear and Apple Butter Recipe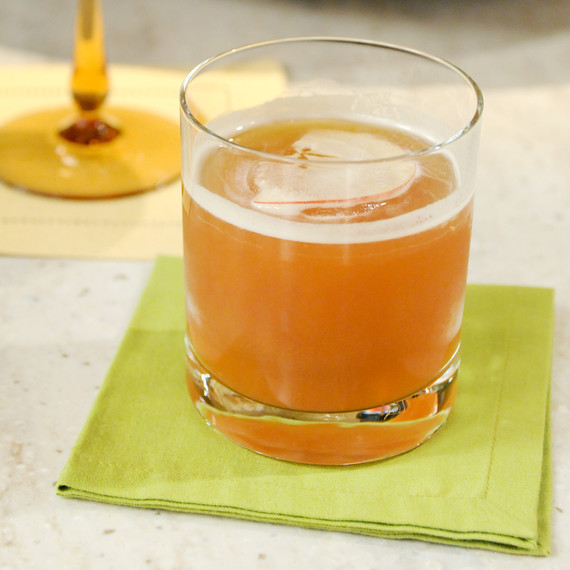 Cider-Bourbon Cocktail
It doesn't call for a lot of fresh apple -- just a slice per drink -- but we think this cocktail is totally worth making. Sweet apple cider cuts the intensity of whiskey, and the frosty mix gets a tasty tang from lemon juice and fresh ginger. Garnish with sliced apple  -- we won't judge if you use more than the recipe calls for.
Get the Cider-Bourbon Cocktail Recipe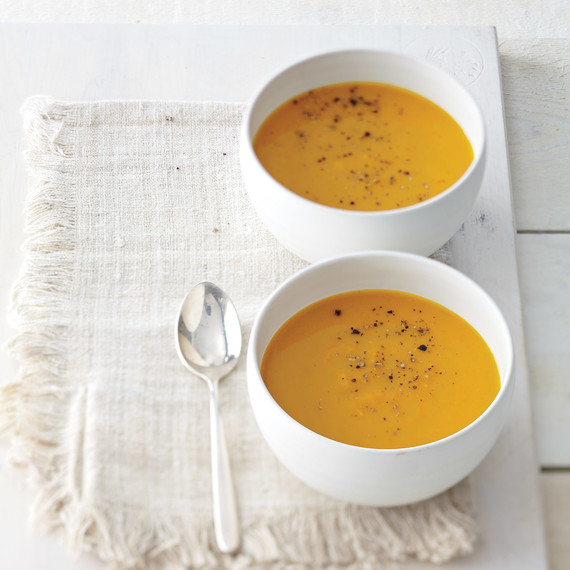 Get the Spiced Butternut Squash and Apple Soup Recipe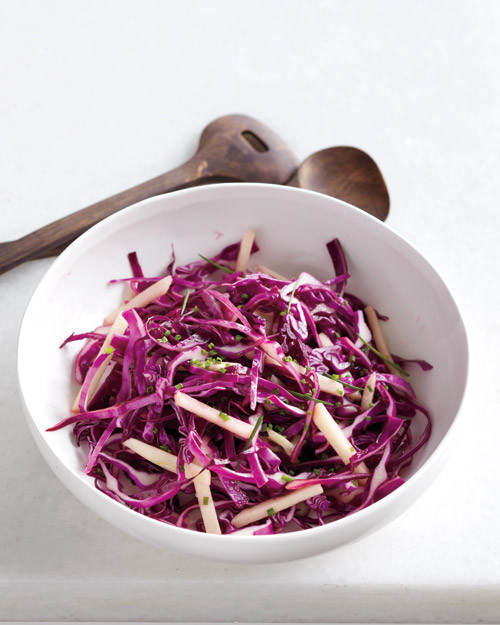 Apple Slaw
It's rather hard to find a fall salad or side that's hearty and filling yet still feels light, but this supremely simple slaw does the trick. Thinly sliced red cabbage is tossed with julienned apple and a simple dressing of lemon juice, olive oil, and a hint of ginger. Make this in mass quantities for a get-together or holiday, and you'll use up many an apple in delicious, crunchy fashion.
Get the Apple Slaw Recipe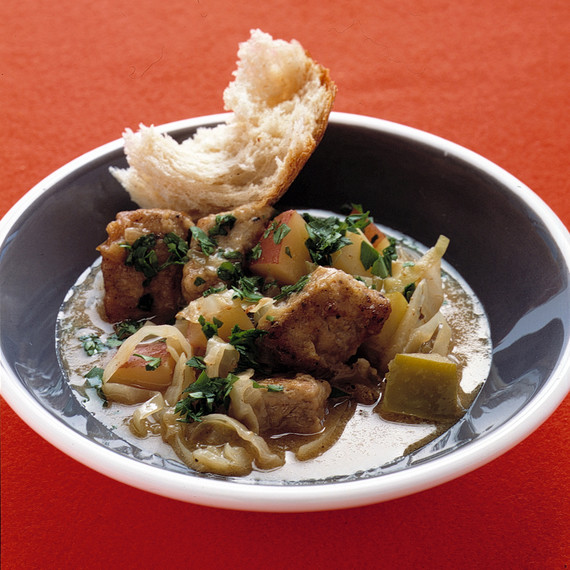 Pork and Apple Stew
Sweet yet tart, apples are a perfect counterpoint to rich pork, particularly in this cozy, comforting Alsatian stew that's just right for a chilly fall night. It's a hearty dish starring cabbage and potatoes alongside pork tenderloin and tangy Granny Smith apples.
Get the Pork and Apple Stew Recipe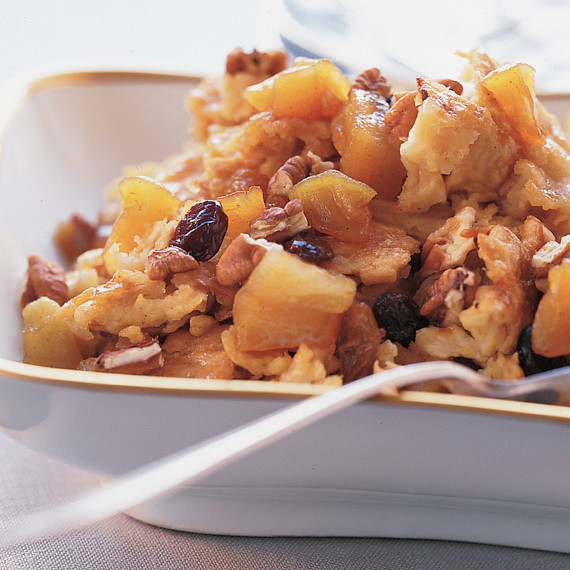 Apple Cinnamon Matzo Brei
This fall take on the classic Jewish dish matzo brei is a must when you have a surfeit of apples and/or a hankering for a sweet breakfast (or around Passover when it's all matzo all day!). Apples are cooked down with cinnamon, raisins, sugar, and butter, then poured over the matzo brei and served with crunchy roasted pecans.
Get the Apple Cinnamon Matzo Brei Recipe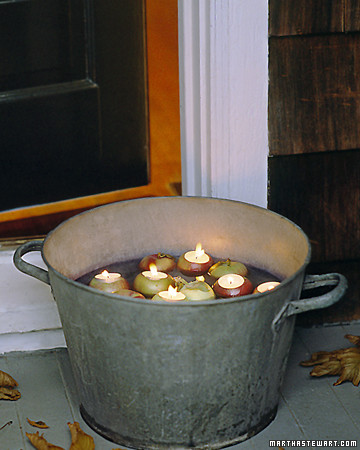 Apple Votives
Put your apples to decorative use for a simple, gorgeous holiday party accent. Instead of bobbing for apples, let guests enjoy these festive floating apple votive candles -- as they sip their apple cocktail or slurp their butternut squash and apple soup?!
Get the Apple Votives How To