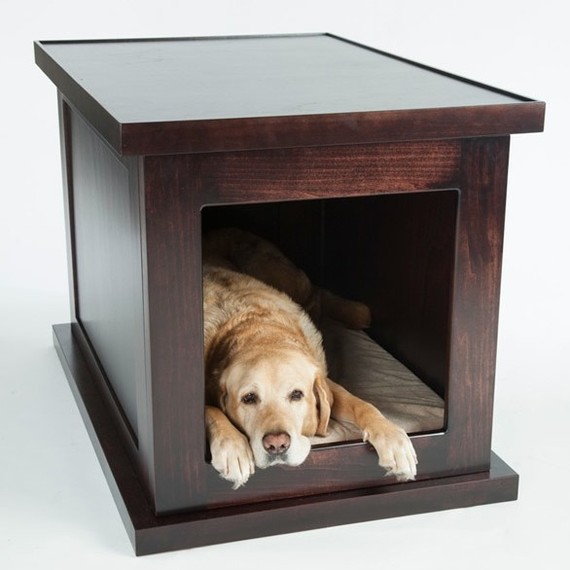 Did you know there are 23 million dogs in the United States suffering from anxiety or fear? From thunder to fireworks and separation anxiety, it's a common problem for many dog owners. Now, one robotics company has created a new invention that may help your pet calm down even when you're not at home. Introducing: the first-ever intelligent anti-anxiety dog den and it is now available for pre-order.
[Related: Here's What You Should Know About Crate Training Your Dog]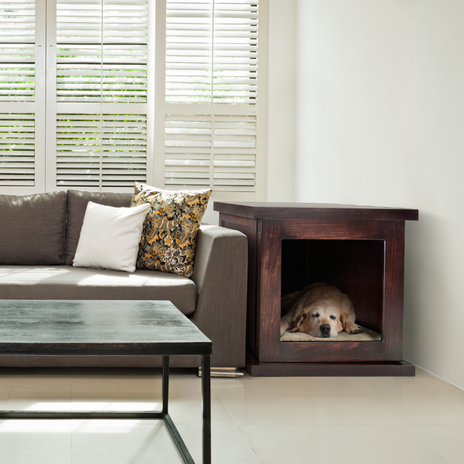 Here's How it Works
It's called ZENCRATE. And according to PNP Robotics, it's entirely designed with your dog's comfort in mind. ZENCRATE is an open-faced crate, which, according to veterinarians, allows your dog to feel more secure. On the outside, it's constructed from lightweight poplar hardwood; on the inside, it comes with an orthopedic memory foam pad, plus washable microfiber cover and waterproof liner. But the really impressive features are what actually makes it "smart." When your dog enters the crate, proximity sensors automatically activate a soothing music playlist, fan, and camera. From there, ZENCRATE sends you a text message in order to let you know that he or she is safe. As for those scary thunderstorms, ZENCRATE has vibration-dampening feet that counter the vibrations from natural frequencies and fireworks. Even if the power shuts down, the den will continue to function thanks to a battery-operated backup system. And in case you were worried about the electronic element, the device operates from a safe voltage, so there are no harmful electrical emissions for your pet, and there is no risk of your canine companion being able to harm themselves from the electronics.
A prototype of the invention first debuted on Kickstarter, where it's already earned $92,000 in crowd-sourced funding. You can preorder yours today, while keeping in mind that mass production is scheduled to begin in February 2017.
Trust us, your dog will thank you. After all, your pup is part of the family and it's important to take care of everyone.
[Get More Tips: Here's How to Make Your Pet Feel More at Home]