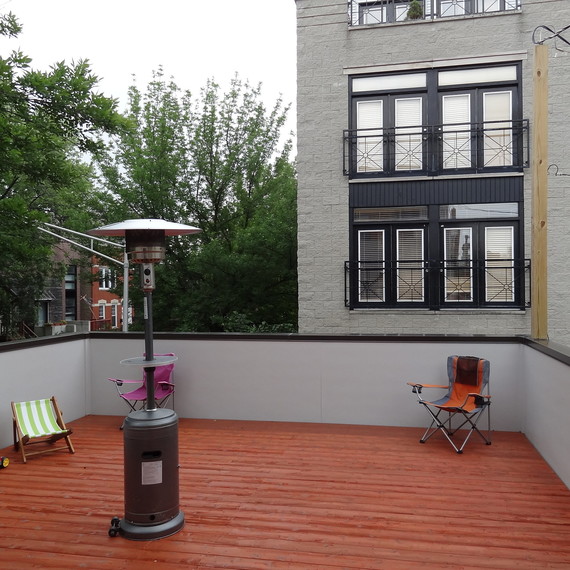 Before
As you can see, their old space was far from luxurious or functional. We started by removing the pre-existing orange-stained deck. In its place, we installed mixed 1' x 4' and 2' x 2' porcelain pavers on a pedestal system. The pattern created reinforced the linear nature of the design.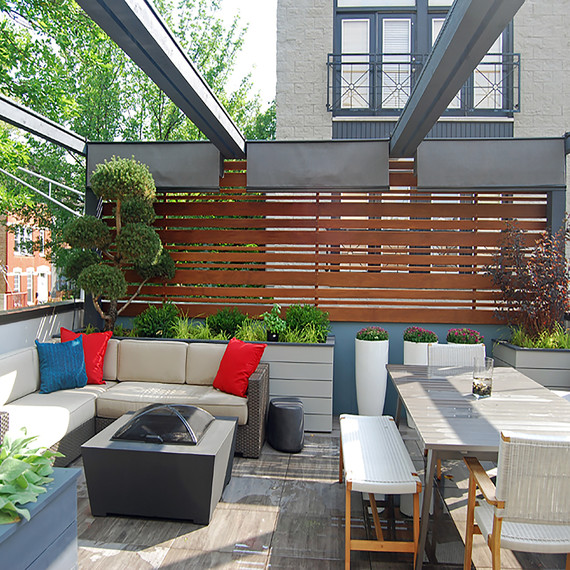 Design
Like most of our projects, this one is all about the little details. A painted cedar pergola was constructed with retractable shades to provide protection from the sun elements as well as privacy from neighbors. Varying widths of oiled Ipe (a hardwood) create a visually interesting screen at the south end of the deck to mimic detailing on house. The custom built containers show an extra attention to detail: the containers to appear to be floating due to the low toe-kick, and no corner boards were installed so the horizontal lines wrapped each container. Along the dining table, a built-in banquette bench was designed to conserve space and is perfect for entertaining larger groups. The custom built outdoor kitchen continued the horizontal Ipe slats to match the screens/planters and included a built-in grill, space for an outdoor refrigerator, a drop in sink, and storage. This project is perfect for all sorts of social functions, and friends will notice all the little details.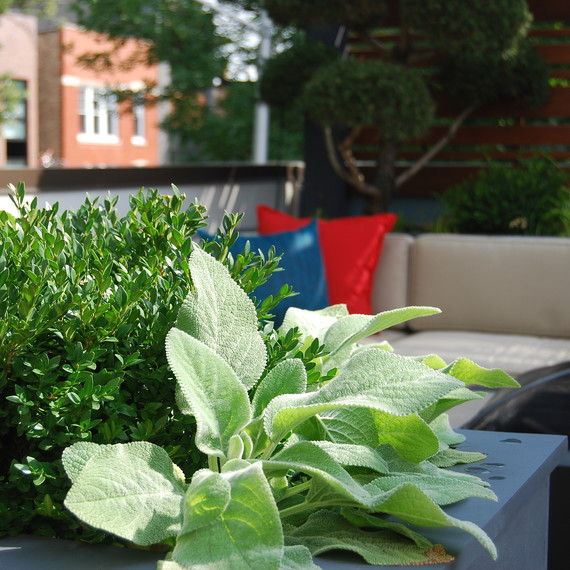 Plantings
The original space did not have any green, so we were really starting from scratch. In order to avoid making the project much more complicated (and expensive) with a green roof, we decided to instead install a ton of container plantings to liven up the space. The planting palette was designed to be green and structural. We used a silvery green Lamb's Ear, chartreuse Bowles Sedge, and green Boxwood. The specimen cloud topiary, Dwarf eastern white pine, boxwood are independently interesting.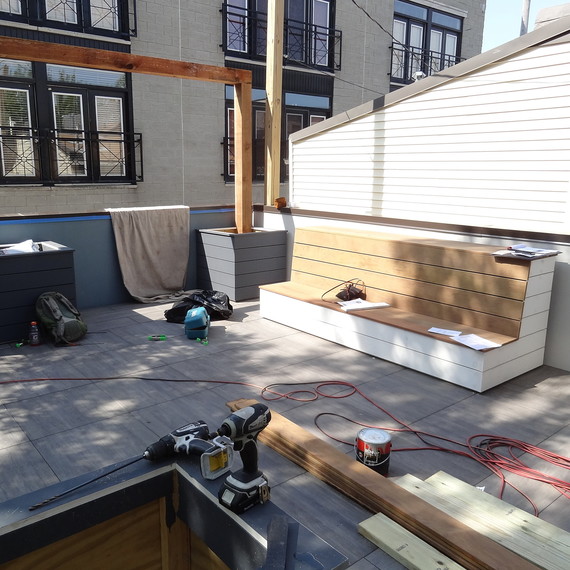 Construction
With the space limitations, we needed to have the ability to build many of the elements off-site and load them on to the roof with a crane. Fortunately, building off-site allowed us to reduce construction dust and debris. We were also able to have time savings in the labor to load in everything up by hand.
Overall, the end result is nothing less than an entertainer's paradise. The stunning space is modern and sleek with all of the essentials for a comfortably functional space. The final design truly fit with the couple's fresh style.