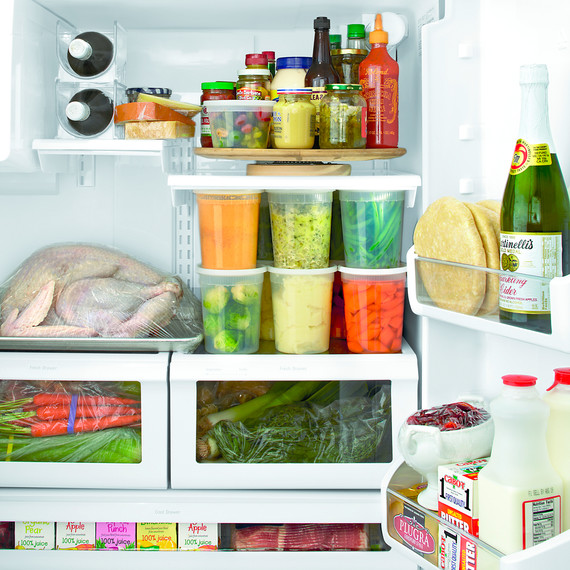 You don't have to have a double-wide, stainless steel fridge to host Thanksgiving. Use a small amount of space with a large amount of wisdom, and you can execute a grand Thanksgiving menu without a grand refrigerator. It may require planning -- and cleaning -- but even a tres petite fridge can produce a huge bon appetit! Follow our tips and get your small fridge into shape to hold everything you need for a Thanksgiving feast.
First Declutter
Before you overload your fridge with eggs, cream, and a large bird, make sure you've optimized the space you have. Take a good look at your fridge and make a change. Leftovers will need to go, as well as old, dried-out condiments (we're looking at you, tahini!). Consider rearranging the space as well. If you're purchasing a large turkey, you may want to remove a shelf or two to accommodate it.
Know Your Pantry Items
Of the groceries you'll buy for Thanksgiving -- check out our classic Thanksgiving grocery list -- many don't need to be refrigerated. Items like broth, mustards, and jellies can be left unopened in a pantry. Onions, shallots, potatoes, and sweet potatoes shouldn't be refrigerated. Save space and store citrus in a bowl on the counter -- or out of the kitchen if you need all the counter space. 
Minimize the Main Event
We agree that bigger is generally better during Thanksgiving. However, the largest part of the meal (and the element that will take up the most space in the refrigerator) is that 16-pound turkey. If you're feeding a smaller crowd on Thanksgiving, consider serving a classic stuffed turkey breast or this kale and sausage version.
Liquidate Your Starter
Start the meal with cups of soup. There are many reasons for this strategy: not only is it a seasonal treat (and lighter than most Thanksgiving dishes!), but it's also soup-er easy to store. Make sure the soup is one you can make ahead, like this Roasted Pumpkin Soup. Store soup in quart-sized takeout containers -- these are slim enough to fit in the refrigerator door, which is easy to neglect. No, it's not just for storing jars of capers!
Consolidate Your Salad
Large boxes of salad greens can really eat up elbow room, so skip the leafy green salad in favor of a more tightly-packed option. A marinated salad, like this cauliflower salad, can not only be made ahead, but it can also be stored in a slim container, perfect for sliding between two, erm, other containers. The tighter it's packed, the better!
Pre-Chop and Pack
Unwieldy items like celery and bell peppers for stuffing can be prepped ahead of time and stored in (again) stackable containers! By the time you're preparing your Thanksgiving meal, your fridge should look like a perfectly arranged game of stackable container Tetris.
Minimize Make-Ahead
Prepping and cooking in advance can save you a headache on Thanksgiving day, but it won't save you any space. Dishes like Sweet Potato Casserole or stuffing will need a lot of room in the fridge if they are made ahead fully. Consider making them partially ahead; puree the sweet potatoes and keep them in a tub in the fridge or make the cornbread for the stuffing but not the stuffing itself. The whole is a lot greater than the sum of its parts -- and its parts will be easier to store!
Invest in a Cooler
An ice-lined cooler can go a long way in terms of storage. A small one will cost you around $30 at the most and can embrace your beverages for the day. If you're serving wine, we recommend about a bottle per guest. That may mean you're stashing 12 bottles of wine, and if it's all white wine, that's a lot of refrigerator storage! There's no need to have those bottles stealing much-valued space in the fridge. A cooler will also be a convenient way to keep the drinks close at hand on Thanksgiving Day. No need to run back to the kitchen to open another bottle. Can't decide between white or red or both for the meal? Read our take on the best Thanksgiving wines.
Stackable Desserts
After that 12-pound bird, the next largest items in your fridge will likely be desserts. Cakes, trifles, and other impressive desserts have wow factor but don't snuggle in the fridge as well as they should. By that we mean, they can't be stacked. Our secret? A slab pie that fits in a long cookie sheet. It's just as delicious as a mile-high pie, but it can be stacked in the fridge atop your neatly arranged Thanksgiving prep. Alternatively, smaller desserts like cookies can simply be made ahead and kept in the pantry.
Lastly, Pass On the Responsibility
It's okay to delegate! The best way by far to maximize your space is to outsource. Asking guests to participate in the Thanksgiving meal is actually very much in the spirit of Thanksgiving. This is a time of community, so let the community lend a hand! As dessert is the potlucker's best friend, assign desserts to your guests! One can bring apple crisp, another a grand pumpkin pie.
Still flustered about what to serve? Check out our Thanksgiving menus -- there's one for every palate and every kitchen.