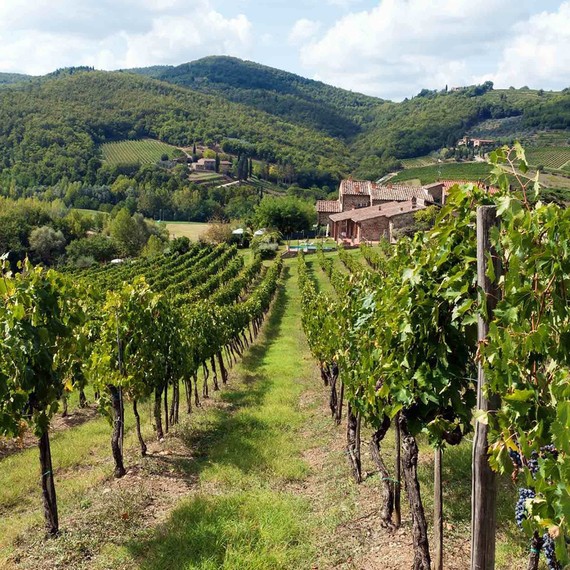 Gorgeous rolling hills, a landscape so perfect that each cypress tree seems to have been dropped onto the horizon by a Renaissance painter for idyllic effect, really that's what Tuscany looks like. Stop for lunch at a local osteria or inn, and the food says everything about the Tuscan way of life; simple and full of heart. Creamy-firm fava beans drizzled with golden olive oil sit next to plates of grilled vegetables and hearty bread, luscious tomatoes and rich cheeses, crispy fried sage leaves and bountiful platters of salumi, sliced paper-thin.
Castles, villas, and humble cottages dot the hillsides, and of course the picturesque vistas are covered with vines: wine is sacred here, and some of the most heralded wines in the world are crafted in Tuscany.
While you and I may not be able to jaunt to Tuscany on any given Monday, we can still explore this incredible region by uncorking a bottle of Tuscan vino... in each glass you taste the land, the sunshine, and the pulse of the region's life. Here is your guide to the various styles that characterize the winemaking of Tuscany, and some of my favorite bottles. Salute!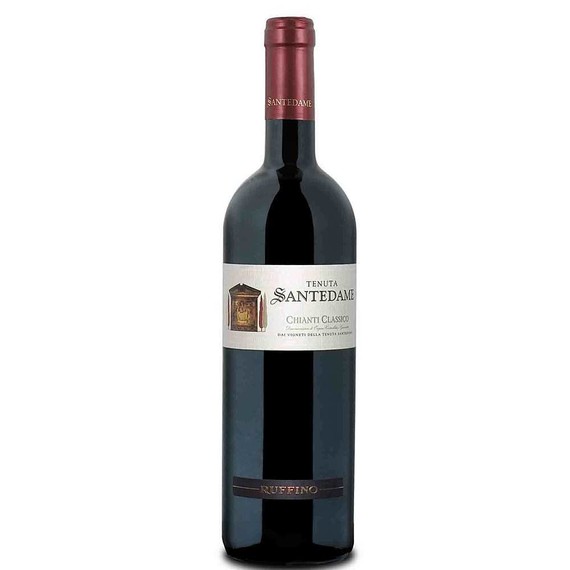 The Queen Grape of Tuscany: Sangiovese
The first thing to know about most wines from 'old world' growing regions is that they are categorized into 'appellations.' That means they're named according to where they are from (Chianti, Bordeaux, Burgundy, Champagne, Rioja), while 'new world' wines that are typically labeled by grape variety (Merlot, Chardonnay, Pinot Noir). Each appellation system has crafted a signature style of winemaking over time with only certain grapes permitted in the blend and certain types of barrel aging used -- so in each bottle you are experience the local artisan winemaker's expression of their 'terroir' (a combination of land, soil, sunshine, elevation, and all the other things that make each vineyard unique), within the guidelines of the local traditions. Tuscany has many famous appellations: Chianti, Chianti Classico, Brunello, Maremma, Morellino, Carmignano. They all have one big thing in common -- the red wines from these Tuscan appellations are based on the same grape: Sangiovese!
It's fascinating to taste all of these different wines, they are so distinctive even though they are made from the same varietal. On a recent trip to Italy, I met Beppe d'Andrea, the senior brand ambassador for Ruffino Wines (one of the most prominent producers of wines from all over Italy and owner of 6 estates in Tuscany). Throughout our wine tasting Beppe was able to show how Sangiovese is highly sensitive to all of the different climate factors and soil types of various estates and it really does express those factors through the flavors and aromas of the finished wine. He also explained with a twinkle in his eye that "Sangiovese is like an Italian man -- it does best at home with Mama." Meaning, these vines really don't thrive anywhere else but Italy!
The different Sangiovese-based appellations, ranging from the soft and easy-drinking wines of Chianti, with their flavors of red cherry and tomato leaf, to the elegant, deep, rich, and age worthy Brunello di Montalcino are universally excellent for pairing with food.
Ones to Try: Ruffino Santedame Chianti Classico 2012, $19.99; Ruffino Chianti Classico Riserva Ducale 'Tan Label' 2012, $24.99; Capezzana Carmignano 2010, $21, Cerbaiona Rosso di Montalcino 2010, $35, Tenuta di Arceno Chianti Classico Riserva 2010, $25
Pair with: Fava Bean, Mint, and Pecorino Romano Bruschetta, Tomato and Basil Pasta, Mixed Grilled Vegetables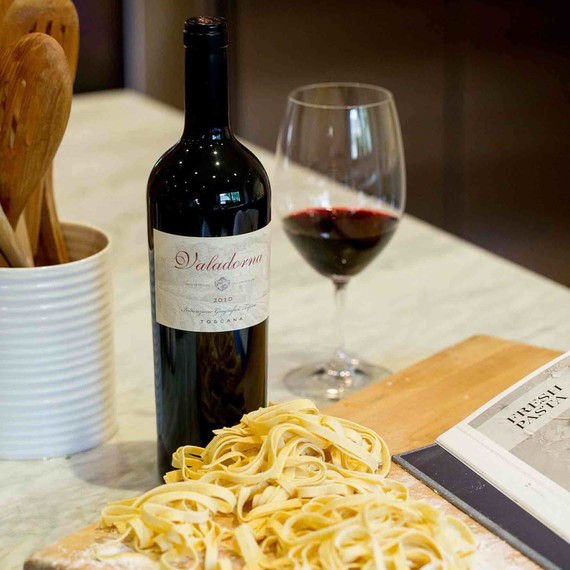 The 'Super Tuscans': IGT Wines
What happens when you're an Italian winemaker that wants to operate outside the traditional rules of your local appellation? Let's say you prefer not to use the 'approved' grapes of your region, or want to use a different type of barrel or bottling technique? Italy is all about tradition after all, and historically not many winemakers dared to innovate. If they did, they risked getting declassified from the quality-controlled approval system (in Italy known as the DOC, similar to the USDA certification we have in the US) and were forced to label their wines simply Vino di Tavola,' table Wine. In the 1970s, some rebellious Tuscan winemakers felt too restricted by the laws of Chianti so they went their own way and started making daring blends of Cabernet, Merlot, Cabernet Franc and other 'forbidden' grapes. The British press picked up on this trend of Bordeaux-worthy blends being sold as lowly table wine, and nicknamed them the 'Super Tuscans.' Today, you will see them labeled IGT: Indicazione Geographica Tipica. Every IGT wine is different and they don't necessarily have to contain Bordeaux varietals but many of them do. When you see IGT on the label, you know that this is simply a wine that was made outside the traditional rules of Tuscany.
Ones To Try: Ruffino Modus Toscana IGT 2012, $25.99; Arcanum Il Fauno di Arcanum 2012, $34; Poggio al Tesoro "Dedicato a Walter" Rosso Toscana 2010, $69.99, Arcanum Valadorna 2010, $79.99
Pair With: Benedetta's Tuscan Pot Roast, Eggplant Parmesan Stacks