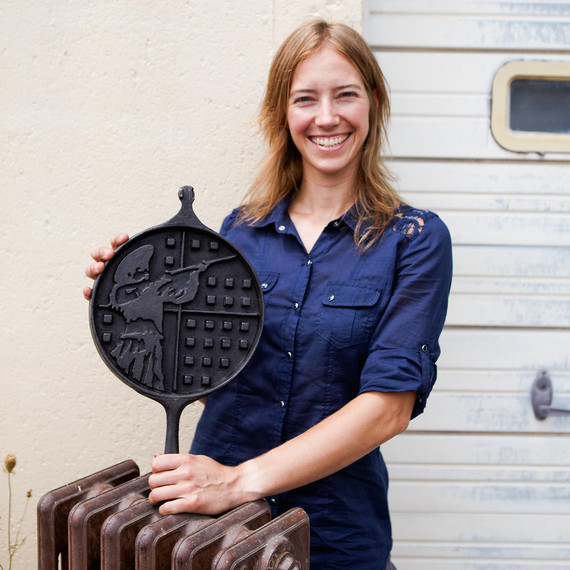 Alisa Toninato
Madison, Wisconsin
Consider this for a workplace: thirty-year-old metal designer Alisa Toninato makes art in front of a 2,800-degree fire, hot enough to vaporize ex- posed beards or pop a bag of popcorn (both of which have happened). "We build our own furnaces, and we break down our iron by hand," says Toninato, who opened FeLion last year. "But we're also creative. Everything was paid for by selling art pieces and a Kickstarter campaign." Those sculptural items include the Made in America series, a collection of limited-edition cast-iron skillets in the shape of the 48 contiguous United States, which can join together like a puzzle. Toninato conceived of the skillet series as an ode to American optimism. Fitting, since pioneers and cowboys out West often ended the day with cast-iron cookware over the fire. This connection isn't lost on Toninato, who believes there is an American "juju" to "working with your hands and building an enterprise." She says: "Here, no one is stopping you if you want to make art a certain way, or start a business."
Do you remember the moment you decided to start your business? What was it like?
Of course! It was only two years ago when I officially started FeLion Studios LLC. However, since the time I realized people needed jobs in this world, I knew I wanted to create my own life-blood from something I loved doing. I had a very devoted studio practice outside of my full time jobs and whatever else I did after I graduated art school, but my work and craft weren't yet at a point where I had felt I had something exceptional to offer yet. I had many years of prototyping my cast iron works, as well as learning many skills through different jobs and connecting with people who ran their own ventures. When I finally took the leap into a full-time gig with my studio work, I had finally, after years of focus and devotion to my desire to make my own work, established a sense of confidence and direction with the growing opportunities naturally happening at the time. For me, it was all about timing and knowing when I was beyond the "green" state of developing my aesthetic.
What advice do you have for others who want to turn their passion into a business?
Owning your own business is extremely gratifying, but the new experiences of running a business can be exhausting from time to time. As an entrepreneur, you must trust your gut and have the grit to stand your ground amidst external doubt, setbacks, and unexpected challenges. Know that the learning curve is part of the strength and backbone of your company. Every little accomplishment and growing pain that you get through translates into knowledge, control and ownership. Because you'll be wearing many hats – learning about bookkeeping, state laws, contracts, leadership and more – you will eventually graduate through many levels of "having a handle on it." A big help in keeping from burning out right away is staying organized and not taking on projects that go too far beyond your skill level and passion.
What advice do you wish you had when you started?
Well, it wasn't until recently that I had a business colleague and friend of mine shed a new perspective onto entrepreneurship for me that I thought was profound. The fact is, there's really no conventions anymore into how to build, promote or run your business. "Normal" and "typical" aren't really definable in the world of entrepreneurship. In the very beginning of my path as artist going into business, I was very self conscious of my total lack of business terminology, sense of convention, and insights for negotiating, hiring, and laying down a "structure." I was almost constantly looking for any crumb of justification or consensus of knowledge out there that would validate the insecurities I experienced while looking at the choices I was making. But turns out, the inexperience of running a business has kept me open and sensitive to new ideas and fresh ways to approach managing and interacting with your consumer and the business world.
What do you think is the key to being a successful startup?
I believe that if you have clarity about who you are, what you do best, and can be held accountable for the core beliefs and values of what drives your choices, then your path to establishing a business identity and creating your own scene will be a relatively natural process. Because, by default, whether you're an artist or entrepreneur or both, you're open to opportunities. So knowing your goals and what's most important to you will help you to assess the benefits of different opportunities more quickly without expending too much energy or time into them. All in all, being true to your aesthetic will guide you through challenges and bring you to the next level.
Tell us about your workspace.
It's a hot mess! Well, it's a sculpture studio where we throw sand moulds around, break up iron for remelt, grind away at finished castings, and spray oil onto the raw clean end product for seasoning. No one leaves here with clean hands. Our color palette is graphite, rust, and industrial blue-grey. It's beautiful!
What tools or techniques help you stay organized?
Cork boards! I love to physically put things up and look at them, so they stay right in my face and I remember to do them. It's equally as satisfying for me to file the paperwork away when we've accomplished something, so this archaic process of tangible record keeping and finding a groove for physically filing things is a critical step in my daily grind.
How do you use social media to promote your business?
I'm on Facebook, like everyone else in the world, but I really enjoy promoting other events, artists, designs, and more through my site, to give people another perspective, and point to the things that inspire us, above the end result of the work that we make. Community and network are the result of real relationships with people and the things you're working on with them.
What's your next business goal or project?
I've been developing a commercial cast iron product line under the brand American Skillet Company, working with American manufacturers to produce a retail version of state-shaped cast iron skillets based on the original FeLion Studios art piece called "Made In America." So far, we have three states of, hopefully, many to come in the next two years. It's been an exciting new level of accomplishments and challenges in the world of industrial production and growing our wholesale-to-retail market state by state. We handpick and meet with small independent retailers that we find rather organically –– by word of mouth or natural inquiry. Going from art to industry has been an unusually defining process for me, as I've come face to face with questioning why I'm making certain choices and essentially, focusing on a chapter of my life where my creativity has shifted into the project of "entrepreneurship," alongside maintaining a studio practice and still following my passions