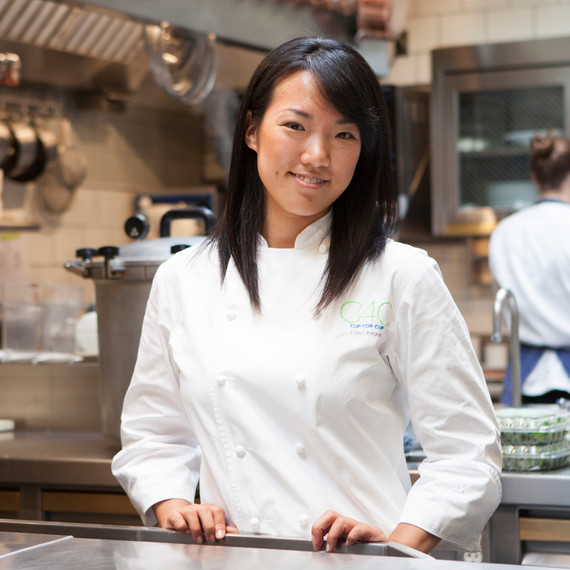 Lena Kwak
Yountville, California 
Lena Kwak vividly remembers the day when, as a new chef at the French Laundry, she went to pitch an idea for a gluten-free food line to her boss. She arrived to talk with Michelin-starred chef Thomas Keller armed with tales of diners with dietary restrictions who had thanked her, and even cried, when Kwak made gluten- free bread for them. For many, these baked goods were the first they had eaten in years. "I was caught off guard when he said, 'how can we do this and what do you need from me?' Just like that," she recalls. For Kwak, food has so much to do with our personal history. "To be able to bring back good memories for a person resonated with me." It resonated with Keller, too. With his support, Kwak, who studied nutritional science at Johnson & Wales, developed a gluten-free flour called Cup4Cup, which can be swapped for regular flour and tastes remarkably like the real thing. "My lab rats were French Laundry chefs," she says. "So the benchmark was very high." Kwak left the restaurant to have time for her flour, which is manufactured in the Bay Area and sold at Williams-Sonoma and other outlets. With cake, cookie, waffle, pancake, pizza dough, and muffin mixes on the horizon, "there are hectic days where i'm like, 'what am i doing?'" she says. "Until i get an e-mail from a mother who was able to make her grandmother's banana bread for her daughter for the first time.
Do you remember the moment you decided to start your business? What was it like?
I would say that the day that I sat down in front of Chef Keller to pitch him the idea was that moment. I am definitely what you call a dreamer, so all my life I've had ideas ... on top of ideas. However, this was the first time that I felt that one of those ideas could actually be somewhat tangible. In that moment, I realized that this was the first idea that I had that I was willing to invest in because I believed in potential possibilities that much.
What advice do you have for others who want to turn their passion into a business?
The one thought/belief that has gotten me this far has been: "It never hurts to ask because the worst that can happen is that they say no." Simply put –– don't limit yourself in what can be achieved.
What advice do you wish you had when you started?
Starting up a business was completely a unknown territory for me. I wish that there was a road map to the goal line, but let's face it, there isn't just one path or one finish line to take with any business. Time and time again, one thing that has proven true for me is to always follow your gut.
Tell us about your workspace.
Our main offices are in Yountville, CA, a small town nestled in wine country. So the drive up is always beautiful and surreal. Since we are in the fall season now, in the morning there are air balloons that hoover in the sky. We share our building with the other Thomas Keller Restaurant properties. Down the street is our research & development kitchen where we all our product testing, which happens to be right next to the French Laundry Restaurant.
What inspires you?
I am constantly inspired by other people's passions even those outside of my industry. Often I find myself watching TED talk videos and find myself not only interested in the topics the speaker covers, but fascinated with the certainty of their overall tone. I find that what I am in pursuit of in life is that fire you see in peoples' eyes. People who have a sincere passion for what they do inspire me, whether it be simply to make the perfect noodle or to finding a cure for cancer. Also, often on tough days I take time to walk around the French Laundry Restaurant property to remind myself the possibilities for all of that has transpired from one man's dream. What Chef Keller has achieved and continues to do with his career is a constant reminder of what is possible if you choose to pursue it.
What tools or techniques help you stay organized?
Staying organized is one of the keys to success and something I strive to continue working on everyday. I am constantly looking to improve way to work for efficiently and to do that it required a great deal of organization. Always keep a paper trail and make sure to title items properly so they are easy to find in the future. In hindsight, what has helped me the most is to apply organization throughout my life as a whole. If I am able to run my personal life smoothly then I find that the same structure translate over to my work.
How do you use social media to promote your business?
This is how we connect with the consumer base. We are very grateful of how supportive people have been of our brand. We get to read wonderful stories like mothers who get to share their grandmother's recipes for the first time with their children –– gluten free, of course.