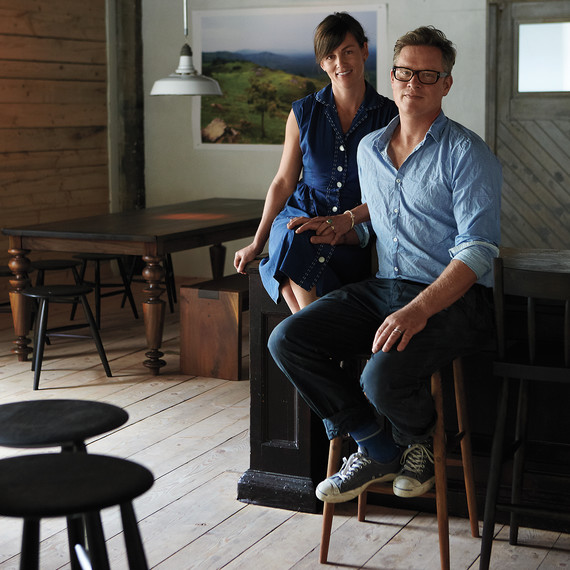 Tara De Lisio & Jonah Meyer
Rhinebeck, New York
When Rara De Lisio stepped into Jonah Meyer's art and furniture studio in the Catskill Mountains for the first time, "it was magical," she says. "I thought, this guy is tucked away here in the woods, and not enough people get to see his work." De Lisio, who was working for a photographer at the time, wound up marrying Meyer, and the two began selling his sculptures and furniture (including pieces made entirely from twigs) out of a defunct service station. After seven years, the couple decided to set up shop in the small town of Rhinebeck. Meyer renovated a showroom to reflect the simple authenticity of the furniture's farmhouse-modern aesthetic. Today, they work with a staff of five to craft furnishings that reveal the couple's love of tradition, such as stools, opposite, tables, and bed frames, made from locally milled and sustainably harvested wood. The pair credit the success of their business to a collaborative spirit and their artistic upbringings. "Lots of gratitude goes to our families for the way we grew up— running around in the woods and making things with our hands," says Meyer.
What advice do you have for others who want to turn their passion into a business?
Start trying out your idea and see what form it translates into - from a concept to a real object usually reveals a lot. The longer we go on the more hands have been involved, so surround yourself with great people because this is what molds you.
What advice do you wish you had when you started?
When we began I think we were too young and naive to appreciate any advice. We needed a good 5 years to explore what we were capable of together and to flush out our vision, our ideas. It was a creative process and we were fortunate to receive some good guidance just as we were searching for a new way to approach what we were doing. A client and a professional in the design world, told us to re-brand and to present ourselves again to the world now that we had teased out what we were really good at - now that we had a strong aesthetic we needed to share our story and create our brand. The timing was perfect.
What do you think is the key to being a successful startup?
We had a willingness to proceed with out immediate success, a strong creative process and we knew our strengths. Our weaknesses were revealed over time but following what we were good at kept us growing.
Tell us about your workspace.
5,000 sq feet of beautiful, old industrial space. High ceilings and plenty of natural light and plenty of saw dust. With a design and art studio separate from the workshop. A great group of employees to work with.
What technology do you depend on to run your business? Do you do anything the "old-fashioned" way? If so, why?
We do lots of things the "old-fashioned" way by default and by choice, all of the hand work is informed by traditional wood working - the technology is about 100 years old and our work would look pretty much the same back then, that feels crazy. As we grow this is changing because I don't think anyones creative self is fulfilled by repeatedly sanding the same shape for years - when technology can relieve that type of redundant task its all positive in my opinion.
How do you use social media to promote your business?
Our blog has become the way we share our story, visually and with anecdotes about our process in work and in family. At first we were both more resistant to exposing what we are about, it wasn't something we were familiar with but then we realized having a retail space and being available to everyone who walks in the door is not that different!