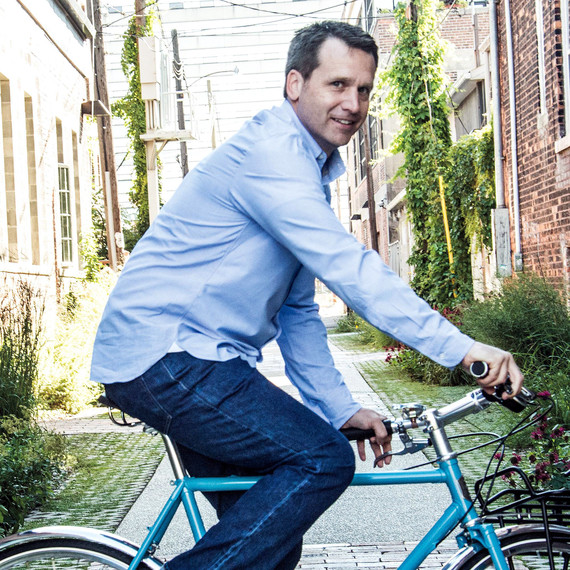 Heath Carr
Detroit, Michigan
"Why Detroit?" This is the question often posed to Heath Carr, 46, and his colleagues at Shinola, the accessories company that last year started selling some of the only watches made in America. And invariably, Carr's answer is "Why not Detroit?" Granted, the city did file for bankruptcy over the summer. "But we choose not to focus on that and just keep focusing on the positives," says Carr. "When we listed the American cities with a great manufacturing history, Detroit was at the top of everyone's list." Why not capitalize on that—and bring some rejuvenation in the form of jobs? "We fell in love with the businesspeople in Detroit. Everyone we met with was like, 'How do I help?' The whole process was organic and lucky." To wit: During an early visit to the College for Creative Studies, Carr was on an elevator that stopped, unbidden, at a large, empty floor—an ideal spot to retrofit into a "clean room" with the sterile conditions watchmaking requires. In June 2012, Bedrock Manufacturing had experts from Ronda AG in Switzerland and Thailand come to Detroit to train a new, all-American breed of watchmakers. Shinola has added other accessories in its product line, like journals, leather goods, and bicycles (made with help from a Schwinn family member); Carr is open to other projects, too: "We may someday make Shinola toasters," he says. "Our focus is 'made in the USA,' and we're not saying no to anything." The company's 75 employees (and counting) in Detroit are glad they're not.
Do you remember the moment you decided to start your business? What was it like?
Well, it was initially just a crazy idea among a few friends. Then we started to widen the conversation and include more people, and tried to fill in some of the gaps of what the business would actually look like. But I think it was when we came to visit Detroit, and we met with the business community here, and everyone jumped at the opportunity to help us—that was when we thought, maybe we can really do this thing.
What advice do you have for others who want to turn their passion into a business?
Make sure you stay true to your original vision, and don't get dissuaded by those who will want to tell you why you can't do this or that. Focus instead on why you should, and what story you want to tell the world.
What advice do you wish you had when you started?
We got tons of great advice when we started, but no amount of advice can actually prepare you for launching a new business, especially when that business involves building the first at-scale watchmaking facility in the United States in over 40 years. So, getting advice is great, but at some point the only way to learn how to start a business is just to get out there and do it. You're going to make some mistakes, naturally, but the point is how you learn from them.
Tell us about your workspace.
From a design standpoint, our workspace is both modern and classic, featuring wide open spaces, steel beams, leather couches, and walnut desks. And the office has been built to immerse our staff—and anyone who comes to visit—in the Shinola story. Our Detroit office is only separated from the watch factory by a glass pane—and the watch assemblers, watch designers, accountants, and digital team share the same lunchroom. We think that speaks to what we stand for as a company just as much as our choice of things like our furniture and fixture choices.
What inspires you?
The idea that American manufacturing stands for quality and that Americans are craftspeople who want to be able to build great things.
What tools or techniques help you stay organized?
It's amazing how much of our company relies on good old-fashioned pencil and paper. We use our own Michigan-made journals to keep track of ideas, tasks, and notes. Most employees can be seen with Shinola journals and a few pens and pencils at their desk. That said, our team also uses a lot of modern software to keep track of workflow and processes.
How do you use social media to promote your business?
Our goal is to hopefully foster a real, viable community, and to truly engage with that community. For us, social media is an exceptional opportunity to communicate with those people who are interested in what we're doing, and those folks also happen to be in a unique position to provide us with the kind of feedback a young company needs in order to grow.