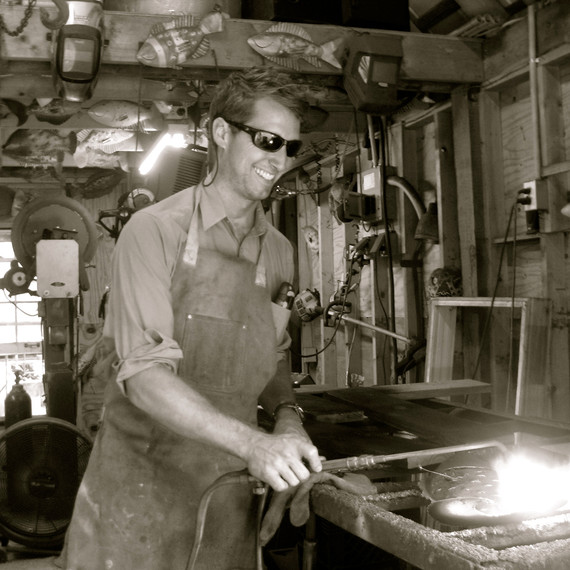 Tell us about your business.
After graduating from a university with a degree in business, it took less than two years in the business world to change my course in life forever. Upon realizing life is simply too short to not be happy with what I do, I quit my job and moved out to bridge-less Daufuskie Island and started selling my handcrafted metal sculptures off of the porch of my small "Gullah" cottage. To this day I jokingly refer to that decision as my "quarter life crisis". At that time, I had no idea if my designs or ability in metal artistry would lure visitors of Daufuskie away from the nearby resorts but word of mouth spread and before I knew it, I was a full time professional artist. A few years later, I was discovered by a couple national magazines and the rest is history. I continue to run my studio/gallery on Daufuskie Island and also ship my sculptures around the globe thanks to the customers who visit my website www.ironfishart.com. As an artist, my hopes are always to reach more people.
Tell us about your workspace, shop, or studio.
When I moved out to Daufuskie, I found this old "Gullah" cottage to rent. Since I did not own the house I could not put a permanent shop on the property. At that time I was your typical starving artist so I did not have the money to build a shop anyways. I purchased $8,000 worth of equipment and a large tent by maxing out a 0% interest credit card (which I never paid one penny of interest on as the debt was paid off the first year:-). I set up my shop under that tent and worked there for 5 years. Once the business became more successful, I purchased the little cottage and a couple years after that (7 years ago), I and a friend of mine built a "real" shop with a roof, doors, walls, etc., right next to my house. I have since expanded the work space and have also added a small office onto one end of the shop. I could not be happier with the arrangement if I tried. Visitors to my studio/gallery not only get to see my work but get to see me work, which is always fun.
What inspires you?
Nature, music, travel, creativity, risk, acts of kindness, fine craftsmanship
What makes your business stand out?
The handcrafted artistry of my metal sculptures coupled with my island lifestyle and location is what makes my business stand out. I also believe that my unusual career change and "follow the dream" mentality resonate in many people's minds and hearts. Many people choose a career path for all the wrong reasons. It's tough to know who one is when one typically make these choices at such a young age and with few life experiences. In 14 years of talking with customers, a common thread I hear is "congratulations for following your dream". Inspiring someone to take a risk to follow their own dreams is truthfully the greatest reward my career could ever offer me.
What advice would you give an aspiring creative entrepreneur?
Be original. Trust your gut. Follow your vision. Think outside of the box. Thrive on nay sayers....turn their doubts in to positivity and let it be fuel to drive you further. Invest in yourself. Live simply and frugally. Show constant gratitude for your abilities by utilizing them.
What does American Made mean to you?
Coupling our unique freedoms with our abilities in an effort to create in the presence of a risk of failure, is what American Made means to me.