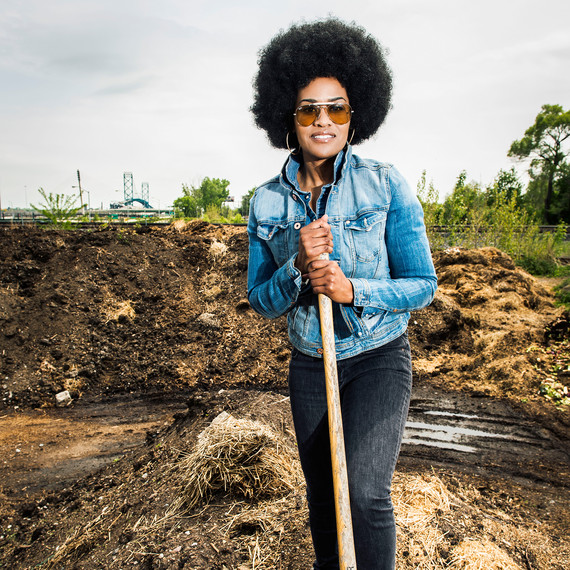 Pashon Murray
Detroit, Michigan
Tell us about your business.
Pashon's work in the family owned business, led to the creation of Detroit Dirt. On the surface Detroit Dirt's work is making compost, yet on a higher level there is something much greater and far more rewarding: creating a complete circle of life in Detroit that helps recycle lives for generations. Detroit Dirt's soil builds the foundation of urban sustainability. We divert tons of waste (leaves, manure, restaurant waste) from landfills and turn it into a useful product. Compost provides virtually all the essential nutrients for healthy plant growth. Compost also improves the soil's structure, making it easier for the soil to hold and use the right amount or moisture and air. For gardeners compost is king. Our goal is to assist communities and corporations to think "sustainability." Along with MIT soil variations are being developed which will lead to Detroit Dirt products to be launched in the spring of 2015. Pashon has the passion to make Detroit the greenest city in America.
Tell us about your workspace, shop, or studio.
Detroit Dirt is located on the edge of the historical Corktown area adjacent to downtown Detroit. The two acre space is leased from the Canadian Rail and Detroit Tunnel group. The Detroit Dirt site is visited by the Detroit Zoological Society once a week to provide herbivore manure, deliveries of organic food waste daily and occasional visits from breweries and coffee shops. We have one dump truck, pick up truck, dump trailer and over 1oo containers for collection of organic material. On a day to day we process the organic material, pick up food scraps and we rotate piles. The site is set up so we have the piles positioned by age from weeks to years. Currently, MIT is assisting with technology that will help us with temperature, bacteria activity and data for soil variations. We occasionally get visitors such as rabbits, coyote, pheasants, and birds. Piles of dirt are amazing, they keep the ecosystem rotating.
What inspires you?
My desire to help people, communities, and the environment. Everyday my purpose and faith drive the force and spirit of being the best servant leader that I can be. Successful entrepreneurs give me courage but the youth brings hope. I live to create pathways for the next generation, my work and dedication will help develop a foundation that the youth can build upon. I no longer live for myself but for others. Daily I work to answer the question, how may I make a contribution that will provide a lasting legacy?
What makes your business stand out?
Detroit Dirt's mission is "Cost Effective Earth Protective". First there's the economic windfall. The more waste Detroit Dirt composts, the less we contribute to wasting resources. Composting also creates a supply chain that closes the loop and helps the local economy grow. We're not just saving money, composting helps us save the local economy and the planet. Reduced transport (by growers, shippers and consumers) means less fossil fuel burned, resulting in better air quality. Using compost to feed our lawns and gardens will reduce our dependency on chemical fertilizers. Composted soil is safe and healthy, producing plants that have the same qualities. Composting allows businesses and organizations the opportunity to support sustainable practices. It educates and inspires young people and helps communities join together for the good of our planet. Think about it: Local compost used by local farmers growing local food eaten by local consumers building a local economy.
What advice would you give an aspiring creative entrepreneur?
As a passionate and reslillent entrepreneur I reccomend that aspiring entreprenuers dedicate their lives to the mission. You have to eat, sleep and live the mission! Keep the faith and have hope beyond measure. Faith, hope, courage, confidence, perserverance are the main ingredients and the keys to the door that unlocks the future. The purpose of your entreprenurial spirit has to create a solution. Everyday that you wake up you must commit to your entrepreneurial assignment and goals. They never go away, must keep inventing and creating until you reach a plateau and then you'll create and reach the next plateau. You must notstop until you reach the next galaxy. There's always work to do, keep evolving. If you can serve, you can lead!
What does American Made mean to you?
American Made means products that are created, innovated and implemented in America. It's time for us to build the American economy again by focusing on the talent and creativity that exists in this country. I think we should build local economies all over the country so we can join them together to reinvent the USA economy. It's nothing wrong with free trade but we have to focus on the USA again. American Made are products which are innovatively designed, implemented and manufactured on American soil. American Made! American Created!