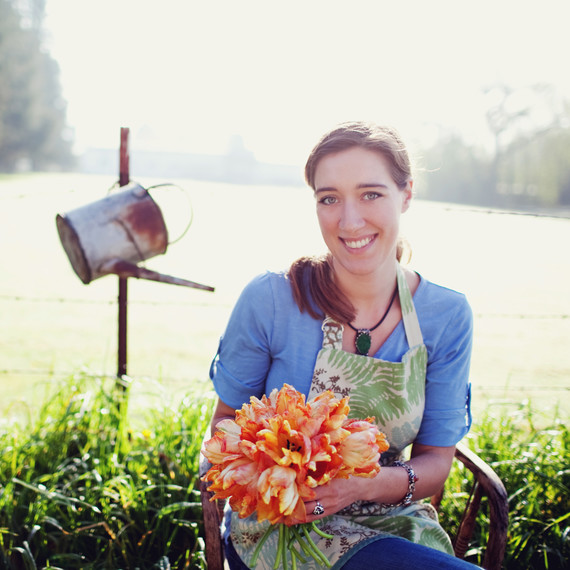 Erin Benzakein
Mount Vernon, Washington
Tell us about your business.
Years ago we moved from Seattle to the Skagit Valley to pursue a slower, simpler and more intentional lifestyle for our little family. Tucked among the vegetables in our garden was a double row of sweet peas that I planted in honor of my great grandmother. When the first flush of sweet peas bloomed, I shared some with friends, family and even strangers. The word got out and before long I was filling orders for every last flower. Soon after, Floret was born. Floret now supplies flowers to specialty stores such as Whole Foods across the Pacific Northwest and is considered one of the nation's top "farmer florist" operations and a leader in the American-grown flower renaissance. As both a flower farm and floral design studio, we are able to create exceptionally fresh farm-to-vase floral designs with our organic blooms. We're known for growing heirloom varieties and creating lush, romantic and slightly wild bouquets.
Tell us about your workspace, shop, or studio.
We are incredibly fortunate to spend much of our time working out in nature. Our family farm is located in the beautiful Skagit Valley of Washington and features two tightly packed acres dedicated exclusively to specialty cut flower production. Our fields, gardens and greenhouses overflow with flowers and foliage for most of the year. From fragrant sweet peas in the spring to magnificent dinner plate dahlias in the fall and countless varieties in between, we harvest only the best of what is blooming each day. Buckets of our freshly-harvested flowers are taken just a few short steps from our fields to the design studio where we create lush, seasonally-inspired bouquets for wedding, events and specialty grocery accounts. Our studio is nestled in the heart of the farm and enveloped by fragrant climbing roses and scrambling clematis vines. It's impossible not to be inspired by the magic of nature on a daily basis.
What inspires you?
I'm inspired by the seasons and seasonality is strongly reflected in everything that's created here at Floret. I love the different colors, textures and blooms that define each window of time in a season. My designs draw directly upon the natural world and the abundance of what's peaking in the garden on a given day so every hand-crafted bouquet captures a fleeting moment in time. By locally sourcing nearly all of the material used in our wedding and event designs, I'm able to support other artisan growers and bring their blooms to a wider audience. There's nothing more thrilling than connecting both sides of our community through the magic of flowers.
What makes your business stand out?
The popularity of local foods has raised public awareness of the countless benefits of eating locally and seasonally. This farm-to-table movement has expanded to focus not only on what's on our dinner plates, but also what's in our centerpieces. Designers, brides and consumers are hungry for fresh, chemical-free, American-grown flowers. Despite this, a mere 20% of the flowers available in the U.S. are grown domestically. As one of the few certified organic flower farms in the country, Floret fills a unique niche in the domestic wholesale flower market and through our wedding and event design business. We grow a wide variety of heirloom flowers, fragrant foliage, fruiting vines and herbs not commonly available to the trade. We've expanded our offerings to include on-farm workshops where we train a new generation of designers and growers. Flower lovers from around the globe travel to our farm to learn the art of natural floristry and small scale, high-intensity flower production.
What advice would you give an aspiring creative entrepreneur?
Don't be afraid to fail! Although failure can rattle your confidence, especially when you're just starting out, it's a huge part of the learning process and key to finding your way. The sooner you can embrace the process of falling down and the potential humiliation that comes with it, the sooner you'll free yourself from having to be perfect and can start really creating something that's authentic and true to you. In order to build a thriving creative business you have to be resilient - get back up as quickly as possible after a set back and stay true to yourself along the way.
What does American Made mean to you?
When I think of American Made I think of the individuals who first settled in this country and came with nothing but a dream. I repeatedly come back to the saying, "If you can dream it you can do it." If you apply yourself, anything is possible. American Made reflects the dedication, vision, authenticity and innovation of individuals who make this country great. American Made products are high quality, come from the heart and stand the test of time.