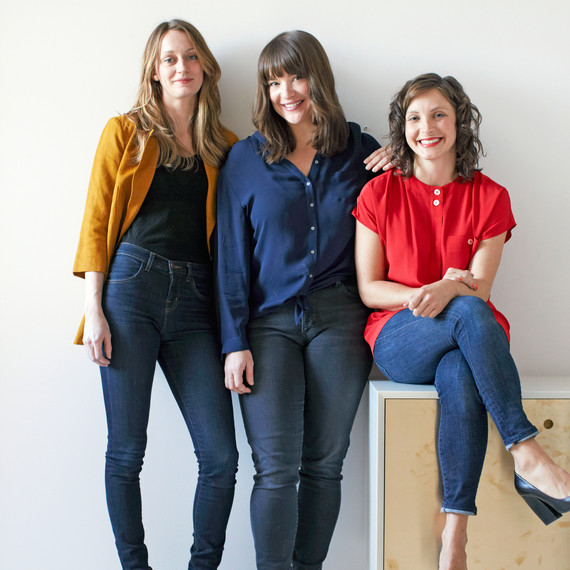 Crystal Ellis & Stephanie Beamer & Hillary Petrie
Brooklyn, New York
Tell us about your business.
Stephanie Beamer, Crystal Ellis, and Hillary Petrie, the co-founders of Egg Collective, met while studying architecture at Washington University in St. Louis Missouri and have been collaborating ever since. In 2011, the three designers moved to NYC where they set up a wood shop and studio; nine months later the company debuted its first line of furniture at ICFF 2012. Now, three years into their business, the trio continues to maintain a hands-on approach to their work, splitting time between building, prototyping, designing, and growing the company. Pulling from their backgrounds in architecture, art, and woodworking, Egg's founders create work that highlights their collective fascination with sculptural/elemental forms, natural materials, patina, and the graceful aging of an object. All of Egg Collective's pieces are handmade and reflect the company's commitment to creating heirloom-quality contemporary furniture in America.
Tell us about your workspace, shop, or studio.
Egg Collective currently has both a wood shop and a studio/showroom in a large industrial building just outside the Brooklyn Navy Yard. The company's studio is open and loft-like with big windows and painted white wood floors. The wood shop is large, light filled, and brimming with a variety of machinery, tools, and species of wood.
What inspires you?
The inspiration for Egg's work comes from all over: MINIMALISM: specifically the purity of forms and the play between negative and positive space found in works by Donald Judd and Frank Stella. ART-DECO: which is a quite a juxtaposition to minimalism, but is inspirational in its attention to detail, quality of craft, and layering of materials. NATURE: specifically rock formations, crystalline structures, flowers, patterns and color. EARLY AMERICAN & SHAKER FURNITURE: simple functional forms with clean lines and slight flourishes. ARCHITECTURE: the intimate understanding of human scale, proportion, detailing, materiality and structure.
What makes your business stand out?
In a male dominated field, Egg Collective stands out as an all female furniture design and manufacturing company. Since its debut, Egg has received the honor of being named "Best New Designer" at the International Contemporary Furniture Fair in 2012, and has been featured in numerous publications including the 2014 Forbes Magazine 30 Under 30 list. Egg was also commissioned in 2013 to design a permanent seating installation for the promenade at the New York City Ballet's David H. Koch Theater.
What advice would you give an aspiring creative entrepreneur?
Find good partners, work with people you trust, and don't be afraid to ask for help. We couldn't imagine doing this on our own. We have known each other for over a decade, and grew our friendship in tandem with our working relationship. Prior to forming Egg Collective we already knew we collaborated well and that we trusted each other implicitly. Starting a business requires a leap of faith; it's so important to make that leap with a trusted partner (or in our case partners). We lean on each other daily. Also, as an aspiring creative you should never compromise your vision or core values - it is what will make your business unique, AND its why you chose to become an entrepreneur in the first place!
What does American Made mean to you?
American Made means so many things. It means supporting local businesses; it means cutting down our carbon footprint; it means working with our neighbors and our friends; it means knowing faces of the people who help us make our product: it means producing the highest quality of product while also increasing our quality of life and the quality of life of the people around us.