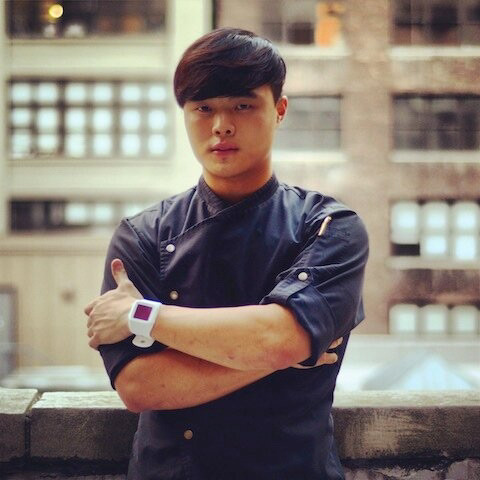 Why do you think Korean food is so popular right now?
I think the beauty of Korean food in the U.S. is that none of the Korean restaurants really conformed to the American palate. There was a "for us by us" mentality in that the first generation of Korean immigrants missed the food of their homeland, and opening a restaurant was a way to get by. For the second generation, it's not about survival anymore. We have the luxury and privilege of not having to cook Korean food. We share it because we love it, and I think that's why everyone else is catching on. There will always be a place for fusion and Korean tacos, but the essence of Korean food is homey, rustic cuisine that's very accessible. There's no need to mess around with it.
Barbecue and bibimbap are usually the Korean gateway foods. Is there a dish that you hope people will try even if it's more challenging?
Korean food is a very underestimated cuisine in that people usually only think of barbecue, which is delicious, but you wouldn't talk about American food and only mention burgers and hot dogs. My favorite dishes in Korean cuisine are stews. In the book, our soups and stews chapter is longer than our barbecue chapter, and that's intentional. Korean stews are all one-pot dishes that you can whip up super quickly, but because you're using fermented ingredients like kimchi and doenjang (bean paste), they have this really deep flavor. They're also so easy -- you can go to the grocery store right now and have one ready by dinner. Rice and kimchi stew -- you can't go wrong!
Where was the most surprising place you found a Koreatown?
Atlanta really blew me away. When you think of Koreatown, you picture L.A., New York, maybe Chicago. But Georgia has one of the fastest growing Korean populations in the United States. I love the variety of Korean food in L.A. and the energy of New York, but Atlanta or Duluth is where I would go to check out an unexpected Koreatown.
How did you develop the recipes in "Koreatown"?
My co-author Matt and I didn't know how to make a cookbook. He comes from a magazine background, I'm a chef, and we didn't have this crazy budget -- we didn't know that cookbook authors rent out test kitchens and hire food stylists. Most of the food photos in the book are from our travels, and that's where we drew inspiration for our recipes, too. I also grew up eating Korean food, so I knew how I wanted things to taste. Matt and I bought ingredients at H Mart and tested the whole cookbook at my apartment in New York. That's how we know the recipes really work -- if we can make them on a dinky little electric stove, anyone can do it!
How often do you cook at home?
Other than testing the recipes for this cookbook at my apartment, I don't cook at home at all. I'm always eating out. There are so many great restaurants, especially in New York, so why not go out? Yes, it's a little more costly, but the value of having a good time with my friends is greater to me than cooking at home when that's already what I do for work. I'm also a believer that as a chef, if I have enough energy to cook after a 14- or 16-hour shift, I'm not pushing hard enough in the kitchen. I literally have nothing in my fridge besides a couple Red Bulls. Sorry!
Hong's Top Koreatown Picks
Atlanta: Heirloom Market BBQ
This casual eatery serves southern barbecue with a Korean kick, like smoked brisket with chile paste.
Chicago: Parachute
A modern take on Korean-American cooking; Hong describes the food as a blend of unusual and familiar flavors.
Los Angeles: Soban
Don't miss the fresh crab marinated in house-made soy sauce, says Hong. They also have one of the best banchan spreads in town.
New York City: Kang Ho Dong Baekjeong
At his very own restaurant, Hong suggests the beef-brisket soybean-paste stew.