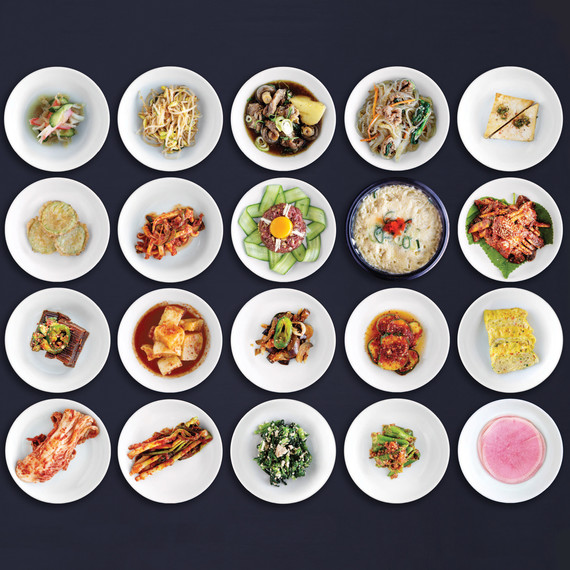 They say that Korean restaurants should be judged by the quality of their banchan, the various small plates that land on the table to mark the beginning of a Korean meal. They also say that a restaurant should be judged by the pace at which they are refilled by the servers (almost always free of charge, included in the price of the entrees).
By these measures, Soban -- a small restaurant located on the western edge of L.A.'s sprawling Koreatown -- may be the best Korean restaurant in America. The restaurant is run by a husband-and-wife couple from Jeolla-do, long considered Korea's breadbasket. The region is also known for exceptional banchan, and a visit to the homey little spot is a small-plate tour de force. Custardy steamed egg, tofu both silky fresh and braised in soy sauce, lotus root, eggplant, a small fried croaker, and kimchis of various stages of funk and fire. All plunked onto the table with frenetic thwacks.
The literal translation for banchan is "side dish," but banchan should be thought of as an essential part of the meal, to be eaten in concert with the main courses. You can walk into any Korean restaurant, of any style, price or quality level, and you're going to be presented with banchan. Kimchi is, of course, the most well-known banchan. Seasoned vegetables, called muchim, are also a type of banchan, tossed with a combination of sesame oil, soy sauce, sugar, and gochugaru (Korean red chile powder).
Banchan is also a big part of the Korean home kitchen and prepared in seconds by simply dressing vegetables -- or over the course of weeks or months in the case of fermenting kimchi.
Banchan arrives at the table in many shapes, sizes and quantities, all meant to serve as a complement to the main course -- a large cauldron of soup, a platter of braised meat or something sizzling from the barbecue grill. We often get asked which side dish goes with what, and we always like to answer simply that there are no rules with banchan. If you want to corner the plate of radish kimchi and eat it straight, go for it. If you want to spoon some braised tofu and dip it into a steaming bowl of doenjang jjigae (bean paste stew), go for it. Potato salad and grilled short ribs, wrapped in a pickled daikon radish disk and drizzled with a little sesame oil? Yes.
Reprinted from "Koreatown: A Cookbook." Copyright © 2016 by Deuki Hong and Matt Rodbard. Photographs copyright © 2016 by Sam Horine. Published by Clarkson Potter, an imprint of Penguin Random House, LLC.