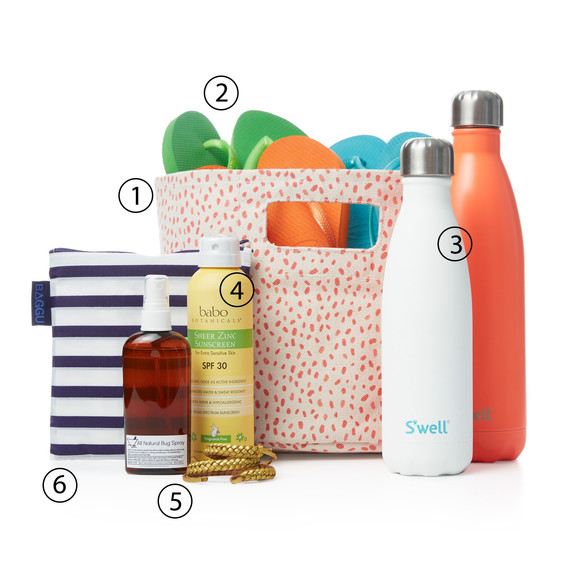 1. Play Station
This canvas bucket is sturdy enough to stand on its own and roomy enough for flip-flops, sunblock, and more.
Pehr Pint bin, in Persimmon Speck, $26
2. Summer Sandals
Have an assortment to slip on if your home is a shoe-free zone, or to wear from surf to turf all weekend.
Havaianas Slim flip-flops, $26
3. Eco Drinks
There's no need to buy bottled water by the case when friends can fill these up each day. Even better, they're BPA-free and keep beverages cold for 24 hours (or hot for 12).
S'well water bottles, in Moonstone and Birds of Paradise, from $25 for 9 oz.
4. Emergency SPF
Somebody is bound to forget sun protection, so save the day with an all-natural block.
Babo Botanicals Sheer Zinc Sunscreen SPF 30, $22
5. Bug Zappers
Guarantee that no one gets eaten alive during cocktail-slash-grilling hour. 
Cold Spring Apothecary All-Natural Bug Spray, $14, and Kinven mosquito-repellent bracelet, $10 for 2
6. Multitasking Tote
This one holds everything for a day out. Bonus if you want to let them keep it to carry laundry home.
Baggu Big Bag, in Sailor Stripe, $12