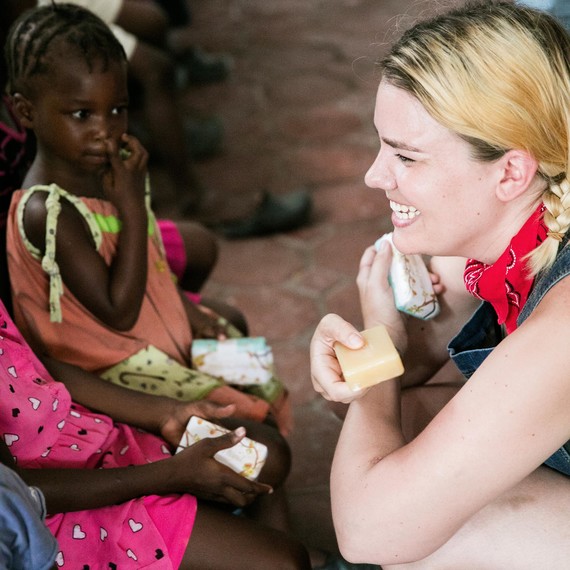 Our first day in Haiti kicked off in the afternoon after we arrived in the Port-Au-Prince airport, welcomed by a sign reading, "Hand is Hand" that immediately put huge smiles on our faces! Next we were whisked away to our home for the next 3 days, New Life Orphanage, one of our favorite places in Haiti, to drop our luggage off and then we hit the road for soap donations! We first stopped by Bon Repos, an area just North of Port-Au-Prince. There, we were greeted with hugs and kisses from about 50 children, who giggled and restlessly waited in line for their own bar of soap. After Zofia and Holly distributed the soaps, the children showed us around their orphanage, just as eager to share their names as they were to learn ours. Many children passed around a pencil, taking turns to write their names on their soaps -- ensuring that no one would mistakenly use theirs! At this point, the sun was starting to set and we headed back to New Life, eager to get a good night's sleep in anticipation of the next day's packed schedule.
The following day, we hit the ground running bright and early.
Our first stop was to a hospital where we were honored to be sitting in on the first meeting of Operation Sunshine, an initiative started by our non-profit parter, My Neighbor's Children, and Florida Hospitals. Operation Sunshine is a program that will provide free basic medical care for children in 6 orphanages in Haiti. This initiative was 2 years in the making and today was the first time everyone involved would be gathering together for the launch of the program. Several of the orphanages taking place in the pilot program were ones we have been working with for several years. Knowing that these children would now have access to basic medical care was so exciting for us. After the meeting, we toured the hospital, which was undergoing renovations as more improvements were being made.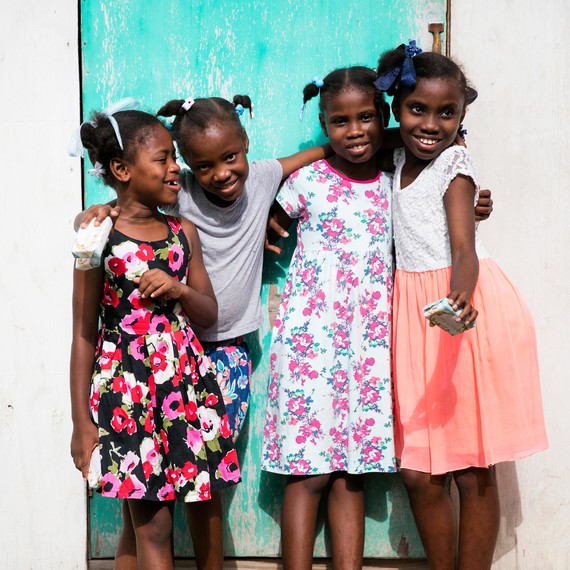 We left the hospital and immediately headed to Grace International, one of the orphanages involved with Operation Sunshine and a new donation site for us.
We met with the girl's orphanage, located on a sprawling campus with a hospital next door. The girls were lovely, chatting with Zofia and Holly and holding on to hands and shirts while they toured us around their home. It was exciting to learn more about individual girls there and how Operation Sunshine was going to help many of them with ongoing medical issues, such as Sickle Cell Anemia. This site was also in the middle of building a new transition facility for the girls who would be aging out of the orphanage system there. The building will house 8-10 girls as they learn the skills necessary to run a Haitian household, such as cooking, cleaning and laundry.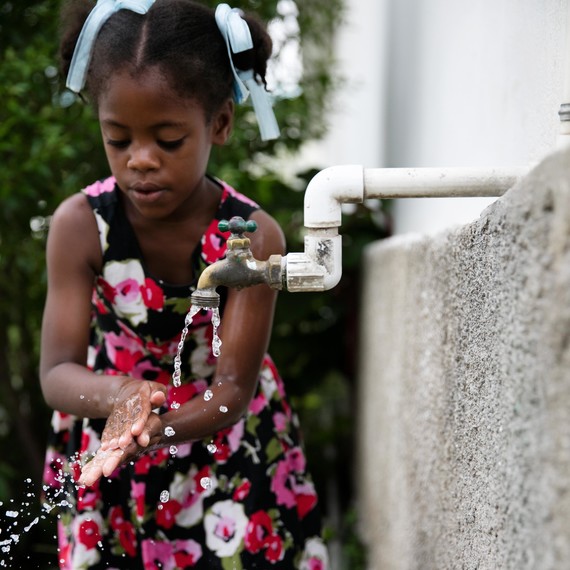 After Holly and Zofia handed out soaps, the girls immediately ran around to the side of their building, turned on the faucet and started washing their hands! It was thrilling to witness their excitement first hand as they eagerly lathered up, washing hands, arms and faces with vigorous enthusiasm. We spent hours there with the girls, chatting, washing, singing songs and taking silly selfies.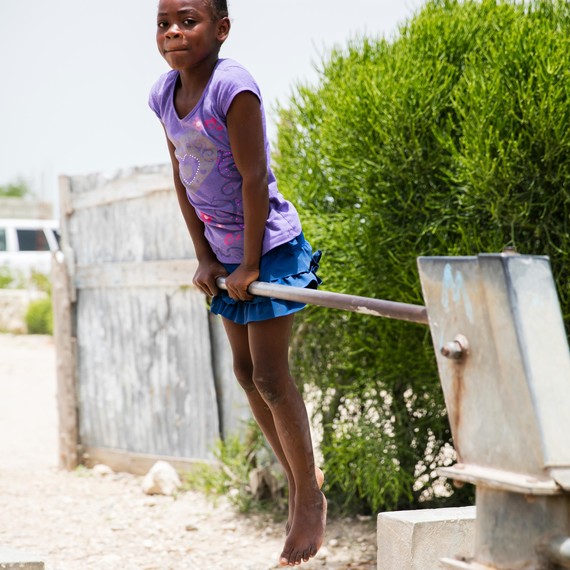 The next day was filled with memories for us! First, we headed to Onaville, an area located about 20 minutes outside of Port-Au-Prince and the site of our first well built in 2013! After the 2010 earthquake, Onaville became a tent city. In 2013, the government started issuing land for people who had lived there since the earthquake. Today, the area houses over 80,000 people and is quickly becoming one of the most populated locations on the island.
We pulled up to our well and it was pumping! We stayed for around an hour and watched our well being used every single minute. A few of the kids encouraged Zofia and Holly to try their hand at pumping, which we learned was quite hard! (though you would never know it from watching this young girl)!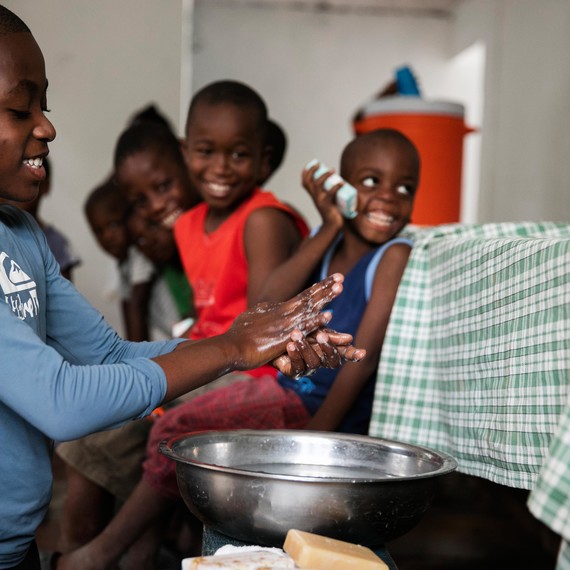 From Onaville, we headed to Bon Samaritan, one of the first orphanages where we donated soaps! Visiting there is like coming home for us. The kids have known us since 2012 and we have seen many of them grow up in that time. The children sang a few songs for us before we started handing out soaps. Since we have worked in this orphanage for so long, the children are accustomed to us and to having soap, which is amazing to see! We set up a small hand washing station and took turns getting clean before sitting down to enjoy snack time together.
We were also excited to be helping Bon Samaritan with reparing their well. While they have had a well at Bon Samaritan for a while, the water levels have been dropping in Haiti as more wells are installed. In order to help with this problem, we funded the extension of their well, allowing them to reach much deeper water and ensuring that they will have access to clean water for a long, long time. Since we feel so at home at Bon Samaritan, we stayed for around 3 hours, playing with the children, talking with the staff and watching their well being repaired, which Hand in Hand funded for this trip. The day was filled with dancing, flips, showing off, hugs and lots and lots of laughter.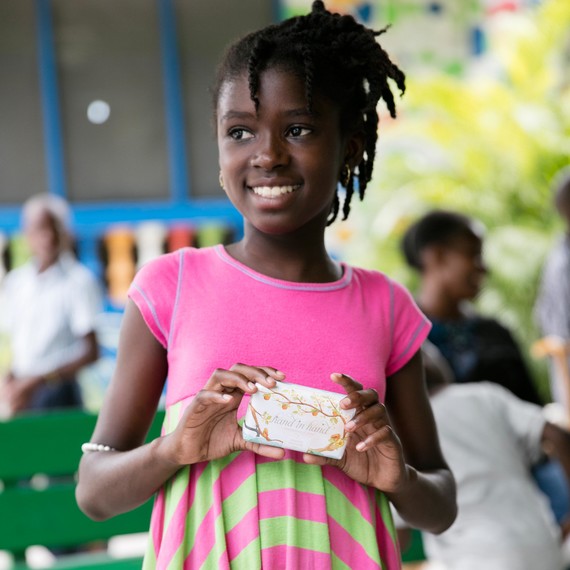 For our last day in Haiti, we stayed at New Life to spend more time with the children there. New Life is a very special orphanage with a beautiful campus that allows them to be completely self-sustainable! They have a garden, chickens, turkeys and even fish. New Life is also special because they take in children with various levels of mental and physical disabilities. Here, the children have access to specialists and regular medical care, which is very rare in Haiti. The children are thriving and it is wonderful to get to see so many of them doing well each time we visit.
In the late morning, we handed out soaps to all the children and then spent time playing outside with them before we had to leave for the airport. Saying goodbye is always the hardest part! But we had a wonderful visit and know we will be back soon with more impactful projects.