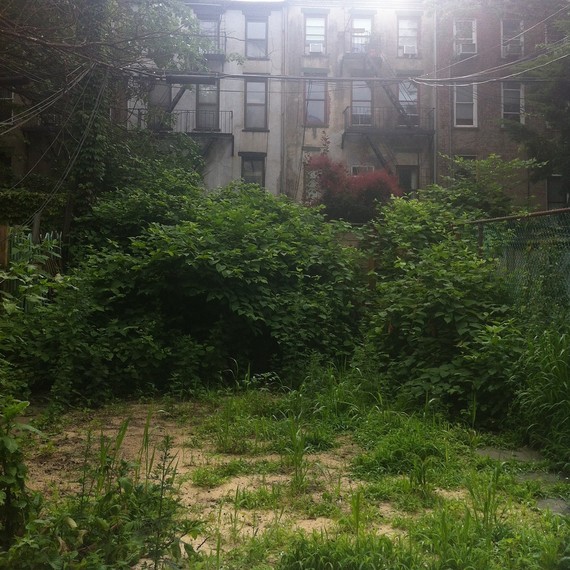 While an apartment with a back yard is certainly a coveted find in New York City, it can also be a very overwhelming project. When Brita Olsen moved into her one-bedroom rental, she opened the back door to a sunny patio in desperate need of some TLC. Japanese knotweed runs rampant in the neighborhood, and had slowly started to take over the space. This was the state of the yard when Olsen found it, making it hard to see the potential of the outdoor space. After many failed attempts to combat the weeds and beautify the space on her own, she finally enlisted the advice of a trusted professional. Sera Rogue, owner of Red Fern Design, a full service garden design company in Brooklyn, stepped in to offer her helping hand and green thumb.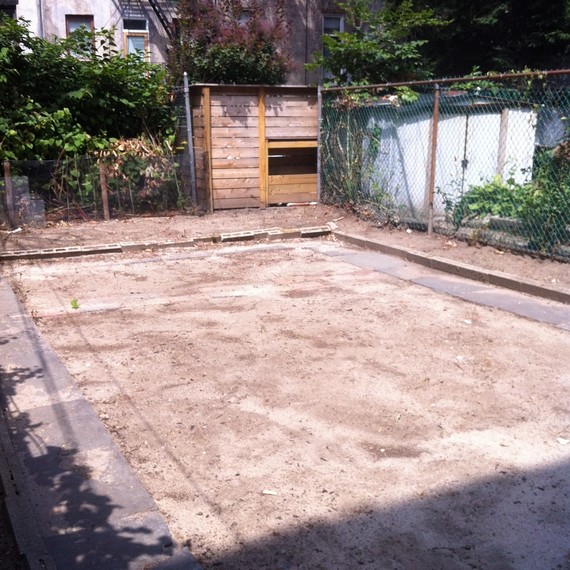 With the weeds finally gone, the space is a blank canvas and ready to fill in with outdoor tiles and furniture. Next, a fence was put in to create a more privacy.
For tips on how to outfit your yard with furniture check out this post: Outdoor Furniture and Decorating Ideas...Made Easy!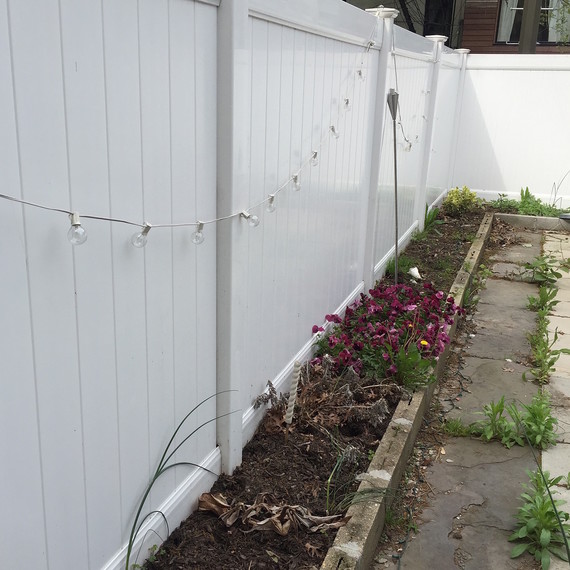 With the new fence the space becomes cleaner, but also seems to be calling out for color and new plant life.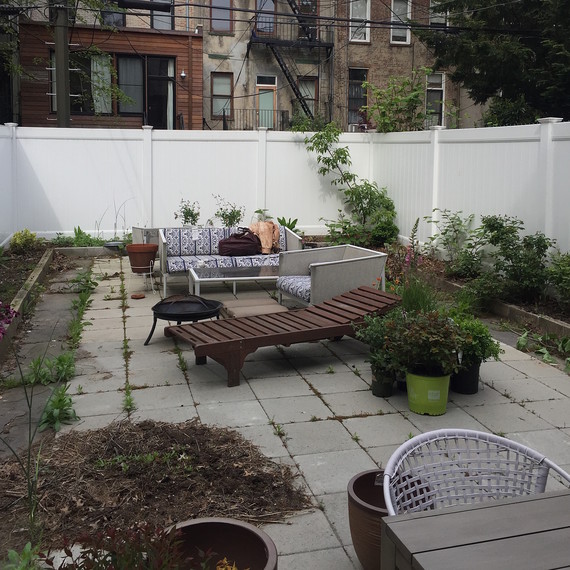 "When I approach a garden makeover, I take stock of specimens already present in the space." Rogue, explains, "The client may have picked these up at nurseries and farmer's markets over time. They are meaningful clues to what appeals to the client in terms of form, color, and texture. Unless the client expressly wants the specimen out, I am always down to recycle/re-use plants to serve the overall garden design."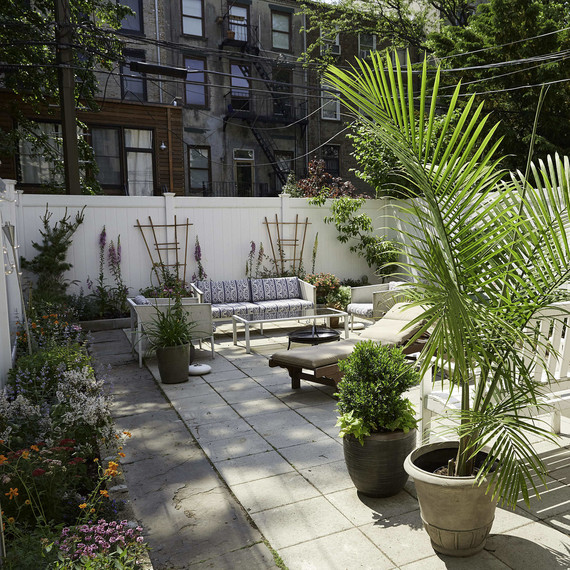 "Brita wanted a colorful, voluminous look for her border garden." Rogue says "I recycled a lush boxwood by adding another and putting them in pots to help demarcate space. Then I added colorful Spirea in chartreuse and in the same shape throughout the border. Brita already had a peach tree growing in the corner of the yard. At the nursery, I spotted a unique Japanese pine that echoed the shape of her tree. I knew it had to come home to Brooklyn."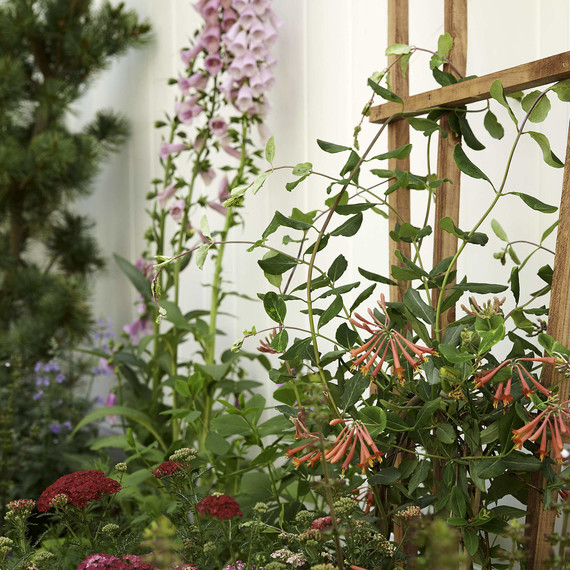 Olsen wanted a to bring a "hippie California vibe" to the Brooklyn space in order to combat the stark feeling of the white fence put in by her landlord. "Since the yard is a full-sun environment, it was perfect for a wildflower look." says Rogue, "I focused in on varied heights and pops of color, using Foxglove, Yarrow, Salvia, Dianthus, and others. Wildflower gardens are so dynamic -- color, movement, and texture come into play to create drama and even emotional touchstones."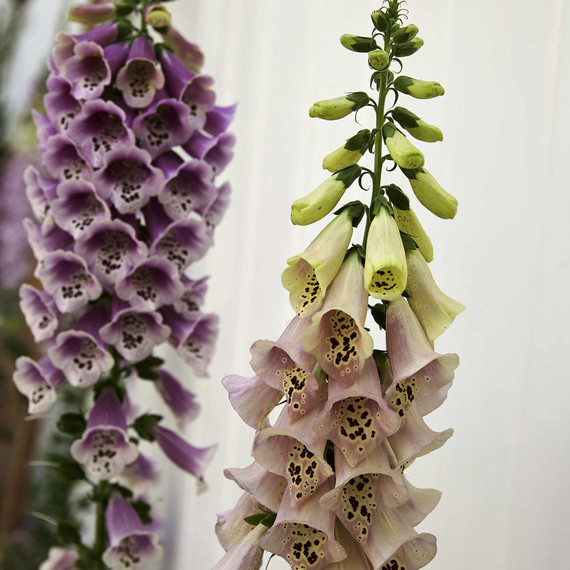 "When Sera unloaded the foxgloves from the car I jumped with joy." Olsen says. "There is just something so regal and captivating about them." The height of the foxgloves served to draw the eye up and added a colorful focal point to the design. Read more about cultivating heirlooms in your garden.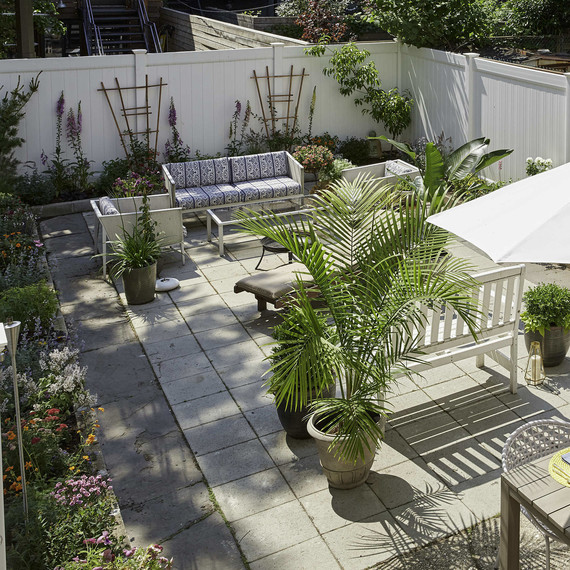 Olsen was thrilled that Rogue was able to capture the spirit of what she envisioned for the yard. "In our first meeting, we discussed how you would never have a room in your house that you don't fill with furniture, so why do so many people leave an outdoor space bare?" Olsen says, "I love that I now have a new outdoor living room where I can entertain, read and drink my morning coffee. When I step outside I am immediately put at ease, surrounded by new flowers blooming and changing everyday."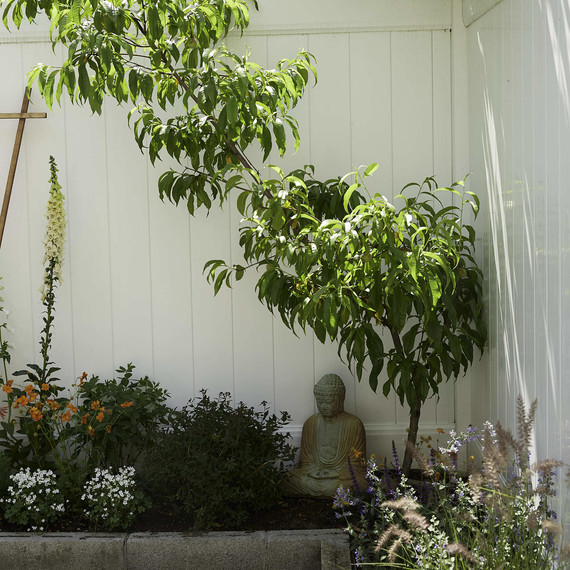 Olsen planted a peach tree last year and it was the only thing that survived the harsh winter. Rogue incorperated the tree into the design by filling in with tall foxgloves and wild grasses. Below, a buddha, found at Brimfield Antiques show, sits and peacefully looks over the new garden. "I think this is my favorite corner" Olsen says "I feel like the peach tree did me a favor by hanging around and producing fruit. Its a small victory."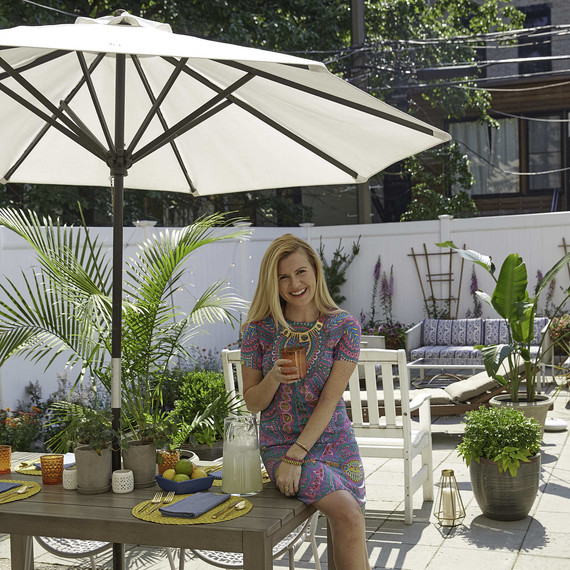 Since Olsen is an event planner, it is important for her to have space to entertain. In addition to planning monthly dinners with her supper club Filigree Suppers, she also works as a wedding planner and designer with her own company Brita Olsen Creative. Summers are a busy season, so having a low maintenence yard that brings joy is a welcome retreat.
For more before and afters see this driveway garden makeover.