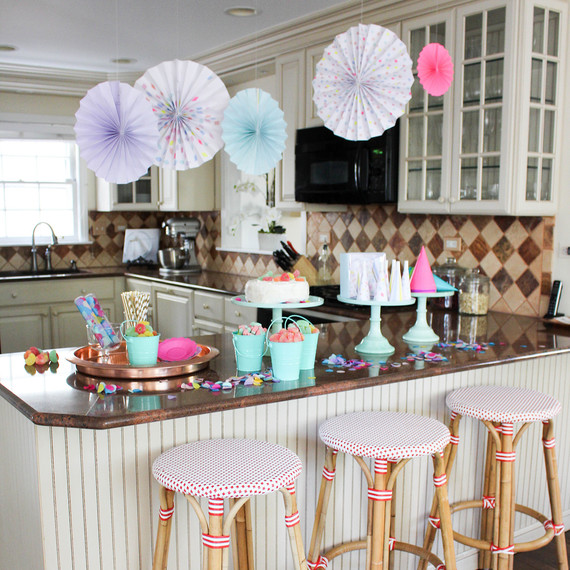 1. Sprinkle Candy-Colored Confetti
I call my kitchen, my "confetti kitchen" -- that's usually because it's covered in it! To me, confetti is reminiscent of all things party: sprinkles (which top cakes, cookies, and cupcakes), bubbles (from freshly-poured prosecco), and glitter (once you use it, it never leaves). Not to mention, it's reminiscent of candy itself!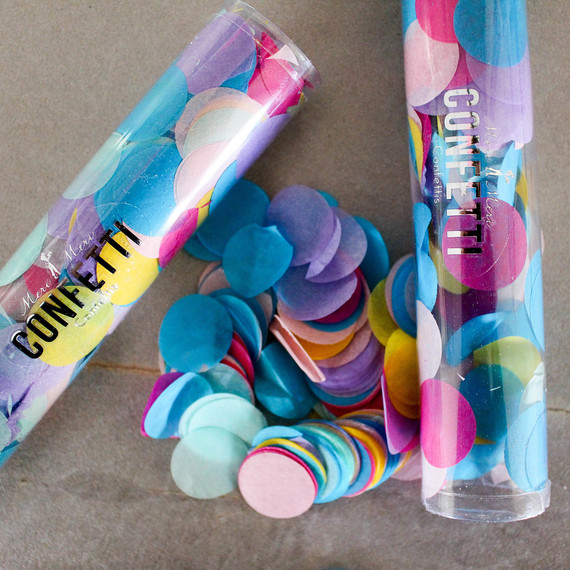 While there are endless different types of confetti, this extra large tissue paper confetti is a fun choice. I love bright colors, and they are sure to stand out on any surface.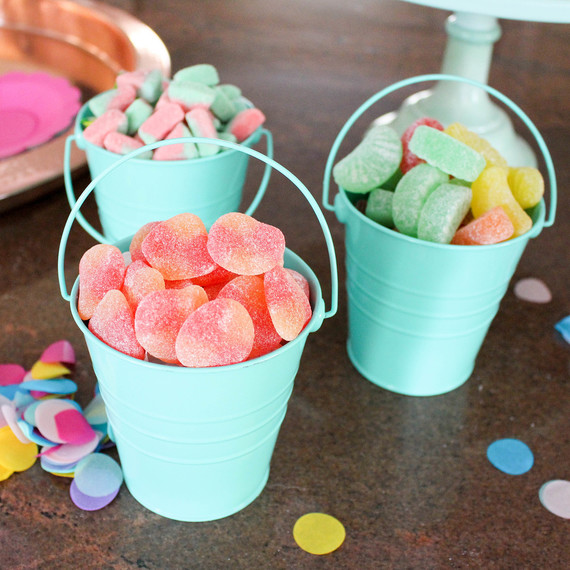 2. Fill Grab-and-Go Candy Buckets
These little tote buckets are a pretty presentation! Pick a color scheme, and mix and match candies. The best part about candy is that all colors end up going well together so you really can't go wrong.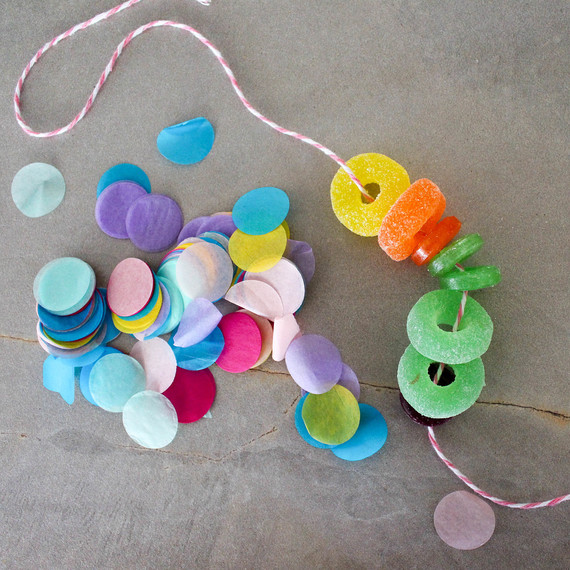 3. Turn Your Candy into Wearable Art
With every party you need activities. Stringing candy necklaces together is a great idea for this particular get-together. Use cute twine to hold gummy circles and hard life-savers. These make for great takeaway gifts.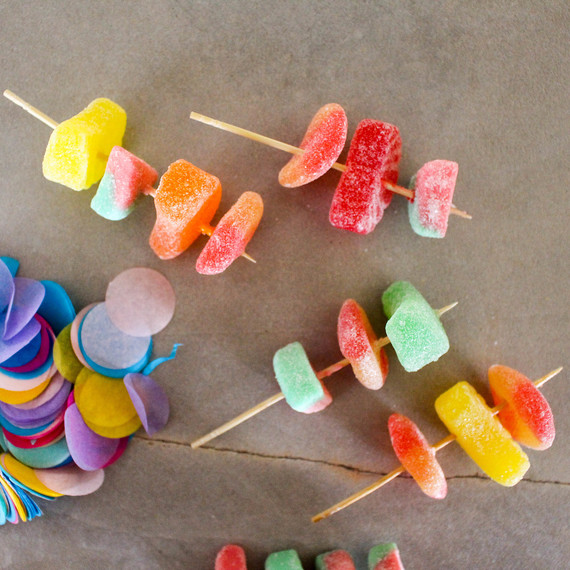 4. Stack Your Own Candy Kebabs
Also try these fruit candy kebabs: sour watermelons, peach rings, and sugared cherries.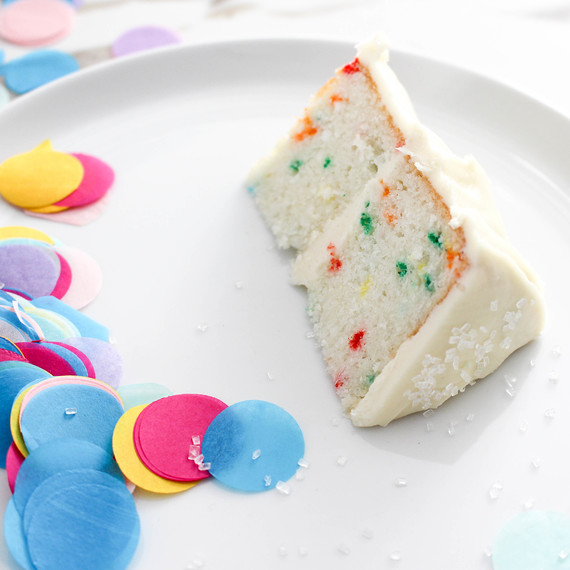 5. Bake a Confetti Cake
And of course, I serve cake. For a candy theme, this is my favorite vanilla cake, with a little edible confetti inside, and whipped frosting on top.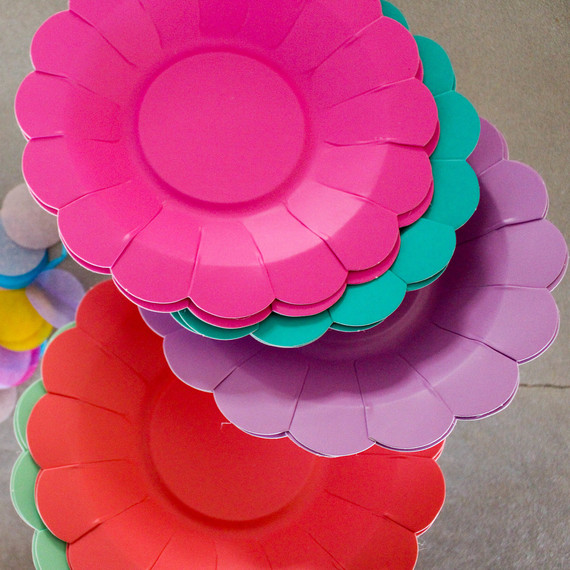 6. Present Everything on Plates That Pop
When served on scalloped mini plates, everything looks bright and dare we say, more delicious.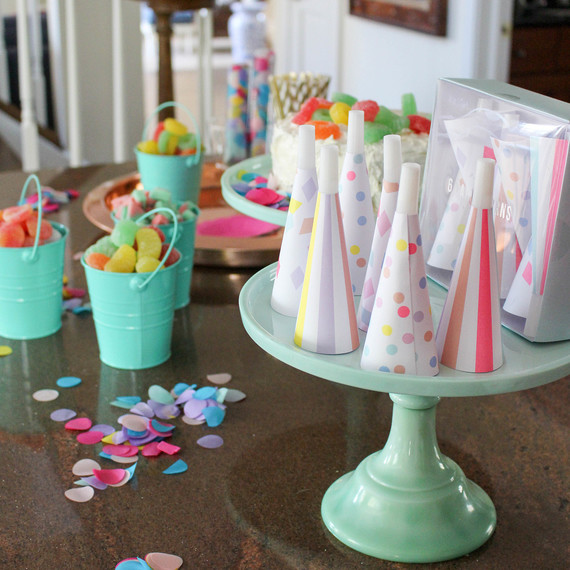 7. Make Some Noise
I usually put noise makers or horns out if it is a surprise or when it's time to cut the cake people have a way of gathering and cheering. If you have cake stands, put the cake on one and the horns right next to it so they are picked up when the candles are lit!