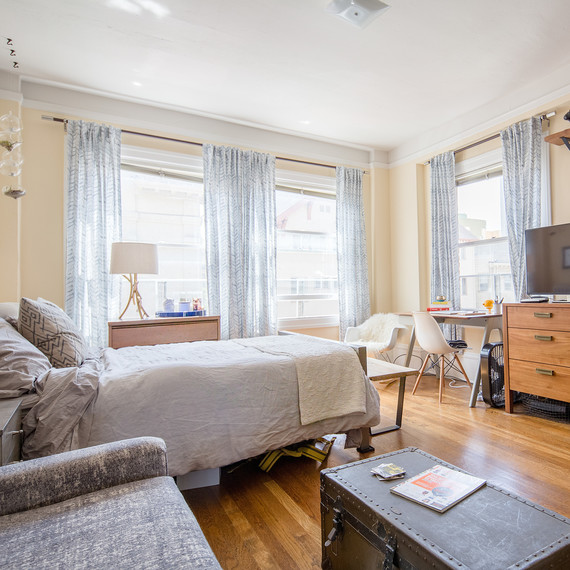 While some may imagine cramped and uncomfortable spaces when thinking of micro apartments, in the case of this particular home in Oakland, they would be wrong.
The Dot & Bo team and I recently had the pleasure of stepping into human resources manager Travis Saville's Oakland, California micro apartment for a tour. Let's just say we couldn't have fallen more in love with the stylish-yet-efficient use of space. His studio features a clean, contemporary aesthetic as far as the eye can see (though, to be fair, the eye can't see all that far). Read on for a full tour!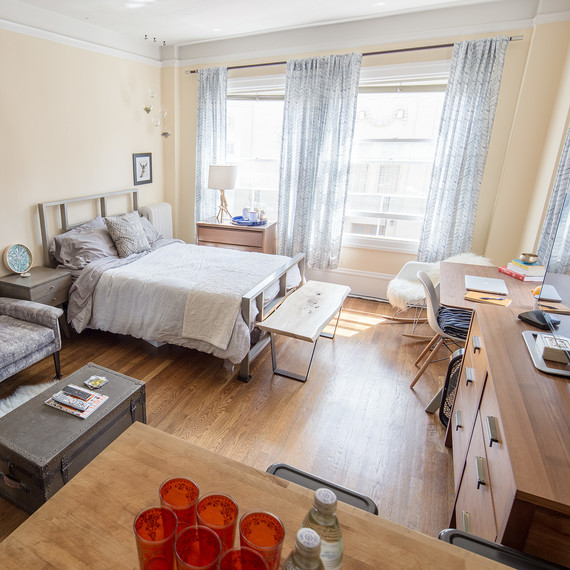 The term "micro apartment" refers to a small flat that fits all of the traditional spaces of a home into one open floor plan (except for the bathroom) which, in Travis' case, is tucked away down the hall. Travis' apartment features a kitchen, dining nook, living area, and bedroom all rolled up into one beautifully decorated -- though small -- space.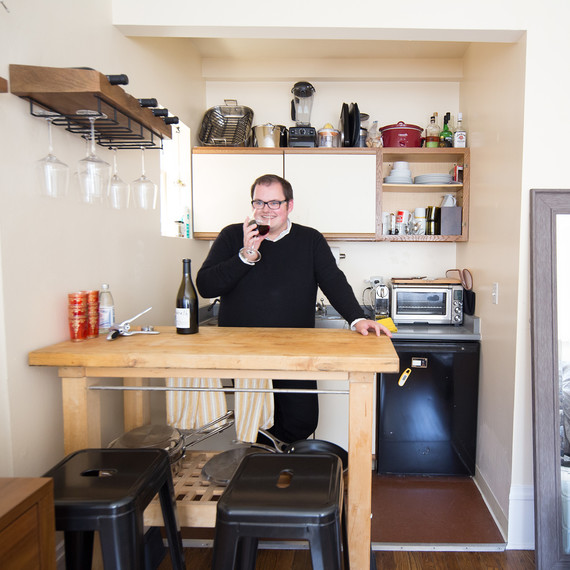 Our tour starts in the kitchen, where Travis pours himself a glass of Wrath wine while standing at a table that doubles as both dining area and counter space. Small space design lesson #1: In a micro apartment, everything needs to have a dual purpose.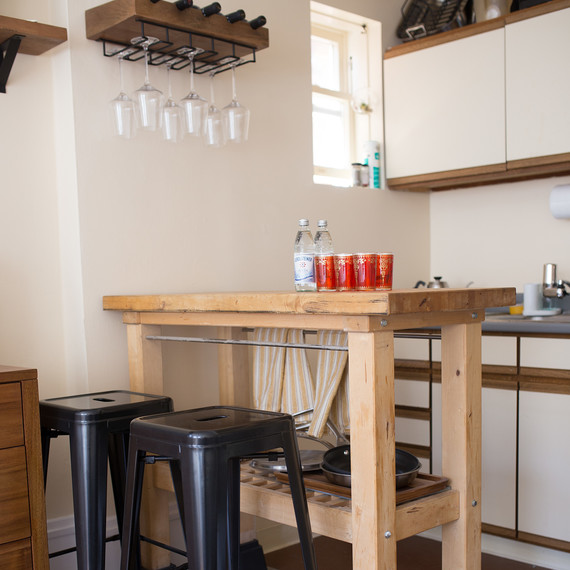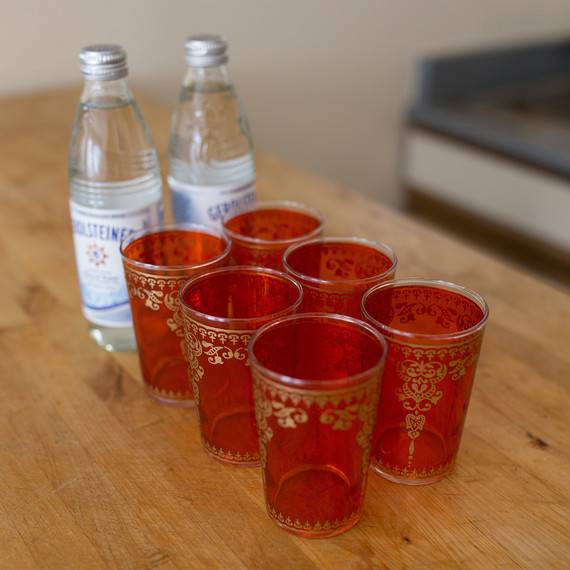 The wood table and hanging wine rack have been paired with metal stools and wrought iron fixtures that can be found throughout the apartment. Funky Dot & Bo Moroccan tea glasses add a splash of color to the space and are perfect for entertaining guests.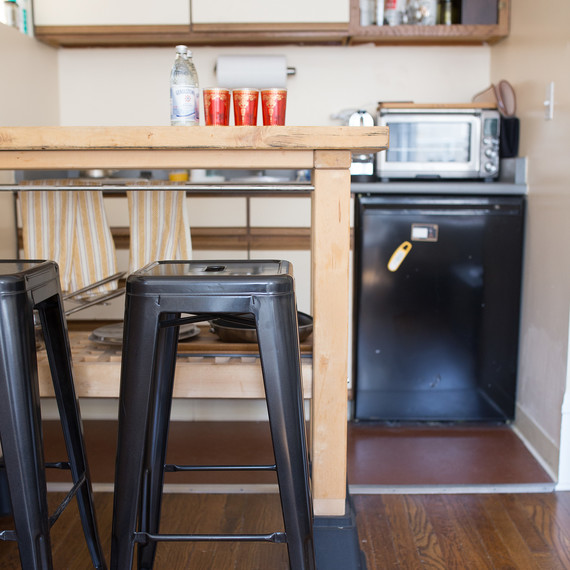 A mini-fridge sits tucked into a corner of this space, the perfect size for this tiny (yet beautiful) kitchen.
When asked how he manages to fit all of his gadgets and other belongings into his apartment, Travis let us know he "Got rid of so much stuff and it was very freeing. I came to terms with the fact that, in my mid-twenties, I didn't need dinnerware and serving accessories for 12 people."

Instead, Travis focused on keeping what he loved and donated the rest. Small space design lesson #2: Embrace a one-for-one policy.
"If I want to buy something new," he explained, "I find something [I already own] to donate or recycle in some way before I make the purchase."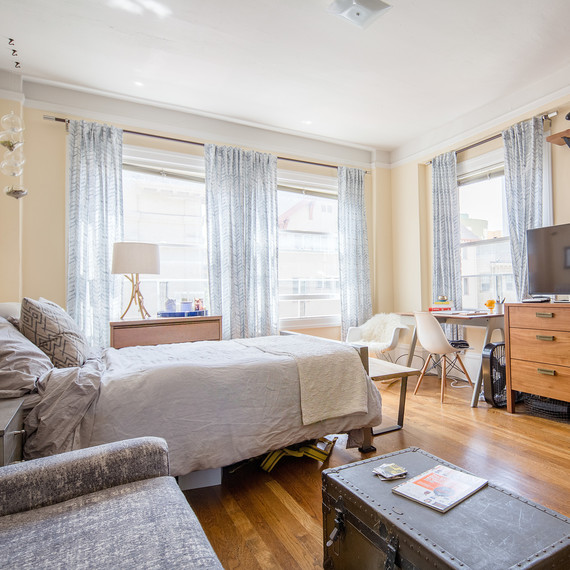 In the sunny living area, we are struck by the brightness of the space. Travis likes to keep the windows uncovered as much as possible, as it helps to make the space feel larger.
I particularly love how the gauzy grey curtains frame the three large windows, giving the space a light and airy aesthetic.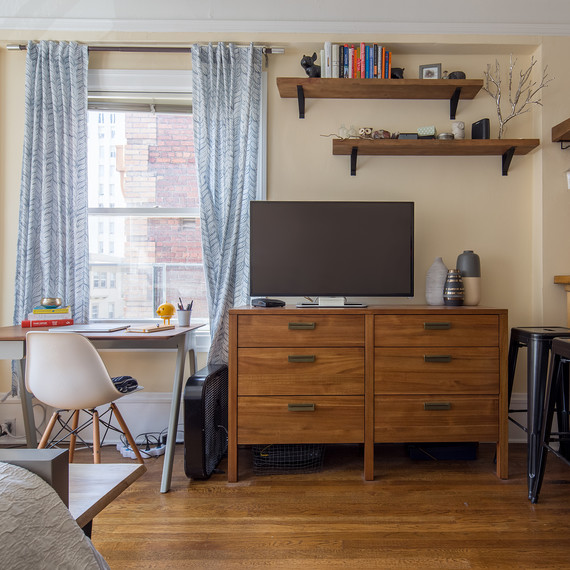 The warm woods that Travis has incorporated into the room also help to achieve this effect. Wood shelving floats above a stunning dresser that doubles as a TV console. The addition of the shelves adds depth to the space while also creating a unique spot to show off prized belongings and flea market treasures.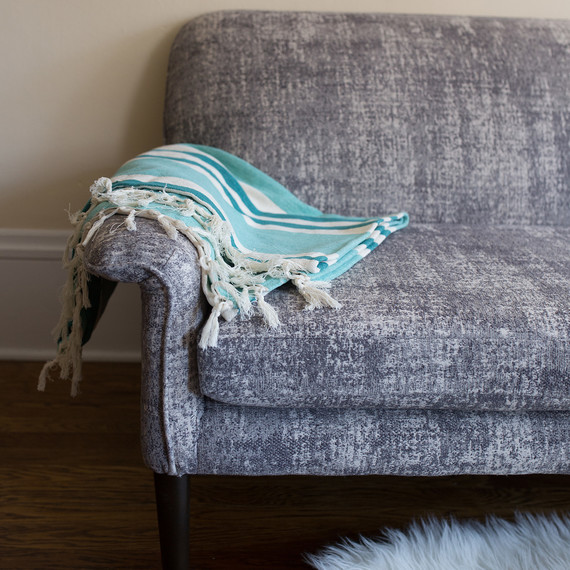 A gorgeous antique trunk sits in front of the couch, again playing on the idea of dual utility; Travis can store less-used items in the trunk, while it functions as a coffee table for day-to-day use.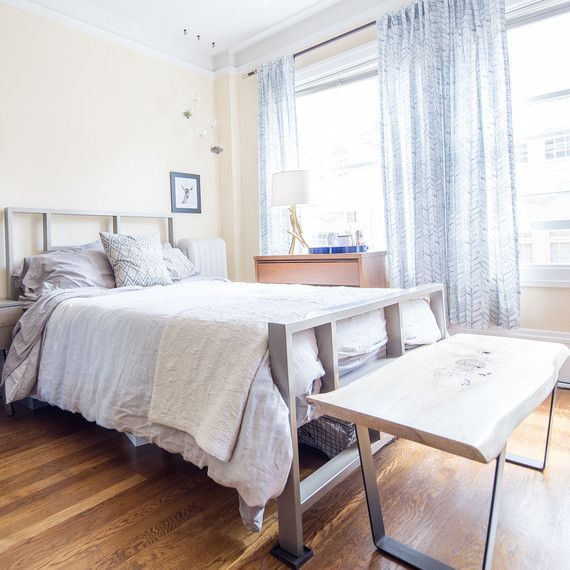 As for his sleeping arrangements, Travis says that he considered building a loft bed, but ultimately felt like it would be too challenging to keep the space stylish while sleeping 10 inches from the ceiling...
Instead, he created a peaceful sleeping area with calming neutral fabrics and minimalist furniture. Small space design lesson #3: Neutrals are your friend. Just remember to spice them up with hints of pattern. Travis' solution? Placing a patterned Dot & Bo clock next to the bed to add a fun splash of movement to the space.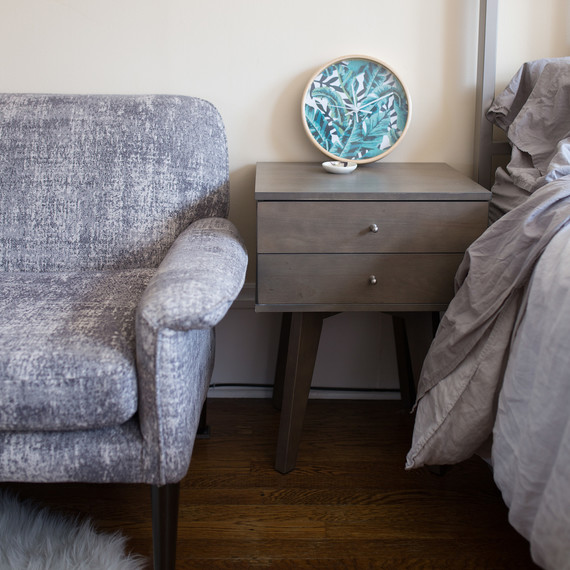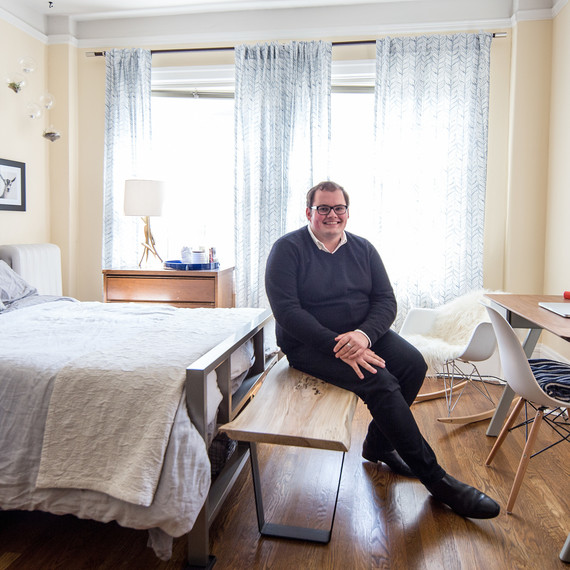 Can we also take a moment to appreciate the gorgeous live-edge bench that Travis' father made by hand? I love the organic modern touch this element adds to the overall space.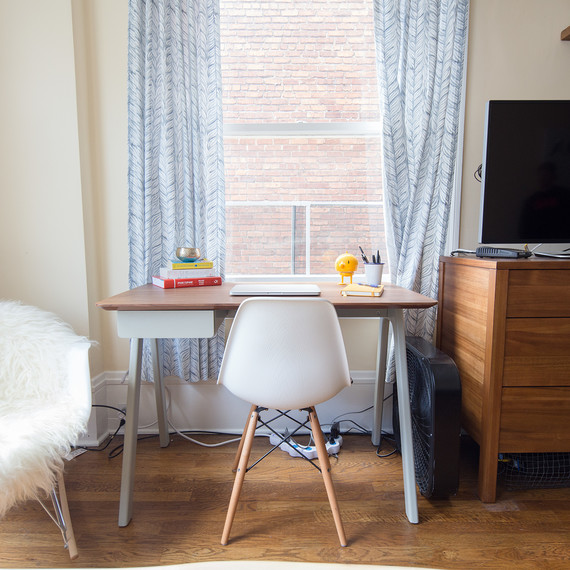 A desk placed opposite the bed helps to separate this bedroom space from the rest of the apartment, making this side of the room feel a bit more private. Travis says that he tries to keep surfaces as clutter-free as possible, because nothing makes a small room feel more cramped than filling it with too many things.
A cozy rocking chair completes the bedroom area, serving as both a seat for guests and a spot in which Travis enjoys sipping his morning coffee.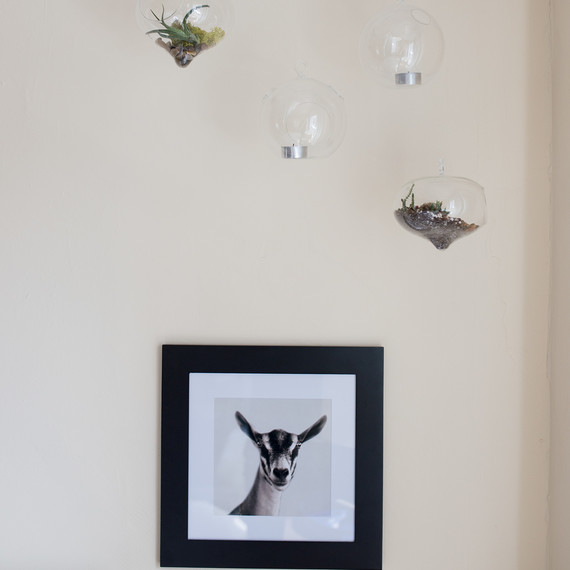 Similar to his floating shelves, Travis has hung air plants from the ceiling, rather than resting them on limited surface space. The glass terrariums are minimalist and lend a dreamy aspect to the area above the exposed heater and quirky artwork.
Looking to add a dash of whimsy to your own space? Bring home a similar goat print in a muted color palette for the perfect conversation starter.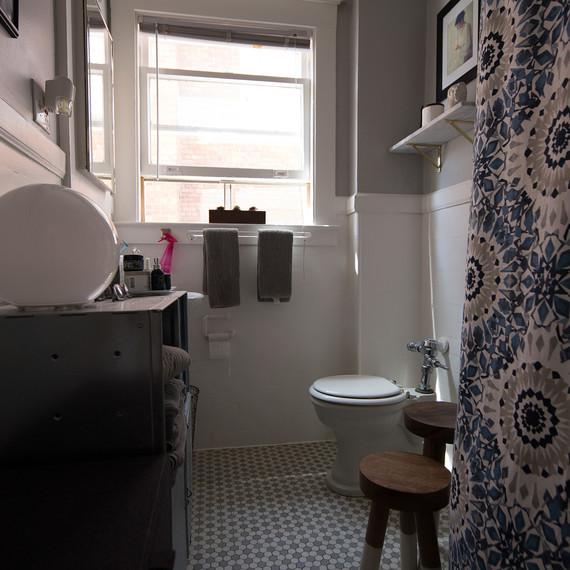 Tucked away near the front door, we find the bathroom. Like the rest of the apartment, Travis has worked with the space to create a contemporary design that makes the room seem larger than it is. Original tile floors pair well with neutral grey walls and a vanity with lots of cabinets.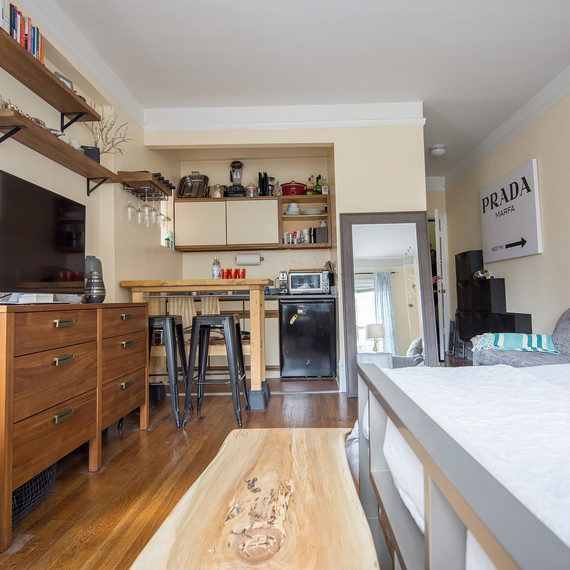 Despite the size of his apartment, Travis has managed to create a space that is both minimalist and comfortable. Crafty storage containers, a keen eye for decor, and lots of natural light have helped this micro apartment feel anything but cramped.

When asked how he feels now that he's lived in the space awhile, Travis says, "the apartment is still a work in progress, but I like it as much as the day I moved in."
Readers: What is your favorite element of this tiny apartment? Have any small space living tips to share? Sound off in the comments below and follow @DotandBo on Instagram for more daily design inspiration.