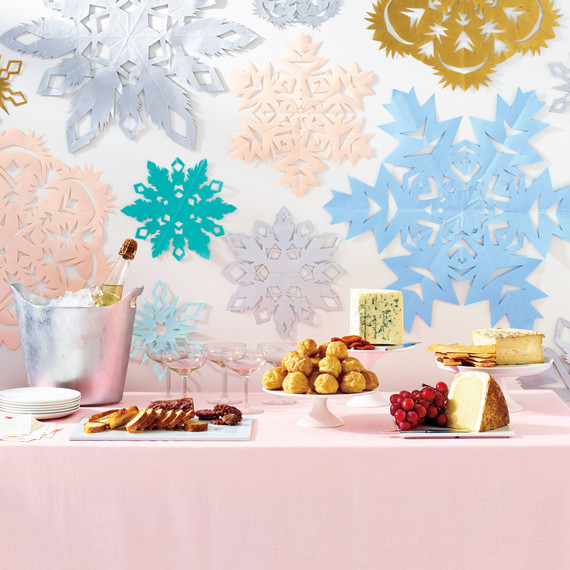 Hands-Free Hosting
Christmas parties are a labor of love. We love to celebrate -- we truly do! -- but we also want to be able to enjoy the company of family and friends. The solution: host an easy-going, flowing event. Follow our plan for a cocktail party.
Low-Labor Decor
The great part about Christmas parties is that decorating is nearly intuitive. A few easy touches make a big difference. Hang Christmas lights on the porch for a festive entrance. Larger-than-life paper snowflakes are playfully decorative. Or better yet, combine the two with these snowflake lights. Either way, the tree is the main attraction. A regal pine tree sitting pretty in the parlor is all one needs for an impressive presentation.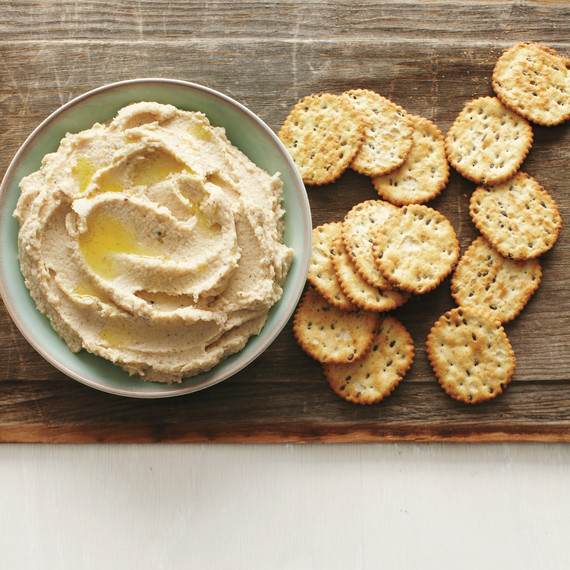 Make-Ahead Magic
One of the reasons we adore cocktail parties is that many components be made ahead. Opt for finger foods that are easily transportable and not terribly messy. Save any food that requires two hands for a sit-down occasion. Dips that can spend time in the fridge awaiting the big day are ideal. Ones that can be served at room temperature like our Cauliflower-White Bean Dip are best but crowd pleasers that are served warm such as our Artichoke Dip with Fontina or a meaty Mushroom and Bacon Dip can be made ahead and chilled, then heated just before guests arrive. Serve fancy looking but easy to pull off canapes like shrimp and endive atop crackers. A cheese platter is a must, more on that below. If you prefer a slightly less full-on cheesy option go for herb-cheese palmiers. A bowlful of Candied Nuts, easily made beforehand, should sit on the table beside the drink station.
Keep it Moving
Don't make the mistake of many cocktail parties: that the appetizers and drinks are centrally located -- too centrally located. One large table of appetizers will mean guests select their appetizers and go. A few will hover over the table, feeding off a tray of meatballs. In order to ensure guests can circulate, set up a several tables each with a selections of appetizers. Similarly, try not to place the bar near the food. As guests return for the second and third rounds of punch, they'll lend the festivities the lively movement a Christmas party deserves.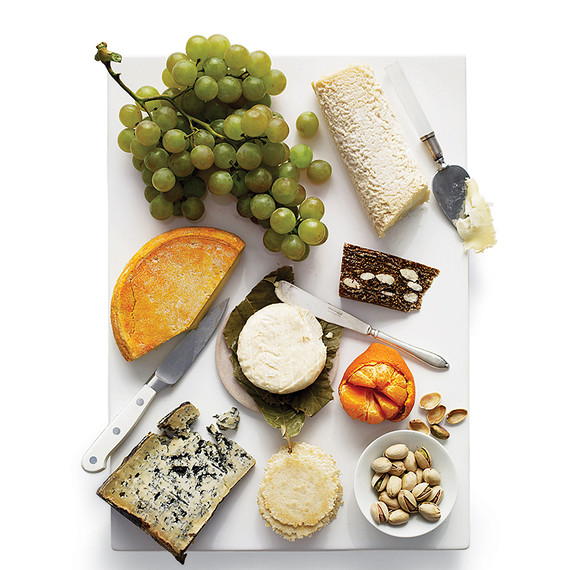 Just Say Cheese
There's no party food more delicious or low-maintenance than a large, inviting cheese plate. When selecting cheese, balance texture and palate. Typically, a cheese plate can only take one truly "fragrant" cheese (less dairy-enthused people might call them "stinky.") Match a meaty Manchego with a soft log of goat cheese. Learn the best way to portion cheese for easy serving and complete your platter with crackers -- make your own (ahead of time!) for bonus points. Presentation is easy: adorn your cheese tray with seasonally appropriate dried cranberries or figs or other fruit for a pop of color.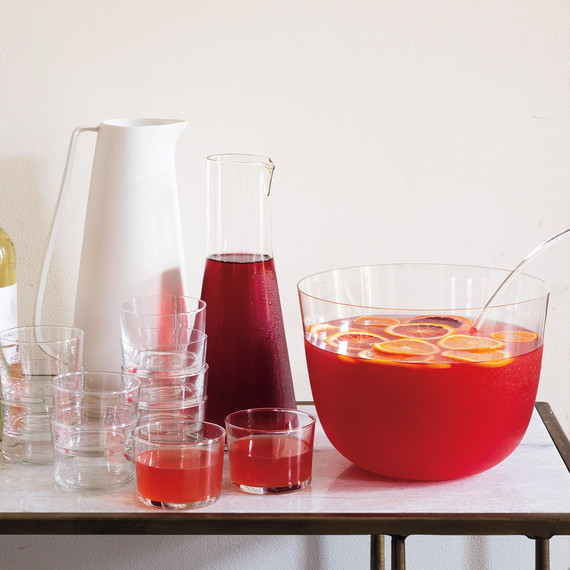 Mix N' Match
For the drinks, choose quality over quantity. A few choice drinks will delight guests without putting too much strain on the host or requiring a bartender. Make large bowl of colorful punch or try one of our other big-batch winter drinks, plus offer wine and beer and an alcohol-free option or two. If you're feeling more ambitious, set up a bar with the ingredients for one or two simple cocktails that guests can make themselves.
Sweet Snacks
Keep the bite-size theme going when it comes to a treat or two for the sugary finale. Candies, fudge, and other dessert finger foods (think bar cookies cut into petit squares or slender rectangles) are easy to eat -- and easy on the cook if you opt for make-ahead recipes like Bourbon Pecan Candies. Even simpler are these chocolate truffles, they come together thirty minutes and can be stored for up to a week.
Finally, Mingle in Honor of Kris Kringle
Perhaps the best part about holding a cocktail party is that the host can actually enjoy the festivities. With food made ahead and everything organized, you have time to mingle, drink in hand, and catch up with guests. If that sounds too decadent, pass a plate of hors d'oeuvres as you socialize. Above all have a good time! 
Check out our holiday entertaining checklist for more Christmas party ideas!