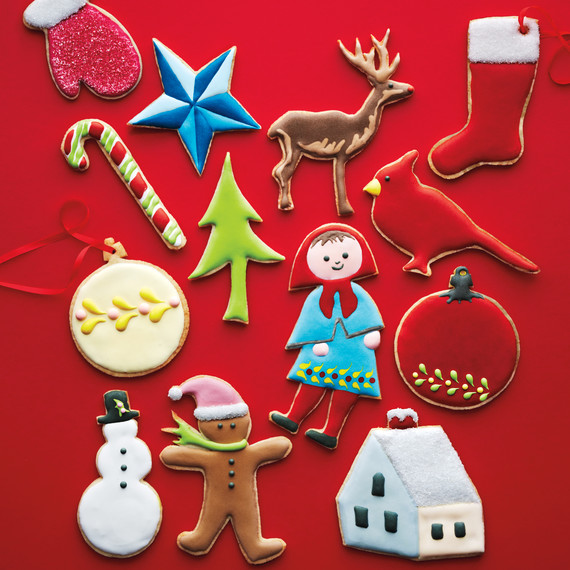 We love an interactive party. Crawfish boils, make-your-own pizza nights, knitting circles -- any party that centers around an activity is bound to be a fun one. It's an easy way to encourage interaction between guests who maybe don't know each other already and, as a bonus, it alleviates responsibility from the host. This holiday season, host a Christmas cookie decorating party for a truly sweet evening.
The Menu
Sweets
Martha's Favorite Royal Frosting
Nibbles
Oatmeal Chocolate Chip Cookies
Sips
Pre-Party Prep
This is a decorating party, not a mixing party or a baking party. Decorative Christmas cookies often also require at least a day of refrigeration -- you want the dough to be sturdy enough to support all that frosting! The day before the party, mix the cookie dough and refrigerate. Our classic sugar-cookie cutouts can be made up to three days ahead of time. We recommend making 3-4 batches of cookie dough. Sure you can do all sugar cookies but maybe a batch of chocolate cookie dough and a simple spice cookie dough to be sure to please all palates. We love this honey-spice gingerbread dough as well.
Baking on The Day Of
Cookies should be baked and cooled by the time guests arrive. Hot cookies are difficult to handle and warm cookies aren't terribly receptive to frosting. Several hours before the party begins, roll out and chill the dough. Christmas-themed cutouts will be fun (like these Christmas trees or houses), but they needn't be so specific. A few simple circles or shapes can serve as blank canvases, awaiting creative inspiration. Use the cutouts you do have creatively -- two concentric circles can make a wreath or a square and a triangle can make a house.
Martha's Favorite Frosting
Decorative frosting should harden easily -- the faster it hardens, the easier it will be to handle, and you want guests to be able to toss these cookies in a bin at the end of the night. Royal frosting uses meringue powder to make a harder frosting -- buttercream won't cut it. You'll have to make Martha's favorite royal frosting just before decorating the cookies, but don't worry: it's very easy to make! This recipe makes enough for 100 cookies -- we suggest making two batches of the frosting for a party with over 10 guests. Make the frosting in a large bowl, and separate into smaller bowls and allow guests to mix in food coloring -- that's the fun part! Allow guests to find their inner Picasso with food dye and frosting.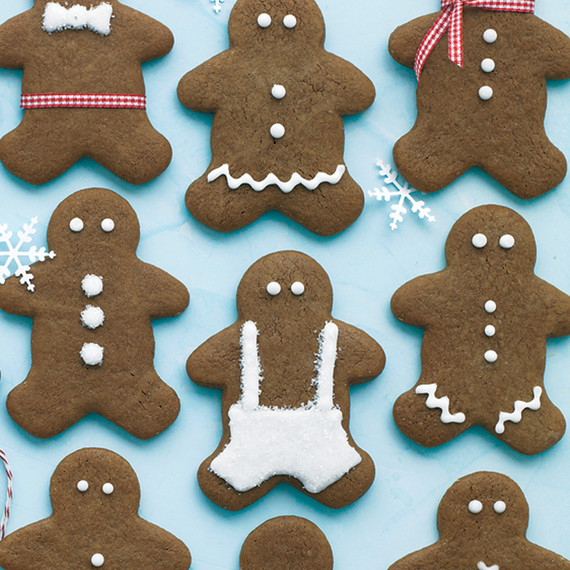 The Accoutrements
It's not just about the frosting! Part of the fun is all the candies you'll get to handle! Nonpareils, sanding sugar, and peppermints are all elegant accessories for the Christmas cookie. And gumdrops are a must -- after all, the gingerbread people aren't dressed without candy buttons!
Setting Up the Station
For the party, make sure to set out all the necessary tools in a central location. Keep a collection of small mixing bowls and spoons out for guests to grab when they're in need. Paper towels will also come in handy. If you're feeling fussy -- we won't judge! -- gloves will keep guests from getting their hands too sticky. But this a cookie party -- inevitably, things are going to get sticky. Lay out butcher paper on the surfaces where guests will be decorating, so you won't find royal frosting on your counter, later.
The Nibbles
Ensure guests don't eat all the cookies (they can eat a few) by providing a few savory nibbles. You'll want easy eats -- no soups or foods that require utensils. Finger sandwiches, dips, and anything on a skewer will keep guests nourished and focused on the goal at hand: the cookies! Pigs in Blankets can be prepped ahead of time and baked just before guests arrive. Antipasto Skewers require almost no prep and our classic Hot Spinach Dip will keep guests cozy and satisfied. And it won't hurt to have another sweet; bake an additional tray of a chewier cookie for guests to nibble on throughout the night -- that way, they won't have to eat their artwork. These Oatmeal Chocolate Chip Cookies will add a bit of complexity to the sugary-sweet evening.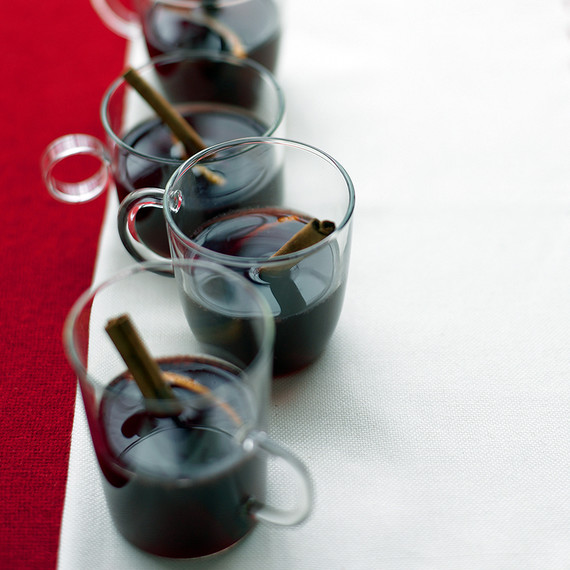 Sip Something Simple
For a party where guests are really rolling up their sleeves, provide an easygoing drink -- no martinis, please! Select a few wintry beers for guests to sip at during their decorating. Opt for a malty ale with notes of spice or an amber lager to match the cool weather. For non-beer drinkers, keep an easy mulled wine and hot chocolate warming on the stove.
That's a Wrap!
After guests have created their masterpieces, wait till the royal frosting hardens before packing cookies away. Pack cookies in parchment paper and small gift boxes so guests can easily take them home. As for cleanup, toss out the butcher paper and grab yourself a glass of mulled wine -- it's been a productive night!
Now for inspiration, watch Martha making cookies at home: