If you're anything like me, you're always itching for a change in your home. Hello, remodel fever! I personally like to start with the bathroom, since I'm already inclined to keep it clean and updated on a regular basis. But, I'm looking for simple bathroom designs.
It's easy to switch up the style of this room with new cabinetry, a new mirror, or even just a fresh set of hand towels. But, if you're interested in making a larger statement, consider investing in a backsplash or accent wall!
In this post, I'll share some examples of fantastic accent walls, and you can decide which would best suit your home. Ready?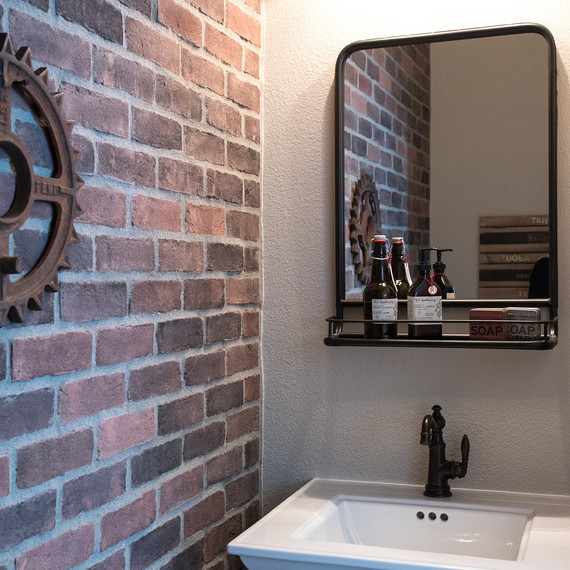 Exposed Brick
There's nothing quite like exposed brick to give us that strong, industrial vibe. This style is not for everyone, but in the right home it can make a powerful statement. Notice that the rest of the furnishings are kept simple and minimal so as not to overwhelm the eye.
The apothecary-style mirror has no ornamentation whatsoever and plays host to only four grooming essentials. Too many accessories will quickly clutter the space. The towel holder, mirror and faucet are all dark brown, and the hand towel is brown as well to maintain a streamlined aesthetic.
A single gear wall piece adds a bit of character to the brick and further accentuates the raw look of the room.
In order to keep the space feeling modern and fresh, the other three walls are painted bright white. This complements the brick and brings out its lighter red tones.
I love this unique bathroom look and think it's a wonderful option for anyone who enjoys industrial design.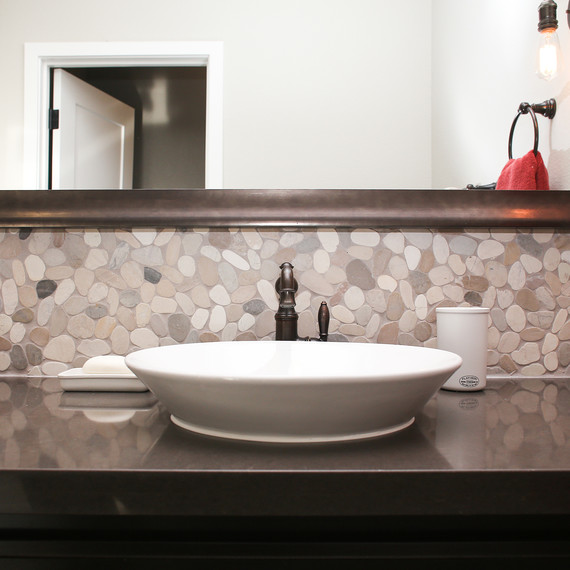 Neutral Stone Tile
How serene is this stone backsplash? It's made of flat pebbles in neutral hues -- a material that adds instant texture and depth to a room with otherwise all smooth, polished surfaces (I'm looking at you cabinets, countertop and sink!).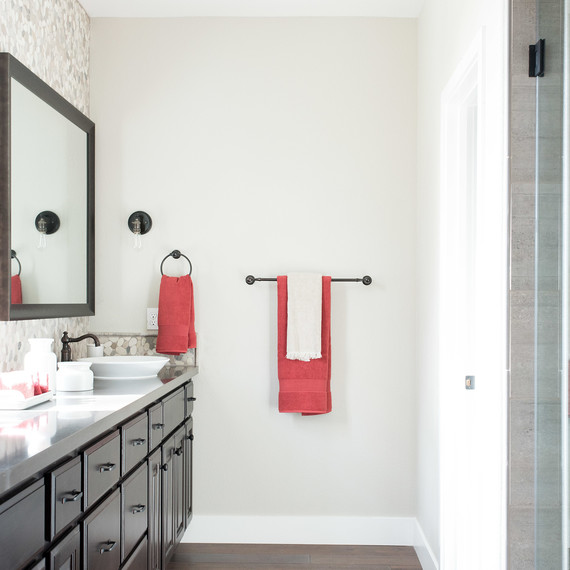 Notice how the different tones in this room complement each other. The rich hardwood floor warms the space yet still contains a hint of cool -- almost blue -- that ties back to the natural variation in the stone backsplash. The gray shower tiles do the same to complement the spa-like aesthetic.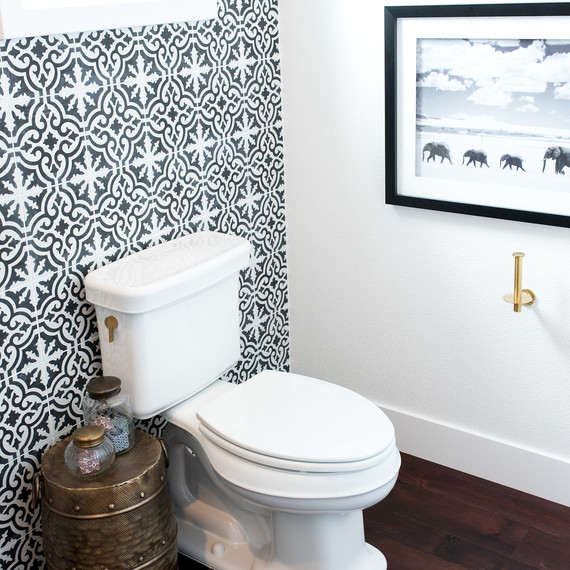 Bold Geometric Patterns
Sometimes you just have to go with the bold choice! These elegant wall tiles look similar to Mexican Talavera tiles, but the black-and-white palette makes them appear a bit more serious and sophisticated. By accenting the bathroom with black-and-white photography, the room embodies an almost gallery-like feel.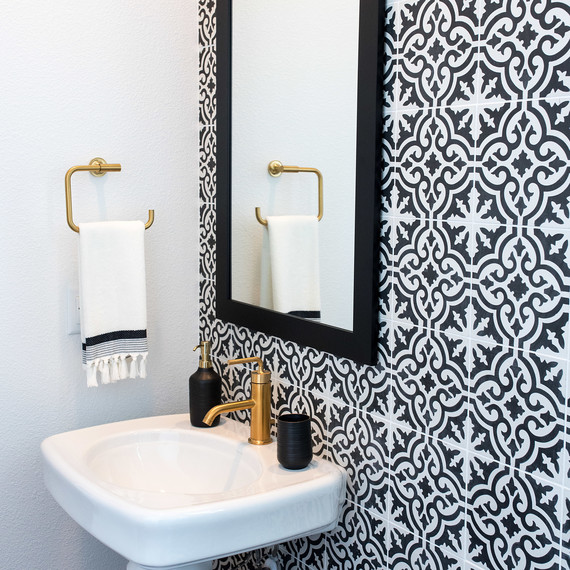 If you plan to incorporate a pattern like this into your bathroom, make sure you have a way to warm it up. The rich hues in this bathroom's flooring and fixtures help keep it from feeling too stark. Gold pairs exceptionally well with black and white, but copper accents can work just as well in this setting.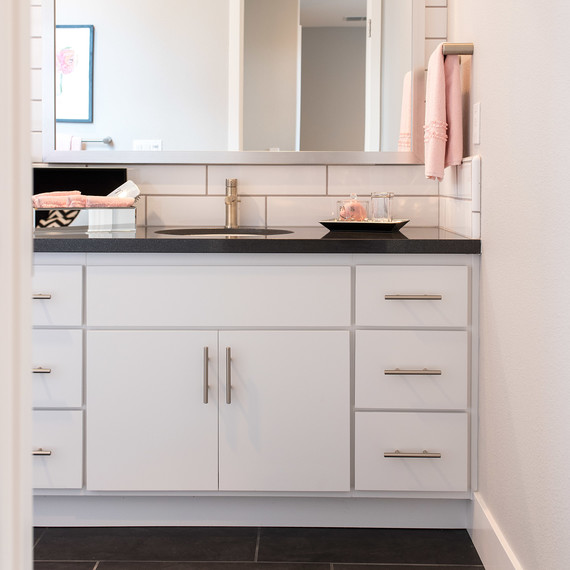 Glamorous Subway Tiles
Can I just say how much I love the versatility of subway tiles? From use in urban industrial settings to farmhouse kitchens -- and even in this glamorous bathroom -- these trendy tiles have solidified their place in the world of design! In this bathroom, white wall tiles and white cabinetry work together to provide a sleek, modern aesthetic. Notice the beautiful geometry created by the horizontal and vertical lines between the tiles and the silver handles of the cupboards. Also, these features offer a pleasing conrast to the dark sink counter.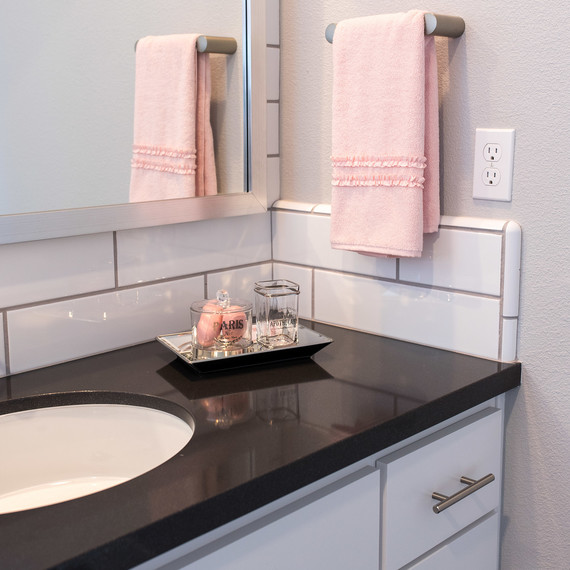 The reflective surfaces of the subway tiles play off the soft blush of the hand towel and soaps to add a touch more rouge to the bathroom's atmosphere. This light pink tone warms up the space and gives it an ethereal quality.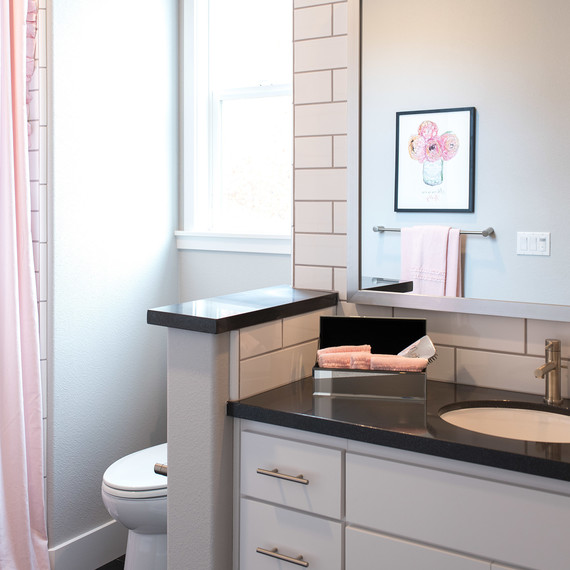 We all know that bathrooms play an extremely important role in our homes. They are where we start our days and often where we take refuge after long hours. Anyone for a soak in the tub (with a glass of wine, perhaps)? A cool backsplash or accent wall can make all the difference when it comes to refreshing your space. Consider making this your first big renovation project of the new year!
Have any bathroom designs for us? Share them in the comments below!