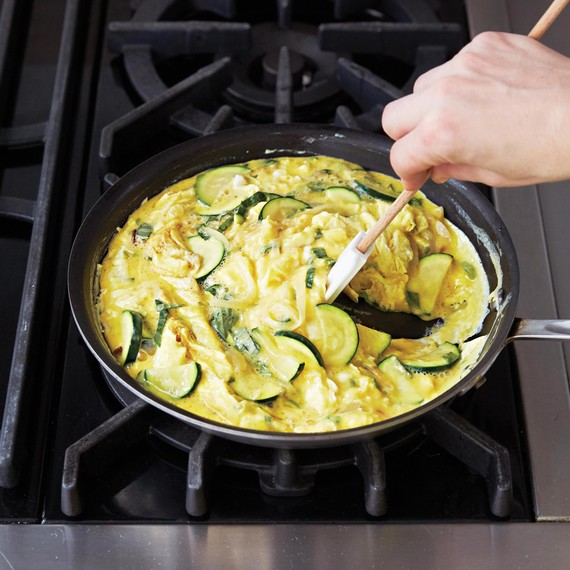 1. Pick the right pan
Set yourself up for success by starting with the appropriate tool. Use a broilerproof nonstick skillet or a well-seasoned cast-iron pan so it's easy to slide your frittata in and out.
2. Use fresh eggs
Buying eggs can be tricky business. We recommend getting the freshest ones you can find -- they have the best texture -- from pastured hens that are allowed to peck around freely on grassland, like Martha's or those from Handsome Brook Farm. These eggs often have higher levels of heart-healthy omega-3s, vitamin E, and beta-carotene.
Don't Miss the 5 Things You Need to Know When Buying Eggs
3. Remember the order
Always saute aromatics first (onions, shallots, leeks, or scallions), then vegetables. These are the flavor base of your frittata, so be sure to cook until the moisture is reduced for the best taste and texture. Beat eggs while the filling is cooking, not in advance, so they hold their loft. Add eggs and herbs to the pan, followed by cheese.
4. Break out your spatula
The key to fluffy frittata? After adding the eggs to the skillet, use a heatproof flexible spatula to stir and push them from the edges to the center of the pan as they cook, so the liquid parts run underneath. Avoid overcooking -- the top should still be moist when transferred to the broiler.
Learn More About the Wonders of Broiler Cooking!
5. Experiment!
Our favorite summer frittata uses scallions, zucchini, basil, and provolone, but you can come up with your own variations based on what's growing in your garden or what produce looks best at the farmers' market. Just make sure to choose a soft herb (no rosemary or thyme here) and a cheese that has a nice texture when melted. Here are some ideas to get you started:
Shallots + Mushrooms + Parsley + Gruyere
Leeks + Cherry Tomatoes + Mint + Goat Cheese
Onion + Fresh Corn Kernels + Cilantro + Pepper Jack
Get the Perfect Frittata with Zucchini and Provolone Recipe