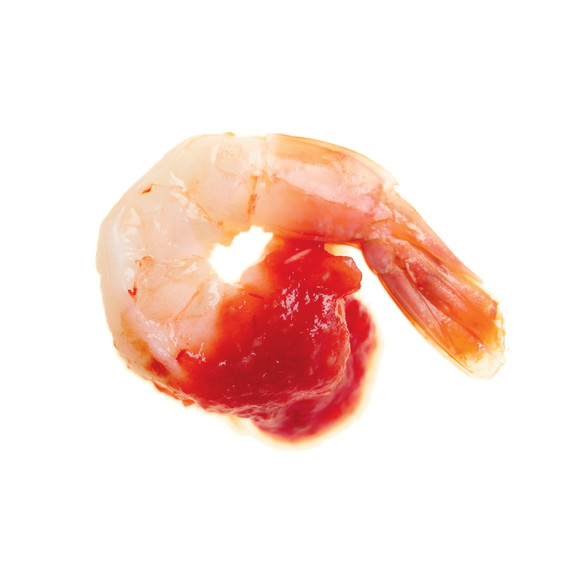 1. Buy fresh, shell-on shrimp
Frozen shrimp can take on an unappealing mushy texture, so spring for fresh shrimp whenever possible. The shell is also key to flavorful shrimp, so look for ones that still have theirs.
Bonus tip: instead of trying to figure out the difference between large and jumbo, buy shrimp by the number, such as 16/20, which means 16-20 shrimp per pound.
2. Flavor your poaching liquid
Adding aromatics such as lemon, fresh herbs, peppercorns, carrots, and/or celery to the poaching liquid will flavor your shrimp without overpowering them.
3. Watch the clock
Bring poaching liquid to a boil, add shrimp, and cook for a minute and a half, until the shrimp are completely opaque. Poaching is a gentle cooking process, but shrimp can still go from perfectly tender to rubbery in seconds, so set a timer!
4. Ice ice baby
Remove shrimp to an ice bath to stop the cooking process. Peel and devein when cool enough to handle and chill until you're ready to serve.
5. DIY cocktail sauce
Ditch the preservative-laden store-bought version and make your own cocktail sauce. It takes mere minutes to put together: just combine horseradish, white-wine vinegar, ketchup, fresh lemon juice, salt, sugar, and hot sauce and stir. Serve alongside the shrimp with lemon wedges.
Get the Classic Cocktail Sauce Recipe
Watch our Kitchen Conundrums expert Thomas Joseph demonstrate the foolproof method for cooking shrimp step by step.