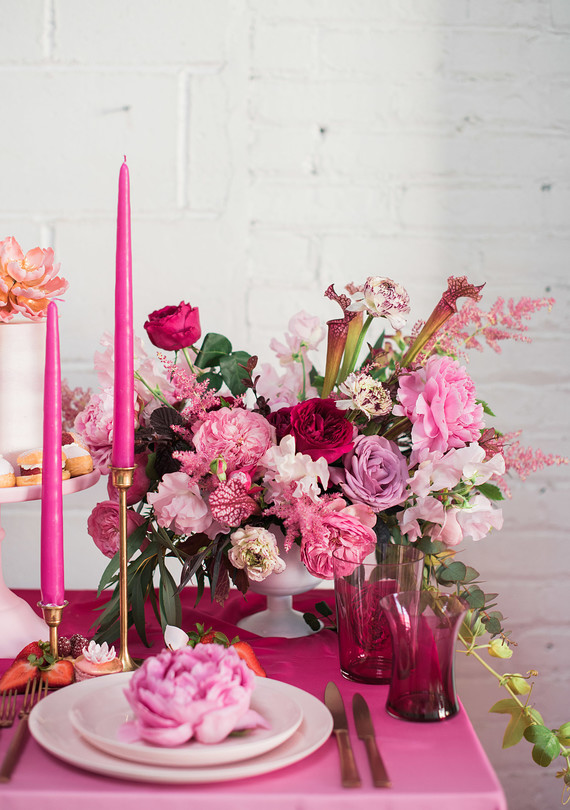 As we all know, monochromatics are a big trend right now! We at Hessney and Co wanted to do an article on how to decorate for a party and make a big splash with color . An easy way to do this, that looks like a professional designer did it, is to pick one color to play off of and just GO with it! The end result is a super chic and pop art tablescape. This one is inspired by a recent Marie Antoinette birthday party we did for Martha's dear friend and have been in a pink cloud ever since. We teamed up with our favorite vendors in the city: Tin can studios for flowers, The Tabletop Company for plates and flatware, Property Furniture for some fabulous glassware, and Kuramata Cakes in Brooklyn for stunning cakes and pastries we may or may not have demolished post shoot. Like you hair, ombre can be your BFF when it comes to design. We chose a palette of springtime pinks that can take you into those sultry summer evenings in a blink, but feel free to choose your favorite color to play off of! From the food to flatware to flowers you cannot go wrong with sticking to one color!
Ombré  --  a color technique that involves the gradual blending of shades and tints of any given hue  --  may have been made popular as a hairstyle, but if there's anything that's going to keep it from going out of style, that might just be design. Whether you're redecorating your home or setting the scene for a party, ombré decor has a way of making a space look all at once classic and cohesive, yet somehow eclectic. While the monochromatic color palette plays on the former, the range of shades that come with a good ombré allow for subtle pastels and loud neons to come together in a vibrant mix of colors (err, color). 
Get inspired by our pink-on-pink-on-more-pink party decor and see how to master an ombré look that will totally transform your next celebration!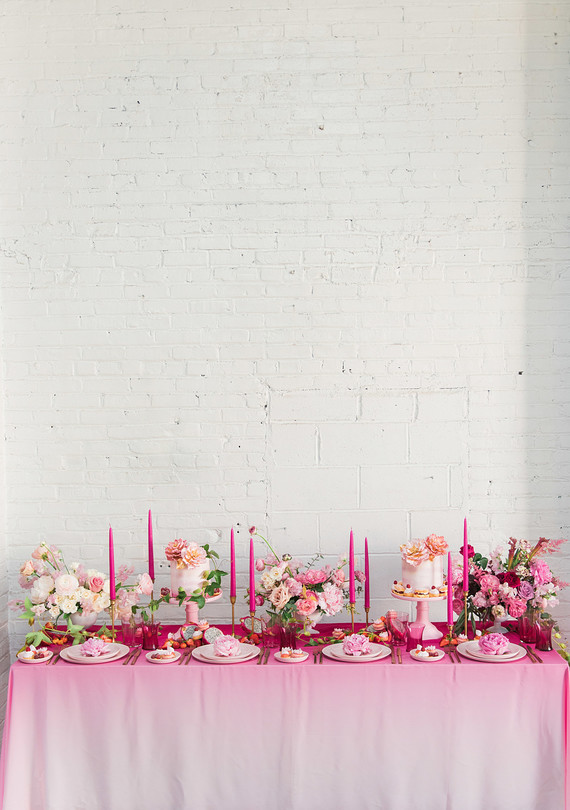 Set the Tone
First things first: an ombré tablecloth is the perfect way to set the tone for your decor. This is partly becuase it serves as a base for all of your table settings and treats, and partly because fabric makes for an especially easy medium to showcase an ombré effect with your colors. Place your cloth on the table so that the light edges fall towards the floor, while the area of the tablecloth with a richer tint falls on the table itself. This will draw guests' eyes to the top of the table, keeping their focus where all of the action is happening! 
Try This Ombre Technique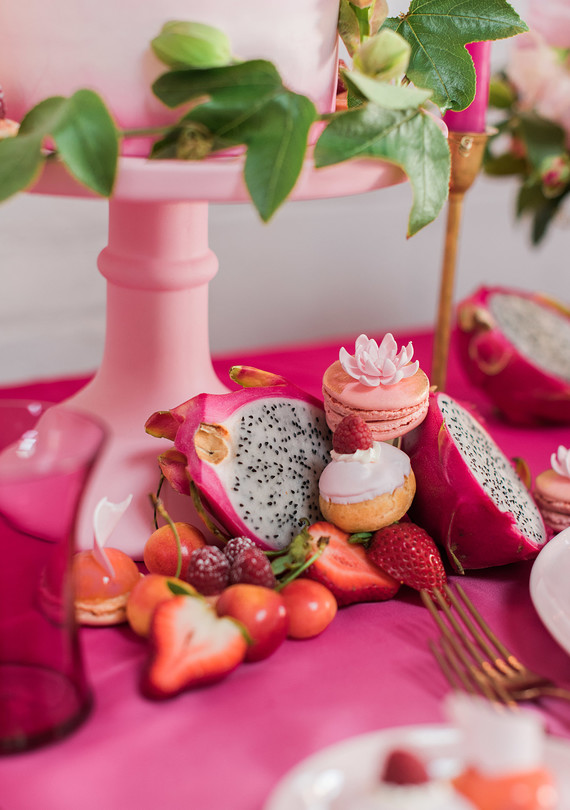 Taste the Ombré
Serve up a bit of ombré on the menu by sticking to your color scheme, even when it comes to the food. In the case of our pink-focused palette, a mix of pink and red fruits like strawberries, cherries, and dragonfruit make for a lovely medley to place right on the table. The addition of lighter sweets -- pastel pink macarons and raspberry-topped cream puffs –--works to balance out the rich colors of the fruit and stay true to the desired gradient effect.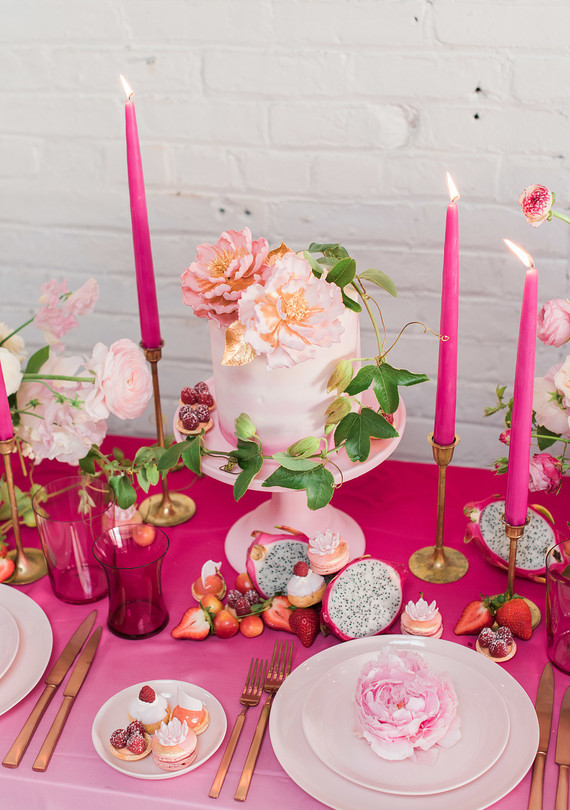 Meanwhile, a bit of ombré frosting or fondant makes cake the star of the spread. Again, start with the richest hue towards the bottom of the cake to direct the eye to the center of the table and to make it look like all of the colors fade to white as they move further away from the table.  
Learn How to Make Ombre Frosting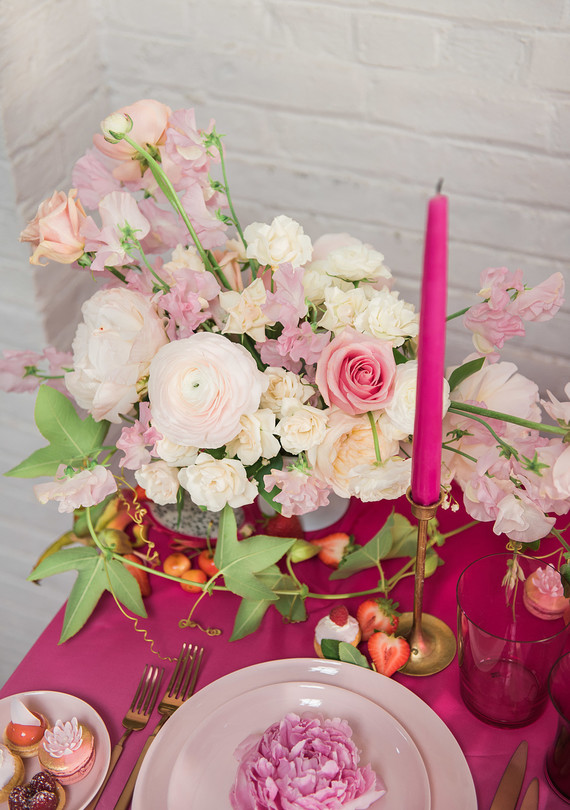 Gradient Blooms
Place an array of floral arrangements on your table. Have a few bouquets that use a range of lighter flowers – ours includes everything from white to blush to a basic pink – and others that use darker varieties – our darker bouquet includes several lighter blooms in addition to rich fuschia and maroon-tipped flowers.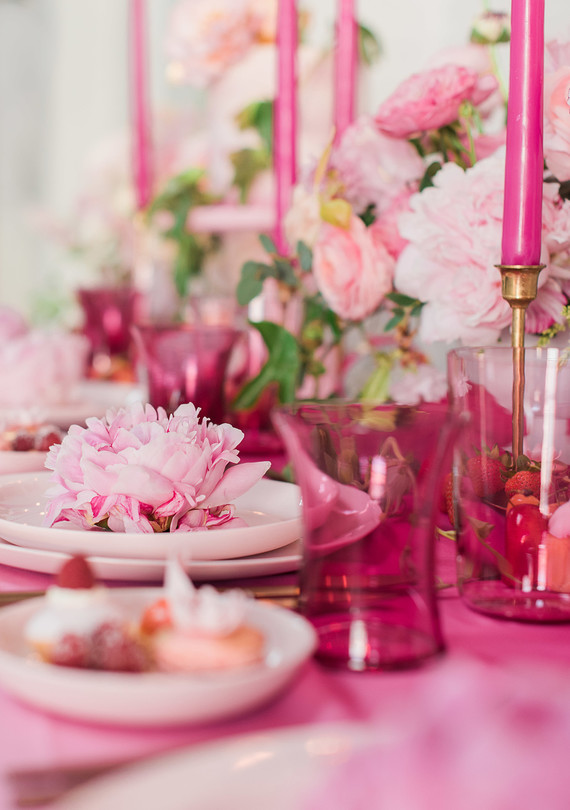 Finishing Touches
Top off your table setting with accents that play on your theme. Choose vibrant, colorful candles and glasses, while sticking to light, subtle plates and cake stands. And because the magic really is in the details, naturally-ombréd peonies on each place setting make for a lovely finishing touch. 
Floral: tincanstudios
Plates and flatware: The Tabletop Company
Glassware: Property Furniture