In today's world, convenience is king. From drive through options to online grocery delivery services, we have access to virtually anything and everything we could possibly want to eat. These conveniences, however, may come at a cost. Even those of us with the best intentions need healthy options that are portable. From the busy mom who works and drives her kids to afterschool activities to the tri-athlete who wakes up early to train, to the business woman who travels to three cities in any given week (my amazing sister!) there is a greater value in finding foods that also fuel you. Planning ahead is one thing, but when you have an on-the-go lifestyle you want options that not only taste good, but are good for you. Here, 10 healthy portable proteins that will satisfy your tastebuds and give you the variety you need to help keep you on track.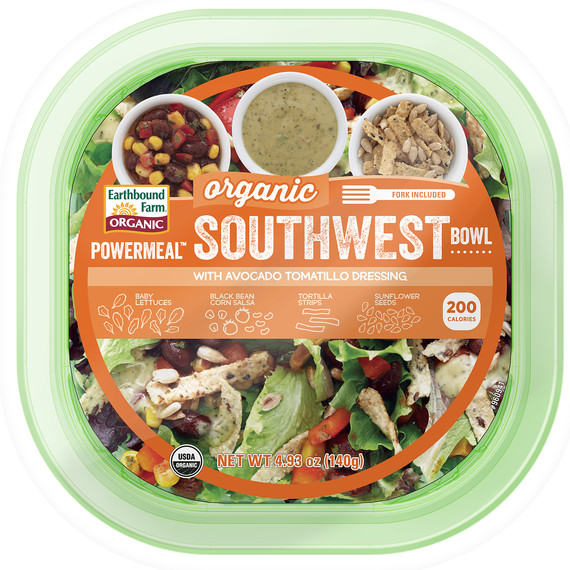 An On-The-Go Power Meal
I don't know about you, but when I travel it can be a challenge to find a healthy meal at the airport, let alone the offerings on my flight. I need something that is portable and convenient, and definitely not messy as I usually have my kiddo with me! I love the PowerMeal Bowls from Earthbound Farm. With four different flavor options ranging from Asian Noodle to Spinach Quinoa, each bowl comes in at 300 calories or less, with 4-5 grams of fiber and up to 7 grams of protein. Bonus, each meal includes a fork!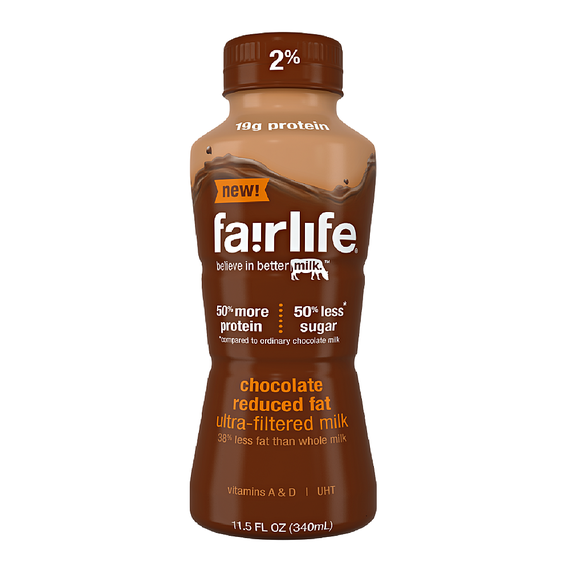 Chocolate After Your Workout
Often said to be the beverage of champions, chocolate milk takes the stage as one of the most recommended post workout treats. From helping you rehydrate to restoring energy, this childhood favorite delivers the right balance of sugars and carbohydrates for ultimate muscle recovery after any strenuous workout. One recommended indulgence you can feel good about is fairlife chocolate ultra-filtered milk. To help refuel you post workout, fairlife chocolate milk has half the sugars and 50 percent more protein than ordinary chocolate milk without the lactose. Available in a single serve size which boasts 13 grams of protein, this is a sweet and healthy option perfect to take with you on-the-go to the gym or pool this summer.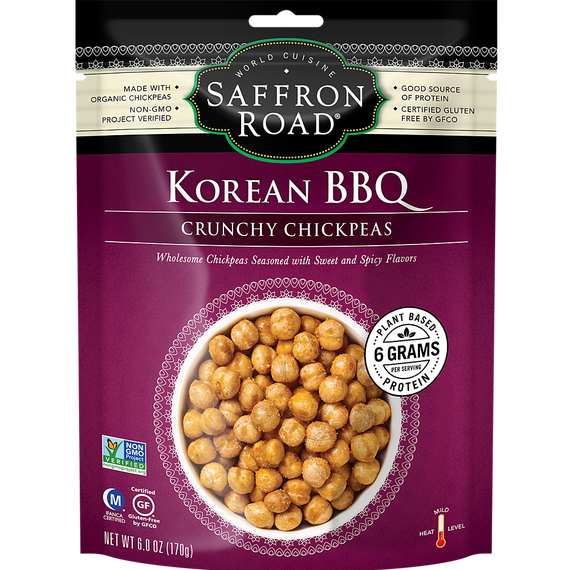 Chickpeas and Crunch!
I need texture in my day and while chips, especially the BBQ flavored ones, are often calling my name while I am grocery shopping, I also know that they are void of any nutritional value. So, when I am looking for a great chip alternative that delivers both crunch and flavor, I will pick up a bag (or two) of the Crunchy Chickpeas from Saffron Road. The Korean BBQ flavor boasts 6 grams of protein and 5 grams of fiber in each serving. They are also Non-GMO Project Verified and gluten free.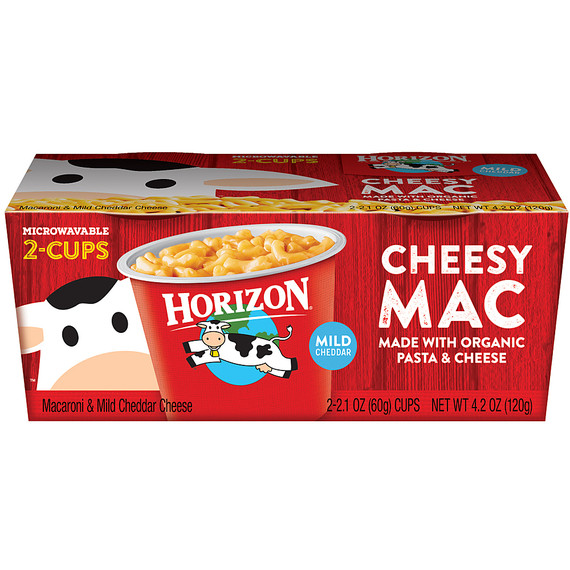 Microwavable (Not Bad-for-You) Mac
Take one of America's favorite meals and put it in a cup and you've got a great portable protein. With 7 grams of protein in each cup, Microwaveable ClassicMac™ from Horizon® is a great option for your kid's lunch box or a quick lunch or snack at the office. Made with USDA-certified organic wheat and cheese, these single serve cups are ready in minutes.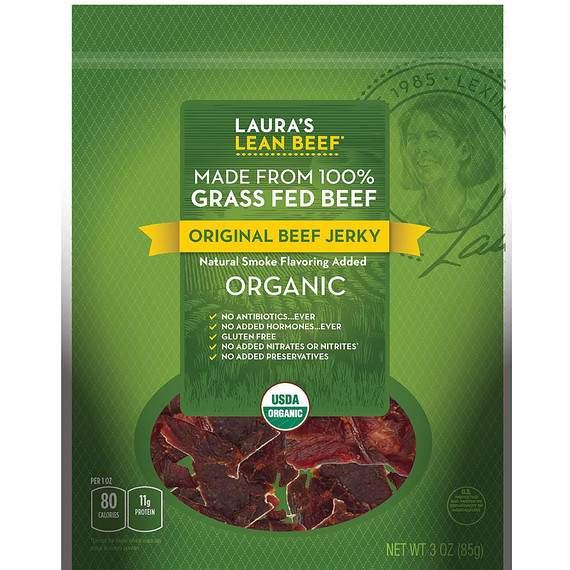 Snacks for The Road
Whether you are making a pit stop at café petrol (a name one of my female clients used to describe her on-the-go lifestyle) or looking for a healthy, savory snack, don't rule out jerky. Until now, you may have shunned this snack due to its unique texture and sodium content, not to mention the quality of the beef. For your next road trip – or a quick snack break – definitely check out Laura's Lean Beef Jerky, made with organic, 100-percent grass-fed beef that is also free of artificial ingredients and preservatives. Boasting 11 grams of protein and only 80 calories in a 1-ounce serving, you can enjoy this savory, low-fat snack paired with dried fruit like apricots, pineapple or an apple for natural sweetness.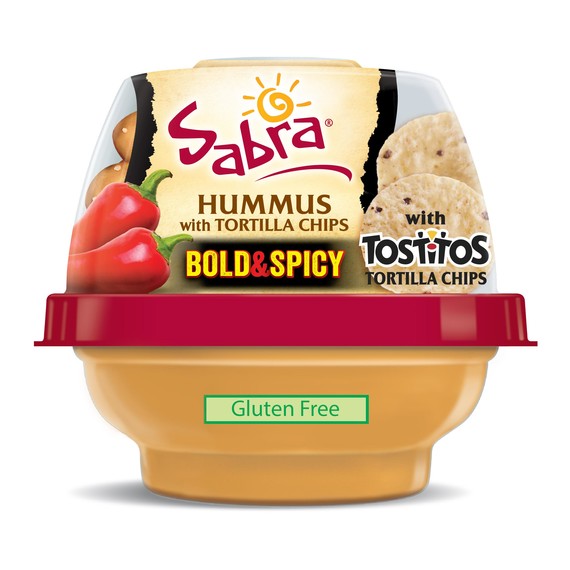 Single Spoonfuls
Like most people, it can be hard to find a healthy snack that's a single serving, but Sabra has 2 ounce containers that are perfect for an on-the-go mini meal or a snack. Chickpeas, the number one ingredient in hummus, are a nutrient-rich bean that are both a legume and a vegetable. Since they contain protein and complex carbohydrates, you are likely to feel fuller, longer. With 3 grams of fiber and 4 grams of protein in each serving you can also bump up the anti-oxidant count and enjoy them with veggies or add a little crunch and texture with pita chips. The Roasted Red Pepper flavor is my favorite!.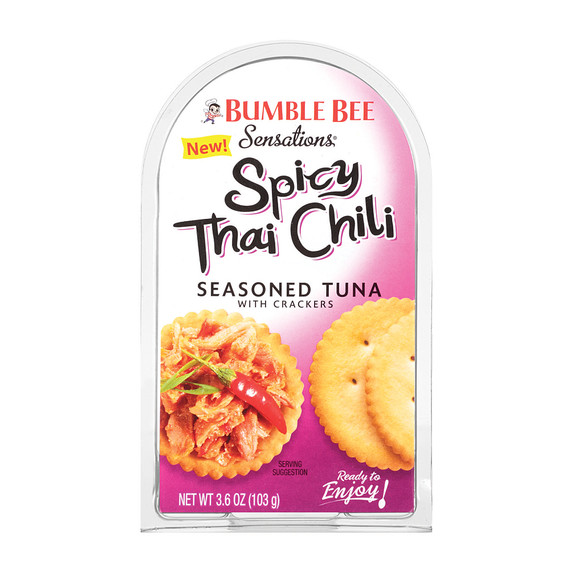 Tuna-To-Go
Tuna makes for a wonderful ingredient for high-protein snacks. For me, I love to mix in spices and veggies for that added kick and crunch but I don't always have the time to get fancy in the kitchen. Seafood is low in calories, generally low in saturated fat, an important source of protein, and offers a wealth of vitamins and minerals. In fact, the Dietary Guidelines for Americans recommend eating 8 to 12 ounces of seafood each week – that's 2-3 servings! I love the Bumble Bee Sensations® Seasoned Tuna with Crackers as they are simple and convenient. With 14 grams of protein in each can, this portable protein comes in five flavors, each of which is sure to satisfy your taste buds.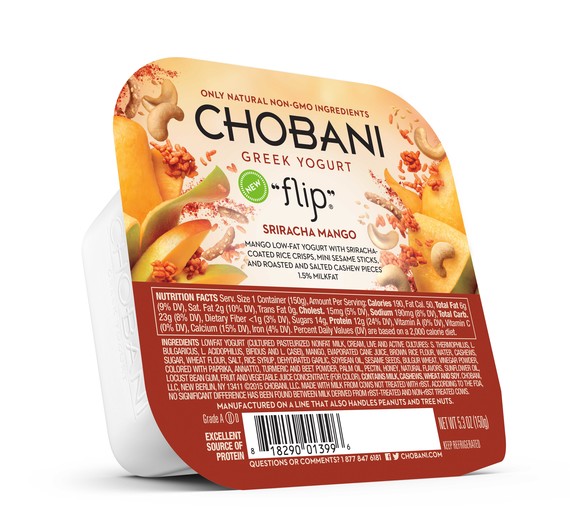 Flipping for Flavor!
Yogurt by nature contains protein, so it always makes my list of healthy portable proteins. Typically available in sweet flavors, you want to watch out for artificial flavors as the "blueberries" in your yogurt may not even be real. Greek yogurt is my go-to as it is naturally higher in protein than regular yogurt. Look for brands that are made with all natural ingredients as well as milk from cows not treated with rBST. There is also a change in the landscape when it comes to flavor options, such as in the Flips line from Chobani. With a side of unique mix-ins, this creamy option comes in both sweet and savory flavors. The Sriracha Mango flavor takes the cake! Made with mango low-fat yogurt paired with Sriracha-coated rice crisps, mini sesame sticks, and roasted and salted cashew pieces, it's hard to believe that such decadence delivers 12 grams of protein.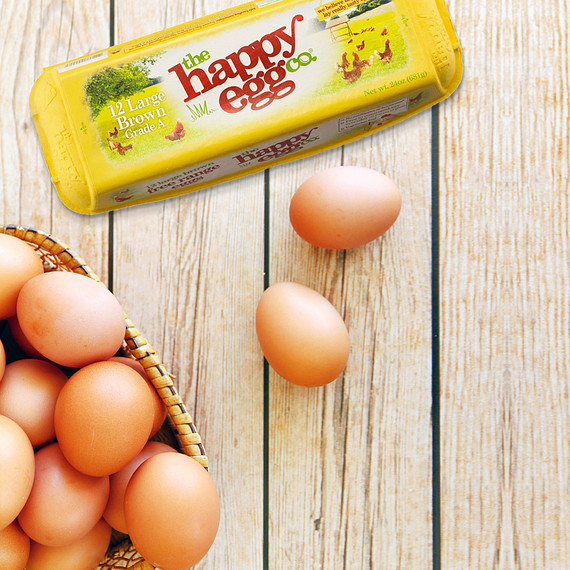 The Original Portable Protein!
In a study conducted by Saint Louis University, scientist found that people who had eggs as a part of their breakfast ate less calories at the end of day compared to individuals who started their mornings with a bagel. This is still despite the fact that each breakfast option, a bagel or eggs, contained the same number of calories. Hardboiled eggs are one of my favorite recommendations to my clients as protein snacks. Don't be too quick to get rid of the yolks! Whole eggs contain 6 grams of protein and are also a valuable source of choline, a substance your body requires to break down fat for energy. Beyond the yolk, another issue on most consumers' minds is where their eggs are coming from. Free range is the term used to describe the living space of hens who have outdoor access where they are free to roam, forage and exhibit natural hen behaviors. I bet this makes for a happy hen who makes happy eggs! In fact one such brand, the happy egg co. offers each hen 21.8 sq. ft of pasture to roam, that's more than 10 times the space compared to most other free range eggs and the current Organic standards proposed by the Department of Agriculture.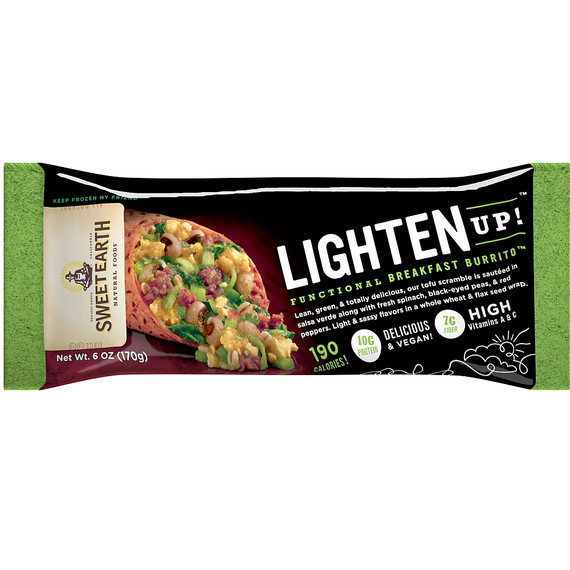 Burrito-on-the-Go
On occasion, convenience and portability fall nicely in the lap of healthy! With a mere 190 calories, the Lighten Up! Burrito contains spinach, black eyed peas, seasoned tofu and a homemade salsa verde. This innovative wrap from Sweet Earth Natural Foods brings savory back to the lean meal and takes less than 3 minutes from freezer to enjoyability. Add to this, 10 grams of protein, 7 grams of fiber, high in vitamin C and a good source of vitamins A, B1, calcium & iron, and the Lighten Up! becomes a superstar in the frozen burrito world. What a great way to start your day!