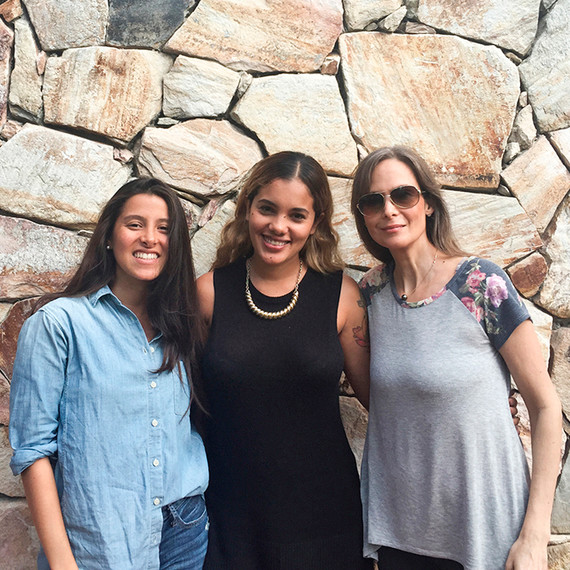 Erika Arguello & Claudia Llamosa & Maria Copello
Miami Beach, Florida
Tell us about your business.
Two friends with a passion for nature and consciousness wanted to make a difference in the world by creating beauty products with a higher purpose. Baiser Beauty was born summer '14, with the intent of being an eco-conscious and pure beauty brand that would bring awareness to consumers about respecting the planet, ourselves and all living beings. Our collection of makeup and skin care provides a holistic approach to beauty. Every product has healing, nourishing and restorative properties, that balance our mind, body and spirit. The line is handcrafted, cruelty free, chemical/toxic free and vegan friendly. We develop clean and beautiful formulas for everyday basic needs, using the highest quality 100% certified organic plant-based, aroma-therapeutic grade ingredients that restore skin cells, and align our chakras. In the future we want to be a well established eco-conscious holistic beauty business, dedicated to creating an equilibrium on earth for more sustainable living.
Tell us about your workspace, shop, or studio.
Our studio is located in the heart of the historic Art Deco district in South Beach Florida. It's a small cozy space where we make everything happen. It has a peaceful and calm atmosphere, filled with plants and good vibes. We play relaxing music all day long to keep positive energy flowing. There's a small team behind the brand; Claudia co-founder/alchemist, Maria our art/creative director and Erika (myself) co-founder/product developer. Every morning we sit down and have a vegan breakfast cooked by one of us, it's a great way to bring the team together and start the day with lot's of energy. Our holistic lab is in the left corner of the studio, a string of lavender hangs above the table were Claudia sits down to make our aromatic delicious formulas. We work closely as a team and make all decisions together, it's important for the growth of the business.
What inspires you?
The planet and all living creatures inspire us. The desire to create a balance between humans, animals and earth inspires us. The mere fact that we have the opportunity to build a responsible, ethical, earth-conscious business inspires our heart deeply. We grew up in families, with strong Maya heritage, that paid tremendous respect to the plant. It was more than common to seek healing from our great-grandmothers natural recipe book than going to the pharmacy. From a young age we learned the importance of respecting the ecosystem around us, because its the one giving us life. This force that drives the inspiration behind our beauty line, is the force we want to pass along to our customers. Just by setting a small example in our community will drive others to do the same; tiny steps to make our world a better place for future generations.
What makes your business stand out?
Baiser Beauty is handcrafted, manufactured and managed by 3 woman. Our formulas have aromatherapeutic healing properties. The purity of our ingredients it's extremely important to us, we deliver 100% clean and organic skin care and make up. Women absorb almost 5LB of toxic chemicals a year using average beauty products. We want to put an end to that! Our products have multiple uses. Our Lip Balm Plum can be a lip scrub and lip plump, our Healing Cuticle Oil heals wounds and blemishes, our Bronzer combined with our Anti-Aging Serum or Sun Tan Oil transforms into a liquid highlighter for the face, our Feminine Sensation Perfume can cure headaches, our Sun Tan Oil SPF 35+ can be used as a hair treatment, skin moisturizer or insect repellant. Our Business has a purpose in society, at the end of the day we want to make people more conscious. Through our foundation "Love You More" we spread awareness and support other foundations that take care of animals and protect the environment.
What is the best piece of business advice you have ever received?
No mind limitations, no fear.
How have you used social media to start and grow your business?
Before the official launch of Baiser, our Facebook page played a huge role in creating buzz, by the time we launch we already had a significant amount of followers who were excited to learn more about our brand and products. We have a Facebook post schedule from Monday through Friday, where we share inspirational quotes, facts about our ingredients, blog posts and product spotlights. Our blog also plays an important roll in the development of our brand, is a digital space where we can share our passion for wellness. We share articles that encourage a conscious lifestyle, stories about the need to care for the planet and animals, DIY beauty recipes and other fun stories to keep our customers informed. We are currently in the process of growing our Instagram account, it's the youngest of all our social media channels but one of our favorites. It's another opportunity to showcase our brand in a creative and unique way, and also engage with the like-minded individuals and businesses.
What does American Made mean to you?
American made to us means, creating a culture of crafters and consumers of local made high quality goods. It's an opportunity to push creative entrepreneurs and embrace the new era of small businesses. It's about educating society to be conscious consumers and support and enhance the local economy versus mass production. It's about having successful stories all over the country that encourages other creative minds to do what they love and follow their dreams.