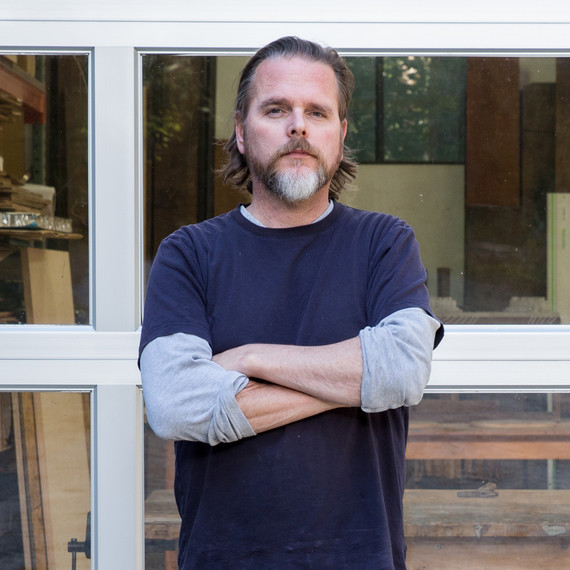 This is Peter Sandback...From Harrisville, New Hampshire.
Tell us about your business.
I make tables that are simple in form, but with surfaces that are highly decorated with inlaid nails. The nails are glued into predrilled holes and then cut flush with the table surface. Then the whole thing is sanded smooth and finished. The resulting effect is a table surface with many shiny metallic dots. The nail patterns that I use vary. Some of my favorite source material is old fabric and Japanese fabric stencils. I have been a one-man shop for 23 years. I make each piece by hand. I sell some of my work through a showroom in New York City. The rest I sell directly to designers and architects. I bring new work to the International Contemporary Furniture Fair each spring.
Tell us about your workspace, shop, or studio.
My work space is spectacular. I converted an old garbage-truck garage into a beautiful, sunny woodshop about 10 years ago. It is 3,000 square feet, with two big glass garage doors. It sits on 30 acres of forest. My tools are well worn but reliable. I have seen moose, deer, porcupines, turkeys, and a snapping turtle walk right past my window while I am working.
[TRY THIS: How to Design the Ultimate Craft Room]
What inspires you?
My darling wife and my three spectacular daughters inspire me. They love and support me every day without fail. I am also inspired by my father, who was a sculptor. I love his work more and more as I grow older. He made very spare room-size sculptures out of knitting yarn that I used to ride my tricycle through when I was a kid. He made them with real intensity and variety for 40 years.
[MUST READ: 10 Best Martha Stewart Quotes that Will Motivate You to Change Your Life]
What makes your business stand out?
My products, I hope. On my best days, I think that my business stands out because I am making something unique and lasting. On a more standard day, I think that I stand a good chance of making something unique and lasting soon. I really enjoy my work and feel very lucky to be able to do it every day. I think that comes across in the product and in the way that I conduct business.
What is the best piece of business advice you have ever received?
What I've learned is to be honest, work hard, and grow slowly. Try to know when to quit an idea or a product that isn't going anywhere. If deep down you think it might be a dud, move on to something else. Don't let the exciting momentum of doing business push you to continue with something that you can't really get behind. Be as reliable as you possibly can with your customers; it makes doing business so much easier and more pleasant.
What does American Made mean to you?
In the context of this award, it means a lot. Martha Stewart has been a champion of American craft for a very long time. My wife has 20 years of the magazine on hand and ready for reference. My daughter (with my wife's reluctant permission) makes intricate collages from the beautiful photographs in the magazine. Just to know that Martha Stewart has seen and likes what I am making is very gratifying. In a broader context, if this means that there may be a renaissance of appreciation for handcrafted objects in America, I am all for that.