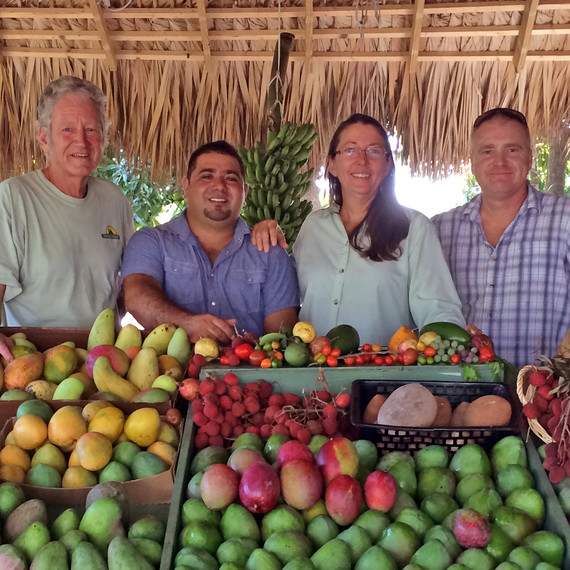 Donna Schneider & Gary Schneider & Stephen Cucura & Jesse Avalos
Bokeelia, Florida
Tell us about your business.
PINE ISLAND TROPICALS: Located on an island in Southwest Florida, Pine Island Tropicals has been a 16-acre eco-friendly, family-owned and -operated farm since 1993. We proudly grow a wide range of tropical ornamental plants, tropical flowers, and tropical organic produce and sugarcane. We also make small-batch locally grown products. FRUITSCAPES: Our business is FruitScapes, located on Pine Island in Southwest Florida. Our business is part fruit-tree nursery, part tropical-fruit market. As you walk into our roadside market, you can see the different fruit trees and discover how they grow. You can taste the different fruits, buy them, and, if interested, even buy the tree for your own garden.
Tell us about your workspace, shop, or studio.
PINE ISLAND TROPICALS: It's a small cottage kitchen located on our farm and cooperative market, where we can enjoy the tropical beauty. FRUITSCAPES: The setting is an old mango grove with a roadside market. We've woven a fruit-tree nursery into the vacant spaces of this grove, and we've updated it with new varieties of mangoes and other tropical fruits. We sell our fruit (and fruit from other local growers) at the market, which is organized, clean, and welcoming.
What inspires you?
PINE ISLAND TROPICALS: We're inspired by our tropical garden, which sprang from our passion and hard work. We're also deeply inspired by our customers' excitement when they see a fruit, flower, or vegetable in our market that they haven't seen outside their native country. FRUITSCAPES: Our business is trees and the fruits they produce. The plants inspire me because they provide what keeps us alive: food, and in such a variety that we never get bored.
What makes your business stand out?
PINE ISLAND TROPICALS: We have a large selection of tropical fruit, flowers, vegetables, and sugarcane from all over the tropical world. This diversity makes us special, but we're also focused on offering the best possible product to our customers. FRUITSCAPES: It's the quality, honesty, and timeliness of our business that brings the customers back.
What does American Made mean to you?
PINE ISLAND TROPICALS: It means being able to provide and purchase locally grown, fresh, seasonal products. FRUITSCAPES: It means being made with the freedom to be better.