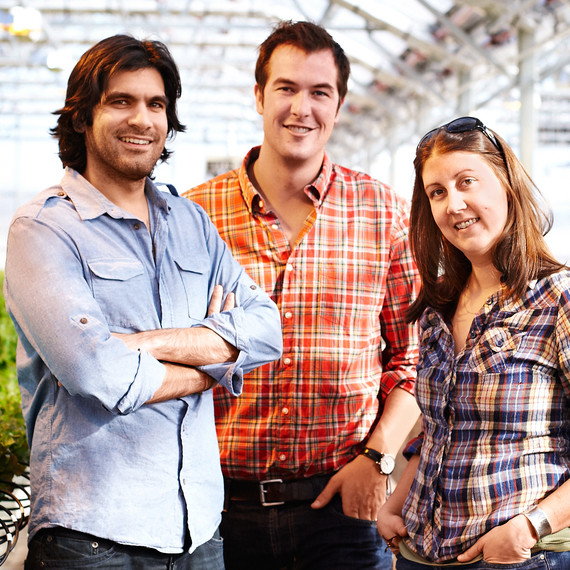 Viraj Puri & Eric Haley & Jennifer Nelkin Frymark
New York City, New York
Tell us about your business.
We are farmers that live in apartments. We see green fields where others see rooftops. We fuel blooming communities where others fear urban decay. We are Gotham Greens, and we are an urban agriculture company that grows extraordinary fresh produce in extraordinarily fresh places. Our pesticide-free leafy greens, herbs, and tomatoes are exclusively produced at our four greenhouse facilities in NYC and Chicago, and can be found at local restaurants and supermarkets.
Tell us about your workspace, shop, or studio.
Our rooftop greenhouses are bright and airy, with climate-control systems that keep our crops (and team members) happy and healthy. The facilities range from 15,000 to 75,000 square feet! Each has a great view of the cityscape. The support spaces have open floor plans overlooking the greenhouse crops. We get lots of great natural light, and it always smells like freshly cut veggies and basil.
What inspires you?
The growing local and sustainable food and agricultural movement inspires us. Entrepreneurial producers, chefs, advocates, scientists, policy makers, academics—there are people all across the globe doing really important work to evolve our food system into something more sustainable, healthy, productive, and just. We are also inspired on a daily basis by all the creations our chefs and customers make with our produce.
What makes your business stand out?
We are a commercial-scale agribusiness, with more than 100 employees and 170,000 square feet of high-tech greenhouses, yet our facilities are located on urban rooftops in New York City and Chicago. Our growing methods use a fraction of the resources of conventional agriculture. We're ecologically focused with our growing practices, and use non-GMO seeds, recycled H2O, and clean energy. All of our produce is pesticide-free, and we don't allow any sort of fertilizer to run off into groundwater. An estimated 25 to 40 percent of food grown, processed, and transported in the U.S. gets thrown out before it even reaches our plates! At Gotham Greens, we attempt to address these issues on a daily basis. Growing fresh produce in urban-rooftop greenhouses enables us to harvest daily and deliver to supermarkets and restaurants within hours of harvest. This drastically reduces food waste, eliminates the need for long-distance trucking, and gives customers a fresher and more nutritious product.
What does American Made mean to you?
It represents authenticity, craftsmanship, pride in one's work, and premium quality, which are all attributes of our company. Being selected as a Martha Stewart American Made honoree is an incredible honor, and we're so proud to bring technology and sustainability to one of our nation's oldest industries and original forms of craftsmanship.