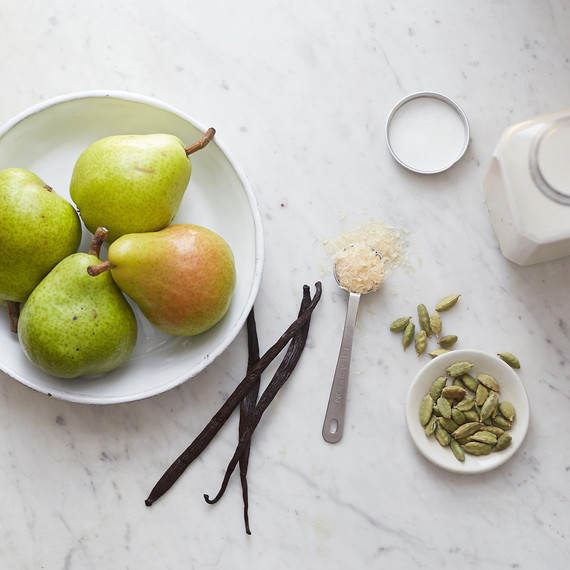 When thinking of spring and summer desserts soft colors paired with the brightness of the season's first fruit, like strawberries, come to mind. I usually like to add something chocolaty too because, who doesn't love chocolate? This year I thought it would be fun to make something with white chocolate, just to mix things up a little. Since this is a vegan dessert I used almond milk instead of powdered milk, cacao butter, vanilla and a little something to sweeten the mousse. Cooked pears are the secret ingredient in this recipe and the reason you don't add any extra sweetener. The pears provide plenty of sweetness and also add texture and body to the rich cacao butter.
Good quality cacao butter is made by fermenting and drying cacao beans. After separating out the fruit, they are peeled and cold-pressed into a paste before separating the fiber from the oil. The oil solidifies at 95 degrees Fahrenheit and becomes 100% cacao butter. Raw cacao butter that hasn't been treated with chemical solvents is high in antioxidants and omega-6 and omega-9 fatty acids. It adds a velvety richness to desserts and delivers a very subtle cacao flavor without the brown color. For extra flavor, I infused the almond milk with cardamom pods and vanilla beans before melting in the cacao butter. Everything then gets well blended to emulsify in an upright blender. This is important as the cacao butter needs to be thoroughly blended, otherwise it will be gritty once it's chilled.
This vegan chocolate mousse will pair well with almost any topping; a roasted fruit or berry compote would be delicious as would a chocolate or caramel sauce. The fact that it's sweetened with fruit alone means you can feel good about adding that extra dollop on top!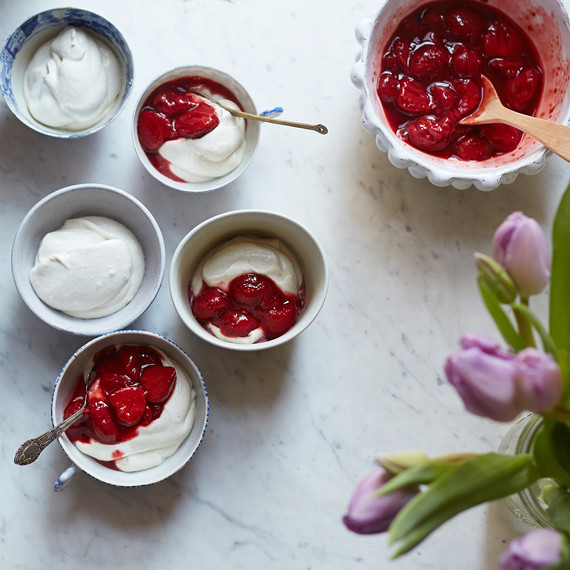 Vegan White Chocolate Mousse with Cardamom
Since cacao butter can be found in many different shapes, I have used a weight measurement. I recommend using homemade almond milk for the recipe as the flavor is naturally sweet and delicate. Since strawberries are not quite in season I opted for using frozen. I really love the way the cooked compote mingles with the rich vanilla flecked mousse.
Ingredients
For the mousse:
1 cup plus 1 tbs unsweetened almond milk, divided
1 tbs agar flakes
1 vanilla bean, split lengthways and seeds reserved
10 cardamom pods, crushed
¾ cup raw cacao butter
2 cups peeled and diced pears
¼ cup filtered water
Pinch sea salt
1 tsp arrowroot powder
2 tsps vanilla extract
For the strawberry compote:
1 10oz package frozen strawberries (about 2 cups), defrosted
2 tsps maple syrup
½ tsp arrowroot
1 tsp filtered water
½ tsp vanilla extract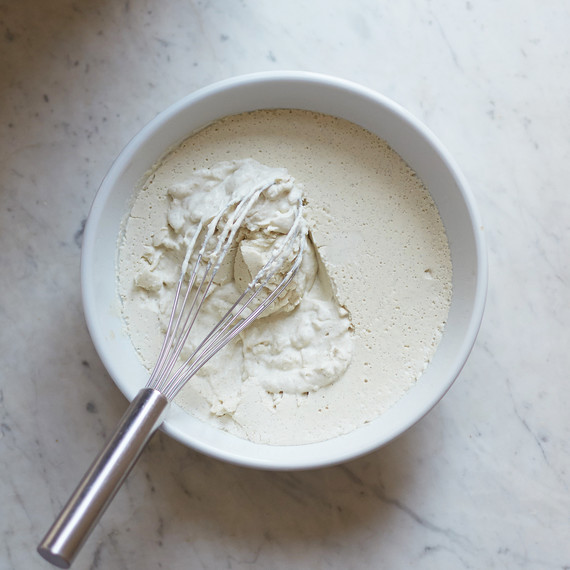 How to make the mousse:
Add almond milk, agar, vanilla bean pod and cardamom to a small pot and bring to a simmer over high heat, whisking frequently. Cover pot, reduce heat to low and simmer for 10 minutes or until all the agar has dissolved. Whisk in cacao butter, recover pot and set this aside while you prepare the pears.
Add pears, water and salt to a small pot and bring to a boil over high heat. Cover pot, reduce heat to low and simmer for 5 to 10 minutes or until pears are cooked through. Dissolve arrowroot in remaining tablespoon almond milk and stir into simmering pears. Once the mixture has thickened remove from heat and add to an upright blender along with vanilla extract and reserved vanilla bean seeds. Stir almond milk mixture to be sure the cacao has melted then strain it into the blender with the pears. Discard the cardamom and vanilla bean pod. Blend mixture on high speed until completely combined. Pour into a bowl and place in the fridge until completely cool and set, at least to hours and up to overnight. Remove from fridge and whisk until smooth. Return to fridge until ready to serve.
How to make the strawberry compote:
Cut strawberries in half and add to a small pot along with any liquid that forms when they are defrosting. Add maple syrup and bring to a boil over high heat, stir and cook for one minute. Dissolve arrowroot in water and drizzle into simmering strawberries, once the mixture has thickened remove from heat and stir in vanilla. Allow to cool before serving.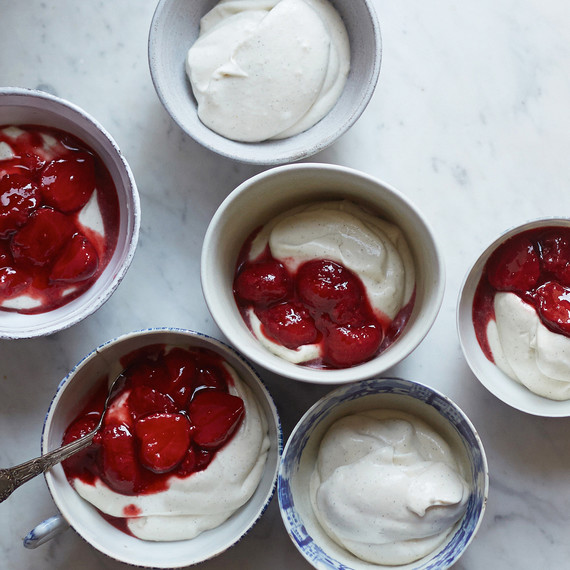 To serve:
Spoon mousse into small bowls, glasses or teacups and top with a generous spoonful of strawberries. Serve immediately.