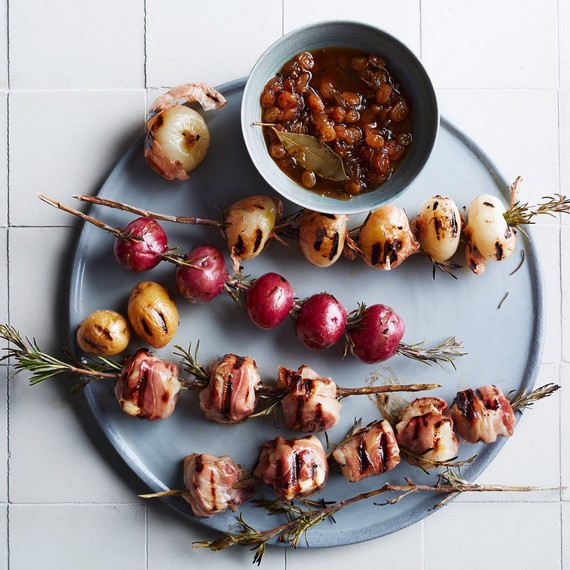 Barbecue, Italian Style
The meat skewers called spiedini are the inspiration here: A pancetta wrapping protects chunks of fresh swordfish that are threaded onto rosemary branches, along with baby potatoes and juicy cipollini onions. A traditional sweet-sour agrodolce adds a tangy finish. Do most of the work on this dish ahead of time, and then take in the sunset while it cooks.
TIP: Herbal Essence
If you have a rosemary plant, snip off the lower sturdy branches. If you don't have one on hand, use wooden skewers and put a handful of storebought sprigs directly on the fire.
Get the Swordfish, Potato, and Onion Skewers with Golden-Raisin Agrodolce Recipe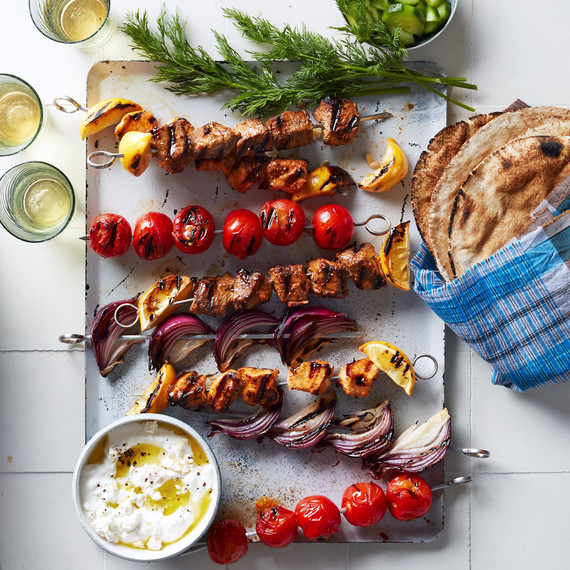 Summer Souvlaki
The best Greek food relies on fresh ingredients and simple techniques. Here, even the lemons and pitas hit the grill to get a little char, along with marinated lamb and chicken, cocktail tomatoes, and onion wedges. To make a superior souvlaki sandwich, slide the bites off the skewers into a soft, warm pita, and add a dollop of our feta-and-yogurt sauce, it's more complex than the usual tzatziki.
TIP: A Good Turn
Food can spin on round metal skewers during flipping and end up same-side down on the grill. The solution: Use flat or twisted ones to hold chunks firmly.
Get the Yogurt-Marinated Lamb and Chicken Skewers Recipe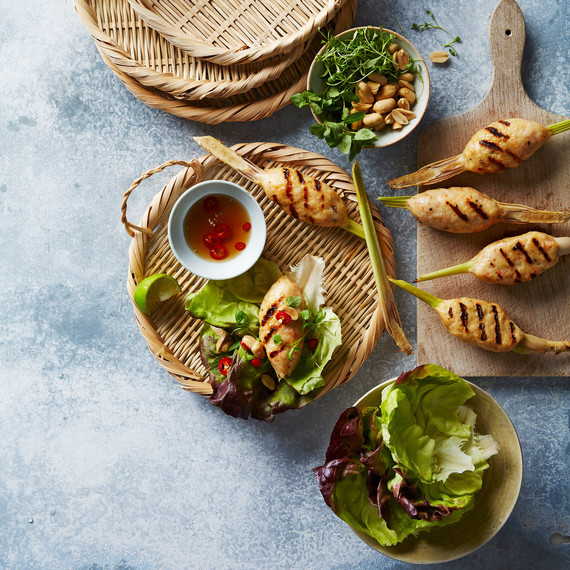 Saigon Spin
The popular Vietnamese party food called chao tôm -- garlicky-sweet shrimp paste molded around pieces of sugarcane, then grilled -- makes a light main course for a warm evening. We call for lemongrass stalks in this version; they're easier to find than sugarcane and add a refreshing citrusy note.
TIP: Painless Prep
The shrimp mixture needs to be shaped and steamed before hitting the grill -- a step you can take up to two days ahead. Make the dipping sauce that early, too, and kick back on the day of.
Get the Lemongrass-Skewered Shrimp in Lettuce Cups Recipe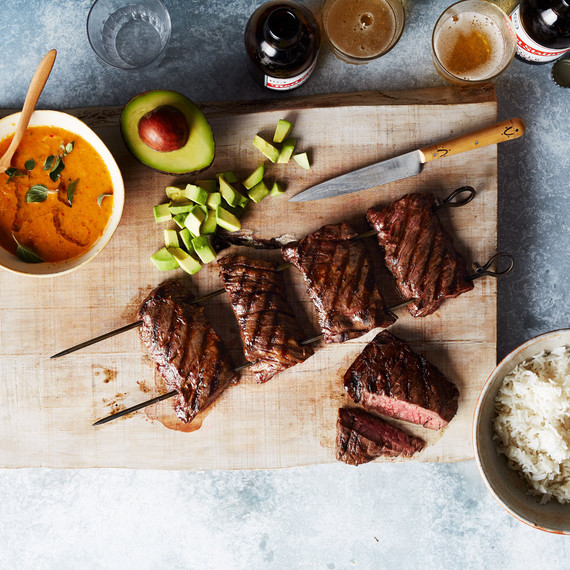 Island Spice
There's your typical grilled sirloin, and then there's churrasco. In much of Latin America, the term refers to any kind of skewered meat, but in Puerto Rico only flavorful skirt steak is used. Let it stand for 10 minutes after prepping and the seasonings will sear into a tasty crust as it grills. Our take on a sweet- and hot-pepper sauce called ajilimójili (a-khee-lee-MO-khee-lee) lends a Caribbean piquancy.
TIP: Twice as Nice
Use parallel skewers to keep larger pieces, like these skirt-steak portions, flat and easy to flip on the grill.
Get the Skirt-Steak Skewers with Avocado and Pepper Sauce Recipe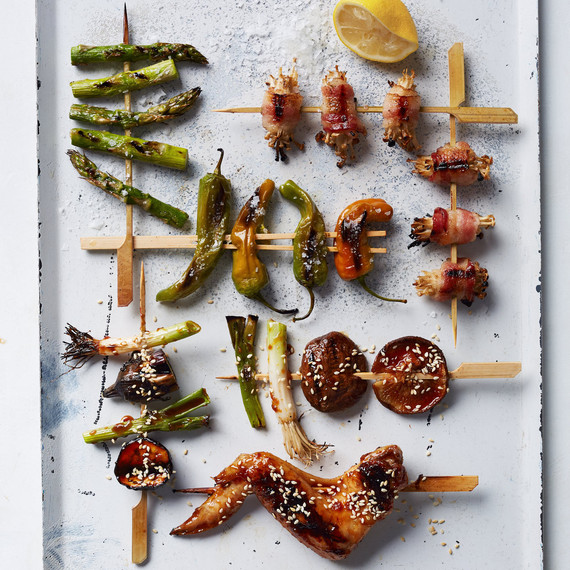 Teriyaki with a Twist
In Japan, where there's smoke, there's kushiyaki -- a term that describes a variety of grilled, skewered meats and vegetables. We give it two treatments here: chicken, eggplant, and shiitake mushrooms are basted with teriyaki, while shishito peppers, asparagus, and bacon-wrapped-enoki bundles are finished with a spritz of lemon juice and a sprinkle of sea salt to bring out the vegetables' natural flavors.
TIP: Stake a Claim
Food clings well to both single- and double-pronged bamboo or wooden skewers, but they must be soaked in cool water for half an hour before grilling to avoid catching fire.
Get the Teriyaki Chicken-Wing and Vegetable Skewers Recipe