A make-ahead eggy entree -- with bacon of course -- plus two man-friendly sides and dessert that can be eaten at brunch (make another pot of coffee!) or enjoyed later, that's our easy-to-make menu.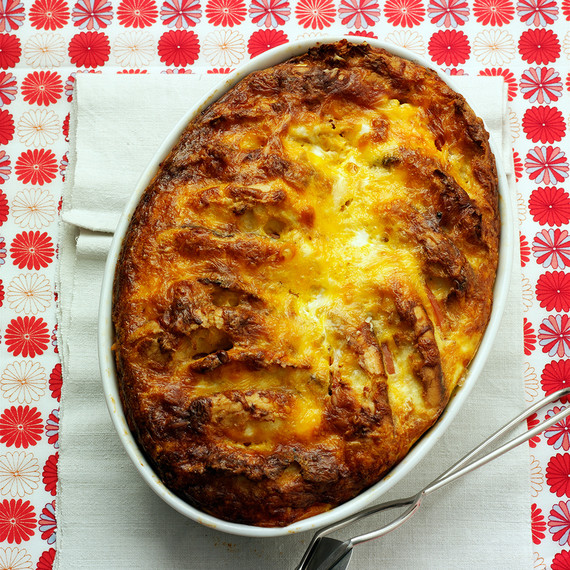 Canadian-Bacon Strata
The magical bread-and-egg duo that is a strata relies on an extended soaking period for the custardy results that is its signature. In other words, making it the night before yields the best results and heads off some day-of prep -- now that's a win-win! Stratas are versatile, they can be packed with different cheeses, vegetables, meats but we chose this recipe for its straightforward bacon flavor and Cheddar topping. Another thing sets this strata apart; instad of the usual baguette or rustic bread, this recipe calls for English muffins. Have eager mini-chefs help with or take on the assembly. (Psst: If making it hours in advance isn't in the cards, the results are still divine.)
Get the Canadian-Bacon Strata Recipe
Creamed Spinach
One of the many reasons to love creamed spinach is that it counts as a green vegetable but tastes like an indulgence. Our easy take on the classic calls for cream cheese and milk rather than the usual bechamel sauce. If you're up for sauce making and want a more traditional version, try this. Both recipes come together quickly, in just enough time to bake the strata and set out a carafe of fresh OJ. 
Get the Easy Creamed Spinach recipe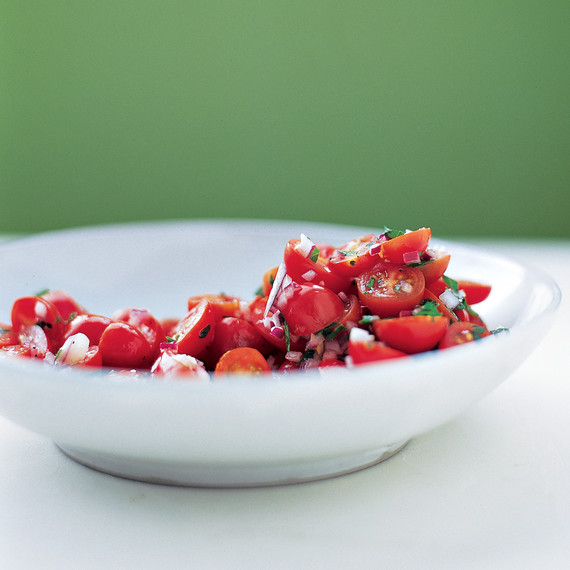 Cherry Tomato Salad
Another dad and crowd-pleaser, this colorful, crisp, and fresh palate refresher salad is a recipe that older children can prepare all in the name of love.
Get the Cherry Tomato Salad Recipe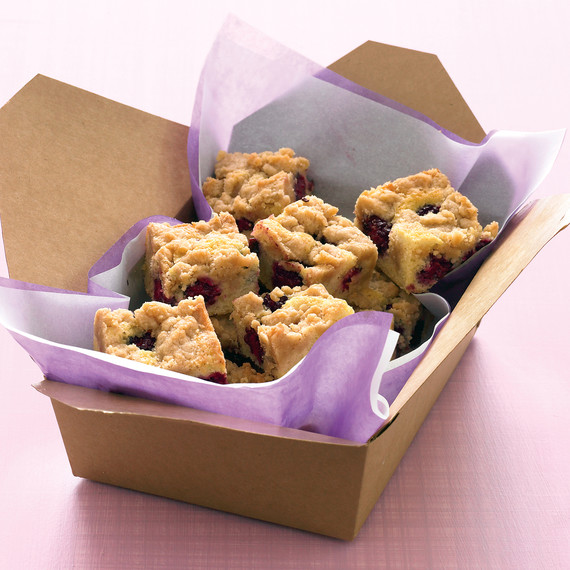 Blackberry Crumb Bars
There's a million and one ways to indulge the sweet tooth, but these Blackberry Crumb Bars get our vote for Father's Day Dessert thanks to their all-in-one appeal: equal parts meal-capping dessert, lazy afternoon snack, seasonal treat, and scrumptious homemade bite. For families on an efficiency hot streak, these sweets will bake up nicely the day before, but they'll also do the trick as a Sunday afternoon post-brunch baking project with the kids. (With or without dad, we leave the choice to bake or indulge in another form of recreation up to him.) 
Get the Blackberry Crumb Bar Recipe