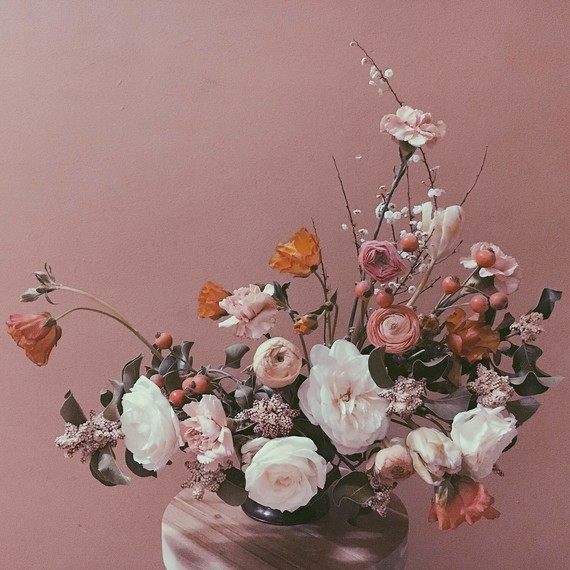 I have really mixed feelings about spring. I hate the mercurial 28 degrees one day and 70 the next spring. I can't stand when it lollygags and takes its time getting here. But I love that spring means flowering branches and blooms and everything coming alive again. I love spring when I can walk out of the house with just a dress on. Or, when I can forage and clip to my hearts content in a freshly blooming garden.
Another thing that I love about spring is it plays host to Mother's Day -- the day when we all celebrate our mothers, the women (biological or not) who played a role in caring for us, raising us, and mothering us. Since every mother is unique and wonderful in her own way, she deserves a wholly unique and wonderful floral arrangement.
Get the Secret to Sky High Flower Arrangements
I put together this arrangement with all these things in mind, using garden roses that were so fragrant I thought I might pass out from happiness, ranunculus, carnations, tulips, and spirea. First, I added greenery to establish an asymmetrical base (now that things are blooming and growing you can find usable greenery in your own backyard), followed by a statement flower (like roses). Then, I added secondary blooms -- in this case the tulips and ranunculus -- to fill the arrangement out and compliment the larger blooms.


As I'm arranging, I like to construct layers and build up, cutting one flower long and then trimming another just shorter to rest right below the longer flower while simultaneously hiding the stem. There are no hard and fast rules here -- some of the most beautiful arrangements have a lot of negative space and unruly stems sticking out here and there. The general idea is to keep the eye moving. There should be a natural movement to the arrangement that keeps it visually interesting. If you are new to flower arranging, my best advice is to play around with the flowers you have and experiment with different forms. This might help you land on your final design through trial and error.
5 Things to Know About Creating Flower Arrangements
I recently discovered that the hallway of my apartment building makes a really great backdrop to photograph my arrangements against. It probably helps that it's the perfect peach-y, tan-ish, pink and while I have no interest in perpetuating the stereotype of associating pink with women, it is a really beautiful shade and seems perfect for Mother's Day. After all, if pink is truly the color of universal love of oneself and of others, I can't think of a better bouquet on Mother's Day.