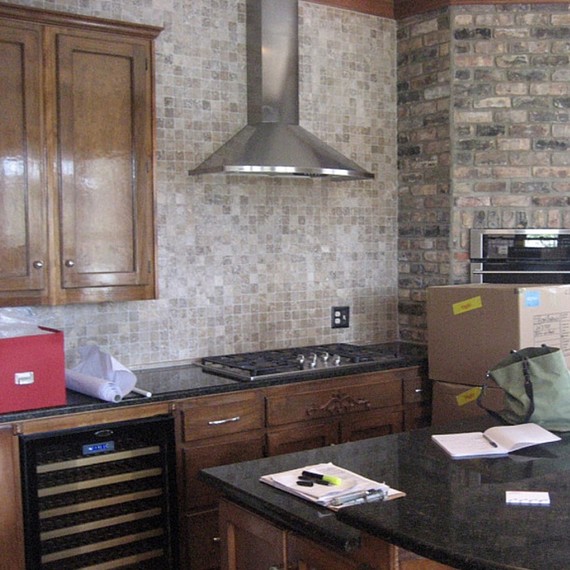 Before
Florida-based interior designer Cheryl Nagle Kees Clendenon of In Detail Interiors was asked by her client to design a bright white kitchen to show off their colorful dinnerware. They also wanted to accommodate large gatherings of their friends who often come over for buffet-style meals that are so popular in their beachfront community during the summer.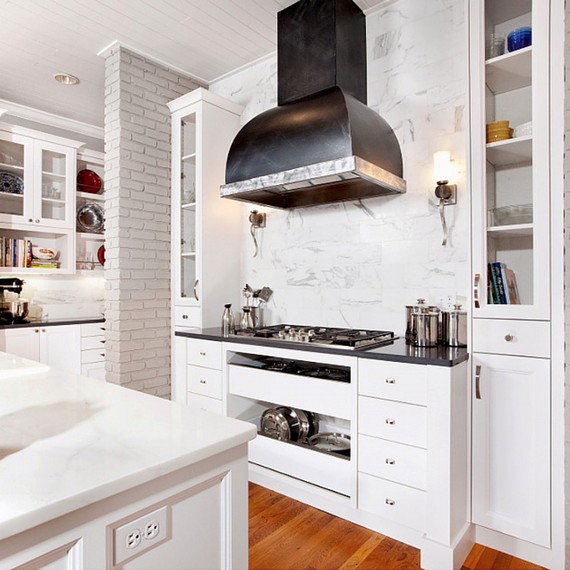 After
To give her clients what they desired, Clendenon first tore out the old dark cabinetry and replaced it with bright white, glass enclosed cabinetry to showcase her client's collection of colorful dinnerware and pottery. Then, she created plenty of extra surface space so they could cook and entertain, Florida style! Notice how easily seen and accessible everything is now -- making it much easier for this client's grandchildren and friends to join in on the fun!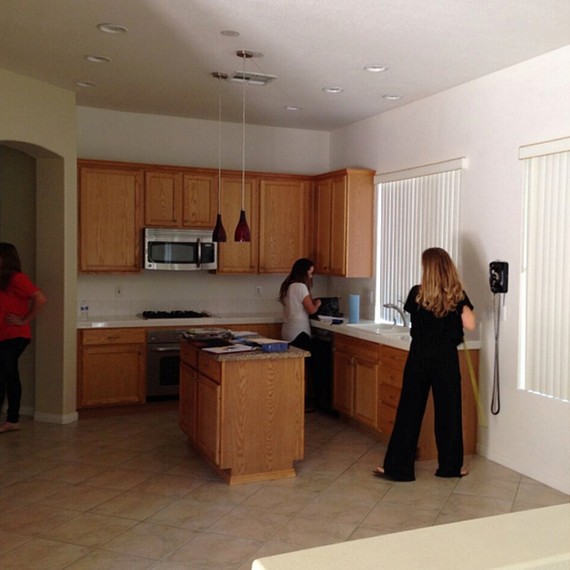 Before
The clients of Las Vegas interior designer Jill Abelman of Inside Style Home started with two rooms, a kitchen and adjoining living room/family room. Pictured above is the kitchen. As you can see, it wasn't designed in a way that maximizes the use of the fairly large space.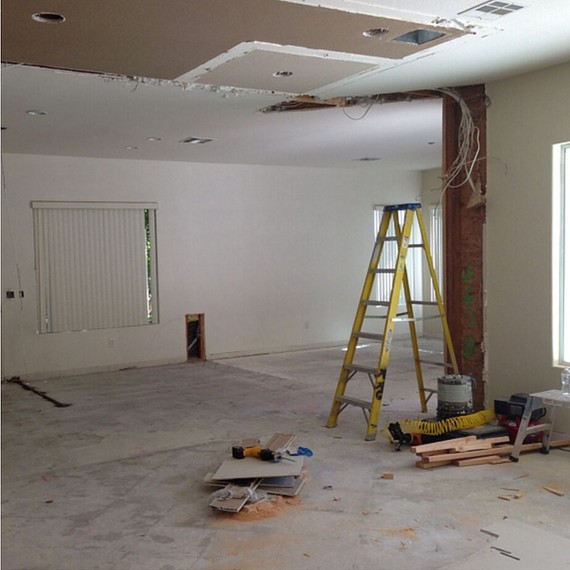 They asked her to reconfigure the space to include additional kitchen storage, and to make it easier for multiple family members to cook together at the same time. In addition, they wanted to improve the conversation and traffic flow between all rooms being used for family dining and entertaining. Essentially, they needed a complete overhaul!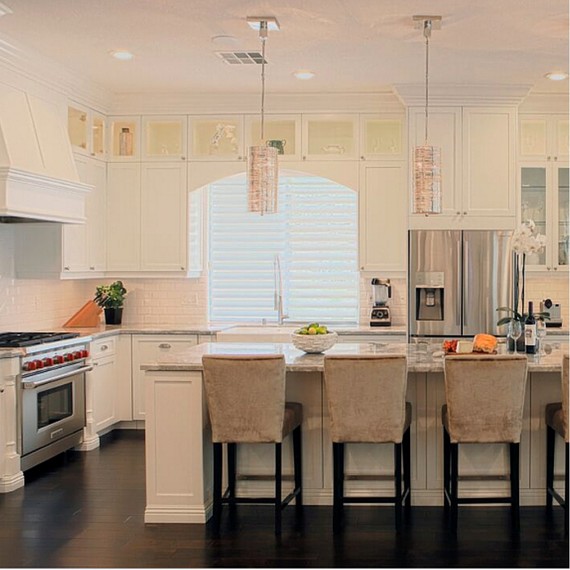 After
Abelman and her team tore out the previous cabinetry and eliminated the larger window in the kitchen. An existing wine room was also eliminated which previously separated the great room from the kitchen. Half walls and columns were also removed to make room for all the amenities her clients desired. In addition, the lighted, glass-enclosed cabinetry brightened up what was lost through the elimination of the larger window in the kitchen area. The upgraded cooking range and large kitchen island provided storage and lots of versatility for the home cooks.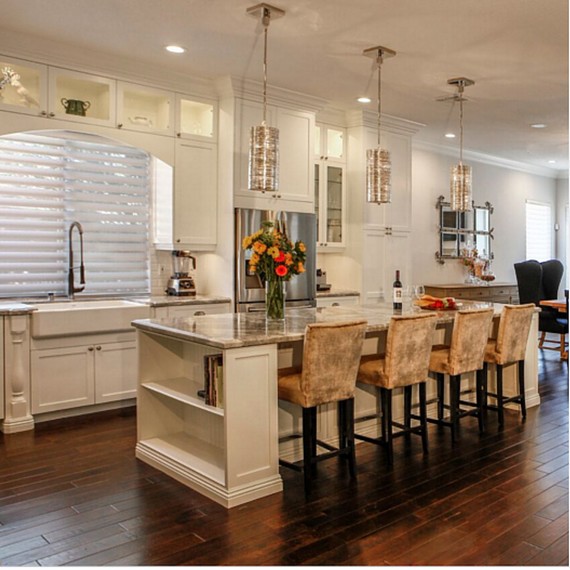 Now, this family has a much brighter, lighter and more cheerful kitchen, with the additional storage and preparation area they requested.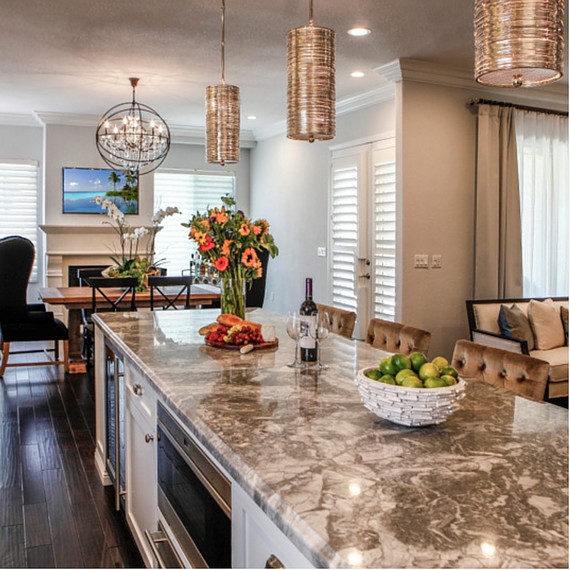 They can also entertain and talk to their family and friends easily while they are cooking.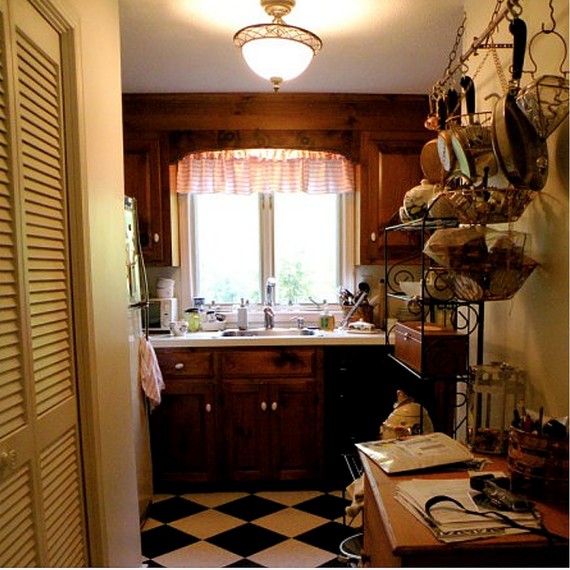 Before
Boston-based designer Linda Merrill (of Linda Merrill Decorative Surroundings) wanted to brighten up this kitchen but the budget did not allow for new cabinetry. As you can see, the dark brown wood cabinetry, dingy yellow-white walls, and the white ceiling were keeping this small kitchen from reaching its full potential.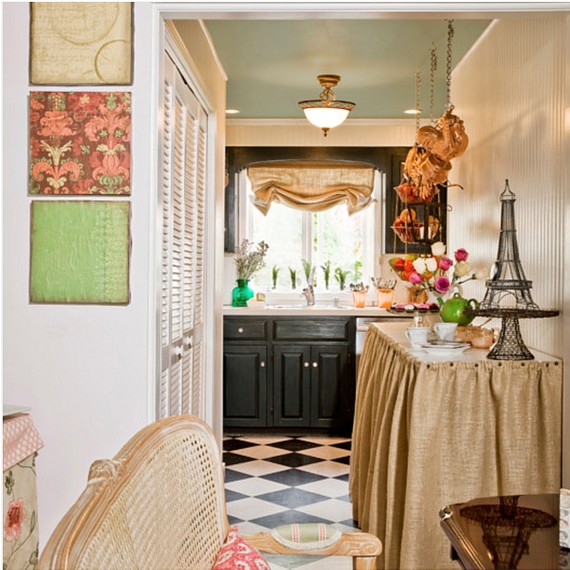 After
Merrill painted the cabinets dark green, using two different shades for depth, and sanded to allow the wood to show in spots. This gave the cabinets a delicate, antiqued appearance. Crystal knobs were added to the cabinets for a little sparkle and retro feel.
Recessed lighting was added to brighten the work area and the walls almost act as a mirror for reflecting as much light from the window into the room as possible.
The ceiling, now a pretty mint green, draws your eye upward, making the small kitchen appear much larger than it really is. With the addition of some pretty artwork and some artful slipcovers to hide additional, Merrill transformed her kitchen into a cozy, chic and light-filled space for cooking and entertaining her friends.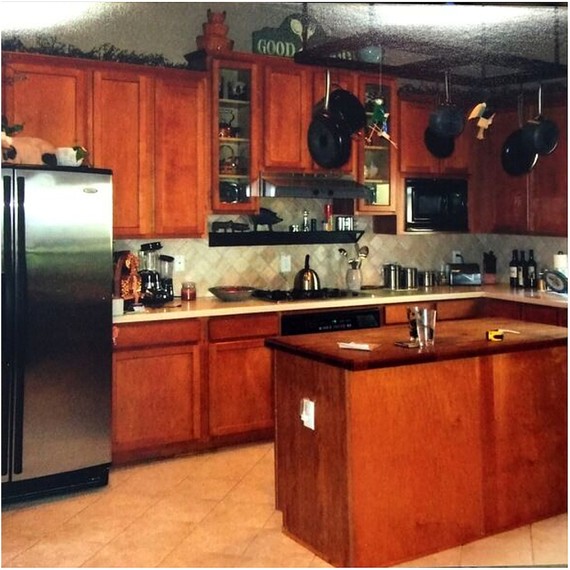 Before
In our last example, this client asked Houston-based interior designer Carla Aston (of Aston Design Studio) for a kitchen that had a "craftsman/ industrial" look when renovated.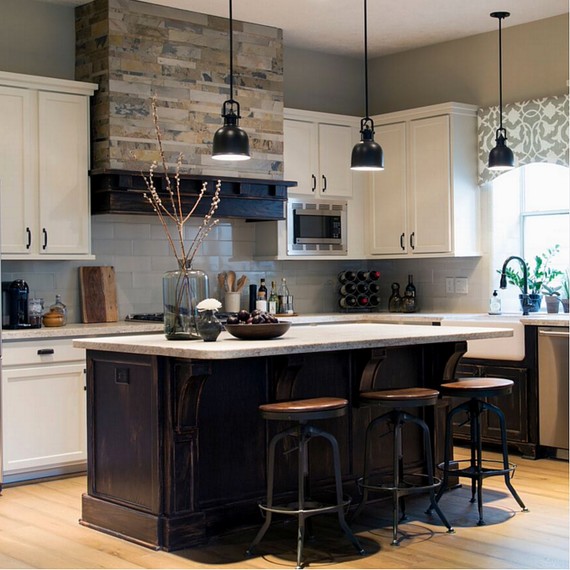 After
Carla worked her magic, just look at how this kitchen turned out! The stunning, stone clad range hood became the industrial-inspired focal point of this once dark and dreary kitchen. Due to budget constraints, Carla painted the existing grey cabinetry and painted and distressed the island black. She added pale wood flooring to make it all pop.
With summer just around the corner, which one of these 4 kitchens remodeling ideas inspires you the most?



This post was written by Leslie Hendrix Wood and Leslie Carothers.