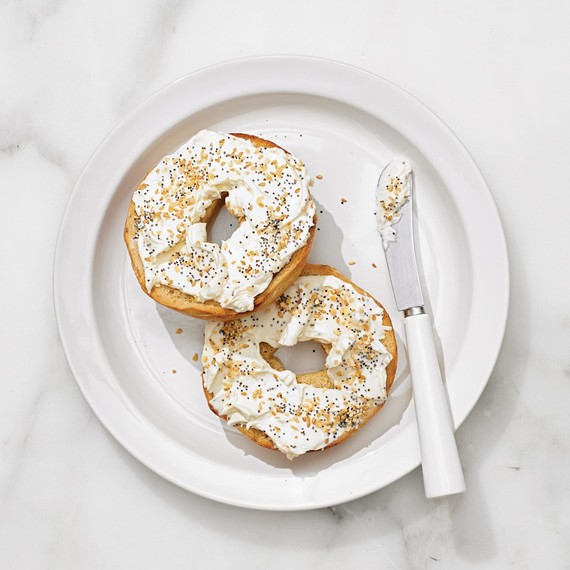 We are living in the age of viral food. Social media has already turned cronuts, rainbow bagels, and milkshakes with crazy toppings into seemingly overnight sensations, with lines around the block and strictly enforced minimum orders to boot. This phenomenon is even lampooned in the new season of "Broad City," when one of the protaganists, Abbi, goes on the hunt for a "churron," a fictional churro-macaron hybrid (but seriously, how far off can that be from becoming a reality?). The latest trend reaching its peak? Everything bagel seasoning.
A blend of poppy seeds, sesame seeds, dried garlic, and dried onion, everything has been a beloved bagel flavor since around 1980. The origin of the everything spice is a contentious subject. David Gussin of Queens, New York allegedly invented it at a bagel shop in Howard Beach, where he had a stroke of inspiration while sweeping seeds out of the oven after a day's bake. While everything bagel seasoning's creation story is still up in the air, its crossover potential is not.
Chefs across the country have been experimenting with the spice blend, putting it on everything from pizza crust and croutons to pasta and salmon sushi. Dale Talde, known for his hybrid Asian-American cuisine at Talde in Brooklyn, serves an everything roti. Edward Kim of Chicago's Mott St tosses fried chicken wings in his custom everything spice blend, along with soy sauce, jaggery, dried chilis, and fried shallots. Most indicative of this trend peaking is the latest concoction by The Doughnut Project in New York's West Village: everything doughnuts, yeast doughnuts glazed with cream cheese and smothered in everything bagel spice.