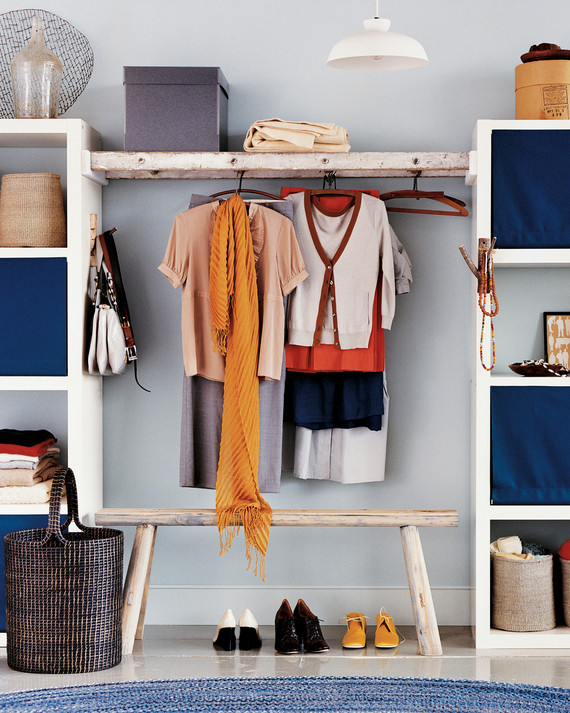 Is tackling your overflowing closet on your spring-cleaning agenda? If you answered "ugh, yes," maybe you'd be interested in a capsule wardrobe. The idea is to have a tightly edited, neatly organized collection that will save you time, money, and sanity in the long run.
The term "capsule wardrobe" was coined in the 1970s by London boutique owner Susie Faux. She believed a wardrobe should consist of a few essential items of clothing that don't go out of style and that can be enhanced with some seasonal pieces.
Although you might think that paring down your closet will actually exacerbate the "I've got nothing to wear" predicament, Amy E. Goodman, author of "Wear This, Toss That!", says the opposite will occur. "You'll be able to see possibilities of mixing and matching that perhaps weren't evident before when your visual arteries were clogged by your previously overstuffed closet."
Divide and Conquer
To consolidate your closet, Goodman, who's also senior lifestyle editor for shopping site zulily.com, suggests first taking a complete inventory of the contents, with the ultimate goal of editing down to 30 to 35 pieces of clothing. To start, divide up your duds into four piles: wear (clothes you love that flatter your body), maybe (items you're ambivalent about), toss (clothes that are in bad condition, damaged, or outdated), and charity/consignment (pieces that are in good condition and can be donated or sold).
As for that "maybe" pile, "many stylists will say if you haven't worn it in a year, let it go. This makes me cringe!," Goodman says. "It's slightly harsh advice for those of us on a budget and working within limited means; I've certainly revived a pair of perfectly fine pants after not donning them for a year. My advice is a more lenient approach: If you haven't worn something in two to three years, you likely won't now, so let it go."
Plus, it's okay to hold onto clothing for sentimental reasons like the sweater your grandmother knitted for you, says luxury e-commerce site Rue La La's fashion director Loredana Buonopane, but be sure to limit the number of those pieces.
What You Need
In terms of the foundational wardrobe, "you'll need a mixture of tops and bottoms, jackets and coats, dresses, and shoes that more or less work together," Goodman explains. (FYI: Fancy gowns, swimwear, nightwear, gym clothes, and accessories do not count towards the 35-item tally. Phew!) Some key pieces from Goodman's current closet include two button-down shirts, stylish t-shirts, sweaters, seasonal pants like cropped trousers and culottes, statement sandals, fun sneakers, a trench, and leather jacket. Buonopane also suggests adding a turtleneck, "which is simple but works well by itself or as a layering piece under blazers and dresses." She also says jeans are a must, but ignore the trends and find a pair that just fits well. Other items to consider include that little black dress, basic pumps, a fitted blazer, and a pencil skirt.
Shop Seasonally
Once you've established your capsule wardrobe, wear only those pieces (plus accessories) for three months a.k.a. a season—and stop shopping during this period. (Sorry!) Then, at the end of the season, plan and buy any necessary items for next season's wardrobe, such as a warm winter coat.
Also remember that new clothes don't have to mean new. "I am a huge fan of shopping vintage and consignment -- pre-worn means pre-loved and every piece tells a story," Buonopane says. She also suggests keeping a budget in mind and knowing the exact items you need -- and don't deviate for the sake of your wallet and your new streamlined closet.