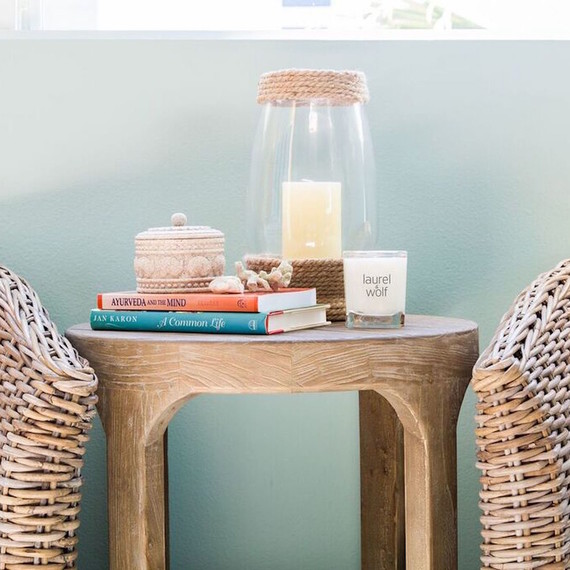 More than 17 years ago, Lisa moved to the bohemian neighborhood of Venice Beach, captivated by the live-and-let-live way of life the area possessed. "There was a real sense of community and acceptance there, and the diversity that existed was very stimulating," she explains.
Over the years, Venice began undergoing a number of changes, becoming more commercialized and less of the welcoming, laid-back locale she had once fallen for. Deciding it was time to pack her bags and head for greener pastures (or bluer oceans), she made her way just a few miles south to Long Beach.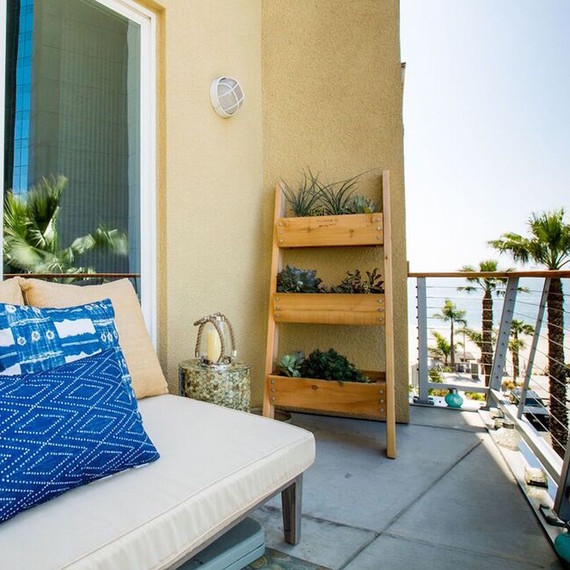 "Long Beach is the best kept secret in Southern California," Lisa says enthusiastically. "I am really loving the urban beach experience that exists here." Lisa also finds the well-priced real estate an attractive aspect of the city. She was able to find an oceanside condo with a beautiful balcony overlooking the water at a price incomparable to a similar space in Venice.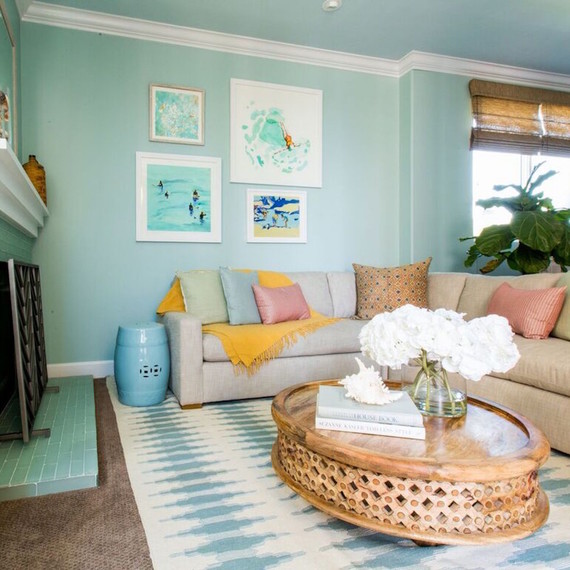 Wanting to bring the bohemian vibes that originally made her fall in love with Venice to her new space, Lisa turned to Laurel & Wolf. Working exclusively online with designer Maria DeLucia, her living room, bedroom, and balcony blossomed with the vibrant colors and sandy textures of the beach.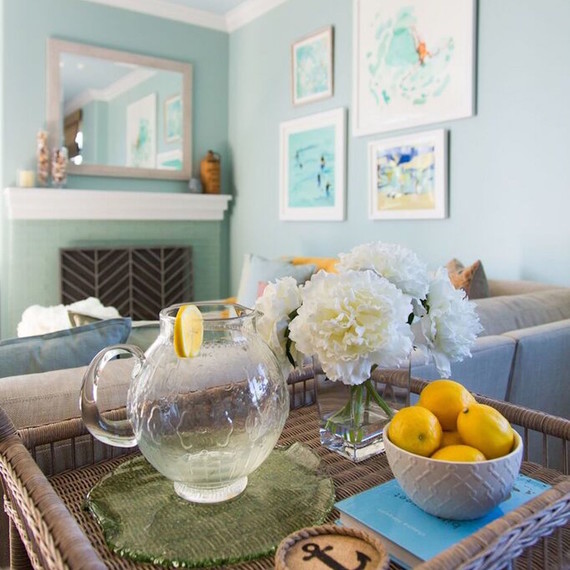 Lisa wanted her space to feel like an indoor version of the beach -- a casual and comfortable environment where relaxation was a constant. Using sand-toned neutrals, sea greens, and subtle shades of blue, Maria transformed the space into a beach lover's dream.
"I often felt like Maria was reading my mind... she really understood me and my design aesthetic very quickly, so I trusted her with everything," says Lisa.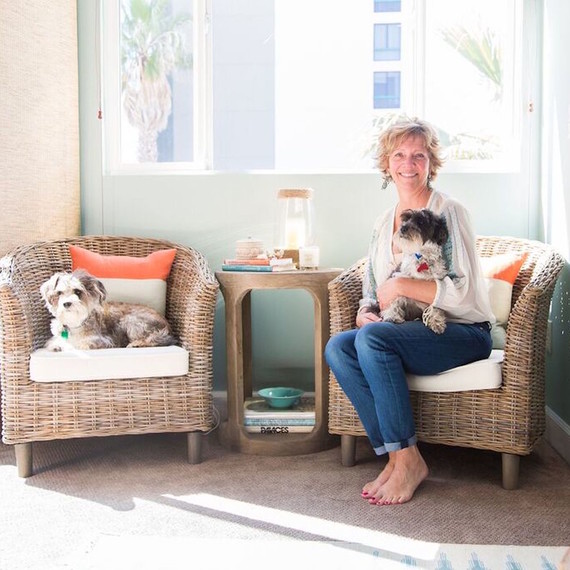 Driftwood elements and rattan finishes help to carry out the coastal essence of the space. Maria also utilized coral-colored accents and art reflecting beach culture, as well as tailoring the space to Lisa's lifestyle with durable animal-friendly fabrics for her dogs.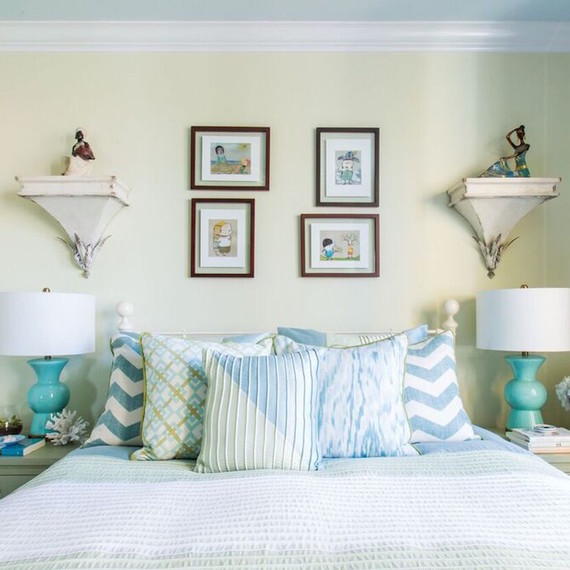 In the bedroom, Maria called attention to Lisa's love of travel by curating a gallery wall of pieces collected around the world. She also added vintage shelving, which Lisa uses to highlight her favorite keepsakes and collectibles she has gathered over the years. "My bedroom is my sanctuary," she remarks, gesturing to the coastal colors and playful pieces around the space.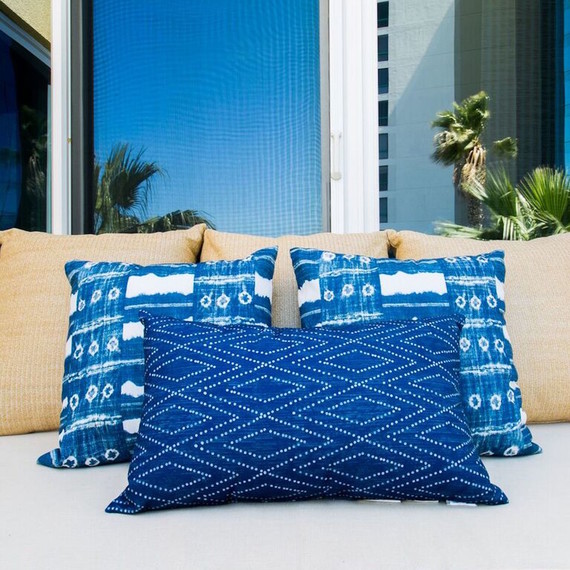 While Lisa loves her new bedroom, as a beach girl, her favorite place will always be the outdoors. Her balcony marries the serene atmosphere of her new community with the bohemian aesthetic of Venice. Shibori-dyed pillows, succulents, and wood finishes in this beach decor reflect her free-spirited personality while an outward-facing bench anchors the space. It has become Lisa's "favorite spot to meditate or cuddle with the dogs while reading a good book."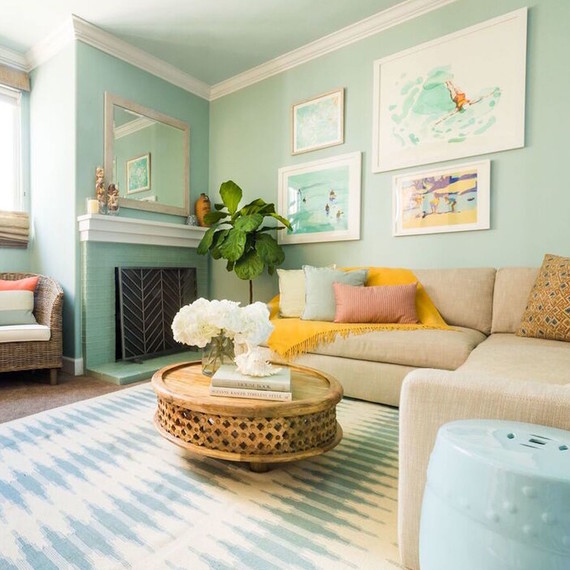 Lisa's favorite parts of her old home seamlessly carry over to her new space.
"I loved the openness of my place in Venice -- the entire great room was covered with windows and skylights that let in amazing light and brought nature into my world at all times," she says. "While my living space is quite different now, I still have that same connection to nature through natural light and the great views of the ocean from my living room and balcony."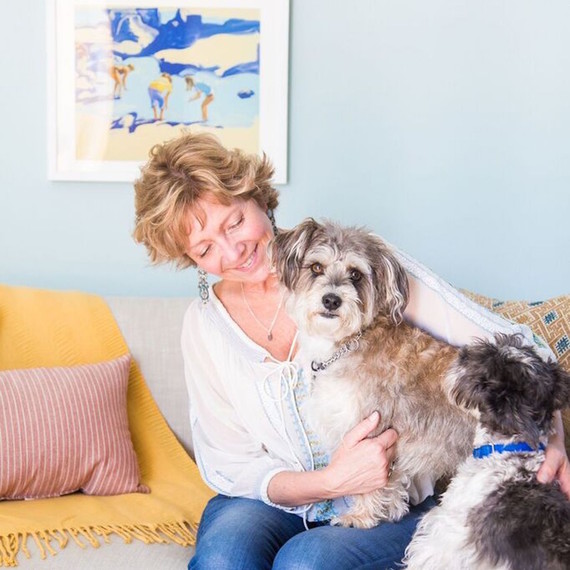 By taking the best parts of her past and bringing them into her present, Maria helped to create a soulful space that truly reflects Lisa's lifestyle. "It's my perfect environment, and I still can't believe I live here," she says. Having closed a wonderful chapter of her life, Lisa is overjoyed to start a new one in her perfect beachside paradise.