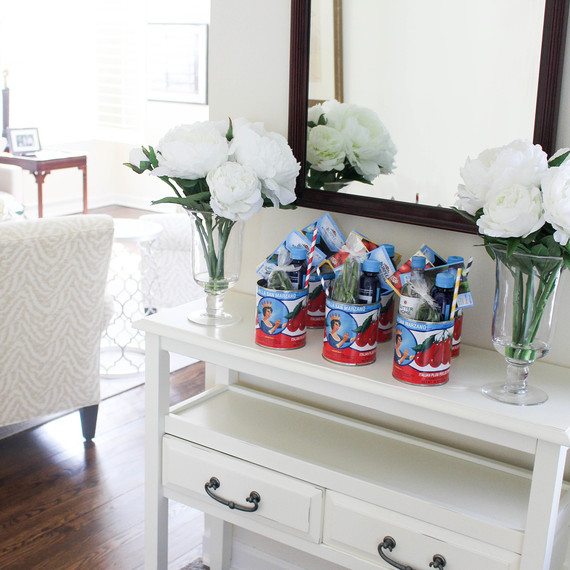 Prior to hosting my gardener party, I purchased some great books to place on the coffee table including "Martha Entertaining: A Year of Celebrations," and "Martha Stewart's Gardening: Month by Month."
My "garden fresh" theme started with the obvious: the food. I whipped up a few simple tea sandwiches and a great snack (like sage popcorn). To complete the menu, I prepared the mixers needed for herb-infused cocktails. This way, you can eat, browse through your selected gardening books or magazines, and be sure to have plenty of sticky notes to flag ideas you love. This inspiration got me thinking of DIY solutions to my many garden projects and ways I could get started, no matter my budget. One of the best things I learned about during my party is this garden rolodex, it got me even more excited to plant!
60 Great Ideas for the Garden
One thing that makes the perfect party for me are the party favors. I think it is a lovely touch, especially on this occasion when I've asked the gals over to help me come up with gardening ideas. To thank them for their time and their lovely company, I made these little garden-inspired favors, displayed in repurposed tomato cans. They are easy to make, affordable, and pretty darn adorable!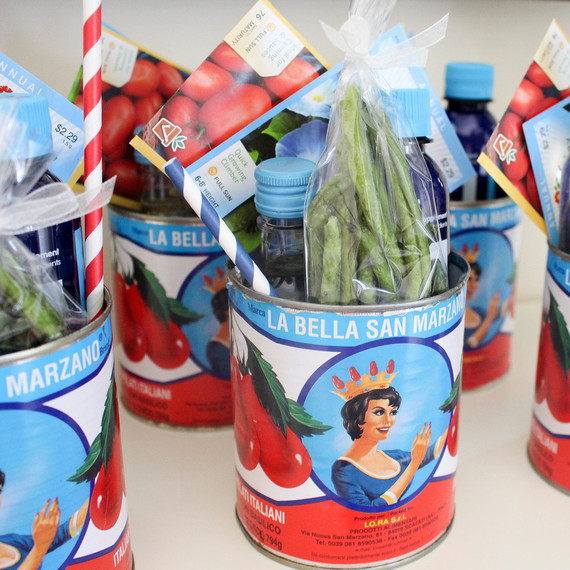 To make these party favors, you will need quite a few cans of tomatoes. You can start saving them ahead of time or purchase them intentionally for the party. If you purchase them new, use the tomatoes to prepare a platter of tomato tartlets for serving to your guests. Tomatoes are so good for you too, so it's a win-win. Wash out the cans and do your best not to get the sides too wet. Let the cans dry and then fill them with goodies.
What kind of goodies? I gave my friends a small glass of wine for later, some dehydrated bean crisps for a healthy snack, and I tossed in a few seed packets for them to plant at home in their own gardens. After my parties (even a tame daytime garden one), I like giving my guests a bottle of Resqwater, which is a natural beverage for proactive recovery. They'll leave feeling even better than when they arrived and ready for whatever tomorrow brings.
These favors can be created for any bridal shower, brunch, or birthday. The garden theme is versatile for spring entertaining and encompasses the excitement of the changing seasons!