While spring has just sprung on the east coast, the team at Dot & Bo can't help but have cabin fever all year long. However, we know that it can be tricky decorating a cabin without making it feel kitschy and dated. Luckily, with some good decision making and some wickedly stylish furniture, any log cabin can feel like an elegant getaway.

We recently had the opportunity to chat with design extraordinaire Scott Corridan of Scott Corridan Design and got some insider advice on what it takes to keep your cabin feeling fresh. Read on for his top tips for creating a modern mountain home!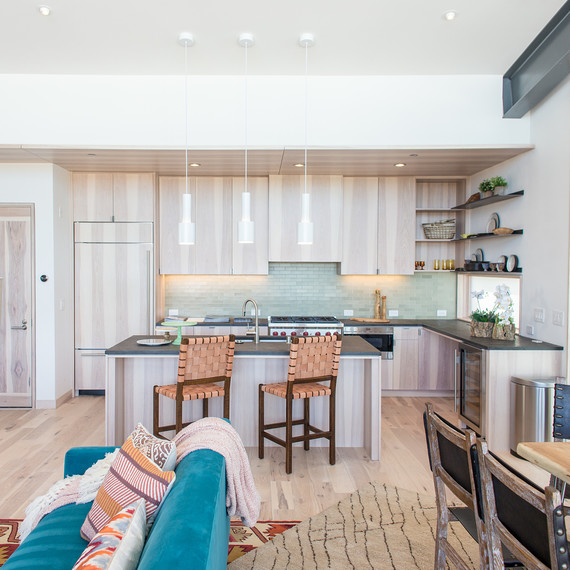 Use earth tones when laying a foundation for your interior decoration.
Keep the natural world in mind when painting your walls and picking out tiles and countertops. Try to stick to neutral earth tones that are easy to pair with both modern and rustic themes, including seasonal decorations. In particular, Corridan loves sage, charcoal, and cream, all of which are subtle and timeless enough to pair with a variety of interior styles.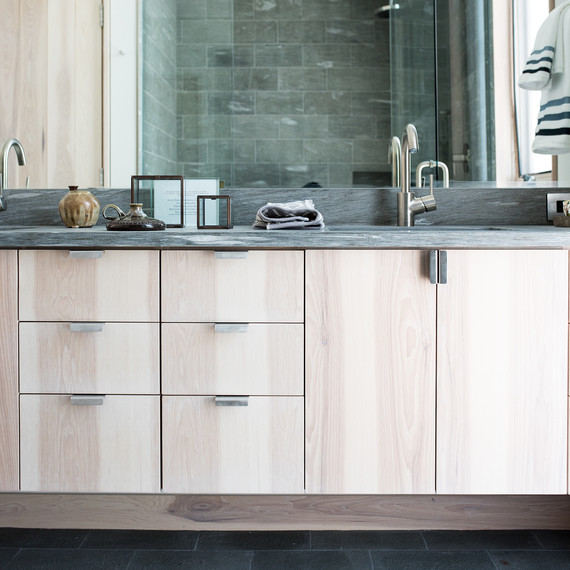 Use slick wood rather than unfinished planks.
Using finished wood and playing up clean edges can help to make modern appliances and decorations fit more naturally into your log cabin. Or, if you do decide to use reclaimed wood, try to pair it with sleek metals and minimalist stone tiles that will keep the wood walls and/or floors from feeling too cabin-y.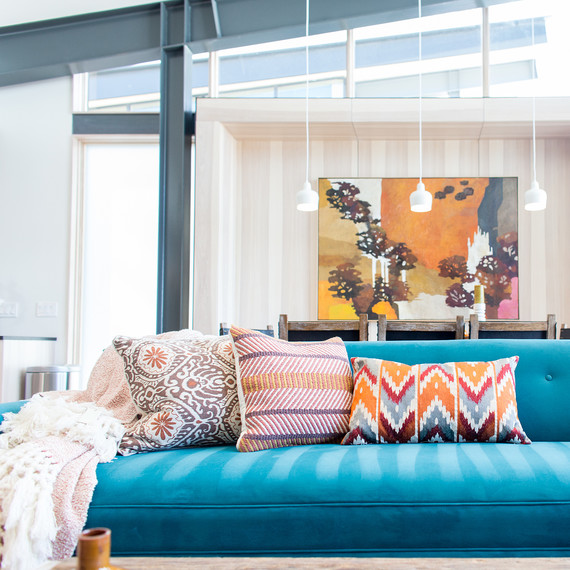 Add splashes of modern color throughout your cabin.
Who says a cabin absolutely has to be decked out in plaid? Instead of playing up the woodsy vibe, incorporate contemporary accents to your cabin with the addition of gorgeous pieces of furniture in bright, urban colors and accent items like playful throw pillows and funky lamps. Don't be afraid to draw inspiration from pop art and culture. Corridan recommends picking a particular art movement you love, like those of the 60's or 70's, and incorporating those colors and shapes into your interior design choices. It's your cabin after all!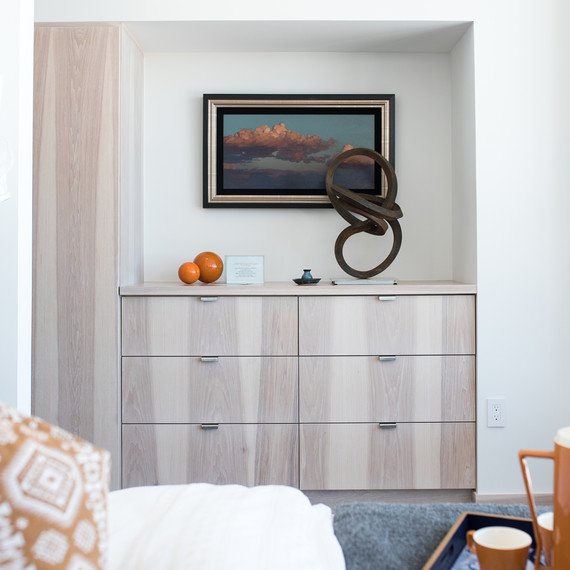 Keep your space clutter-free.
A cluttered cabin makes for a kitschy cabin. Rather than filling your mountain home with fish and moose knickknacks, try to keep as little on your surfaces as possible. Doing so will help to make your cabin feel brighter and a little less den-like.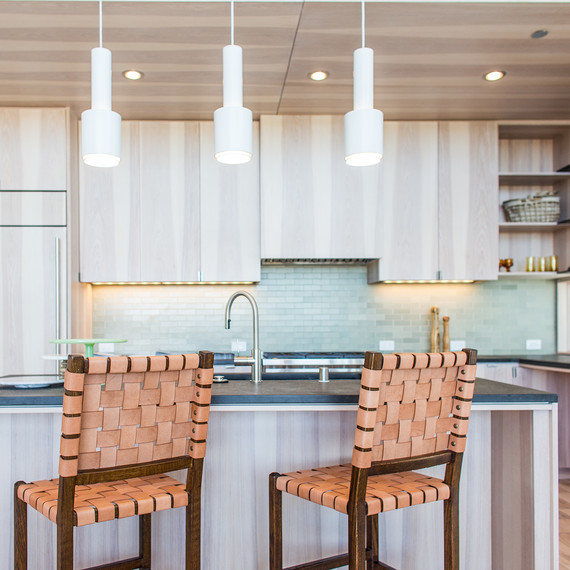 Fill your kitchen with stylish modern amenities.
Just because you're surrounded by woods doesn't mean you need to eat like you're on the trail. If you can, splurge on top-of-the-line steel appliances and modern, clean-lined light fixtures to create an industrial chic look that's not often found in cabins, but that pairs well with wood floors and exposed beams.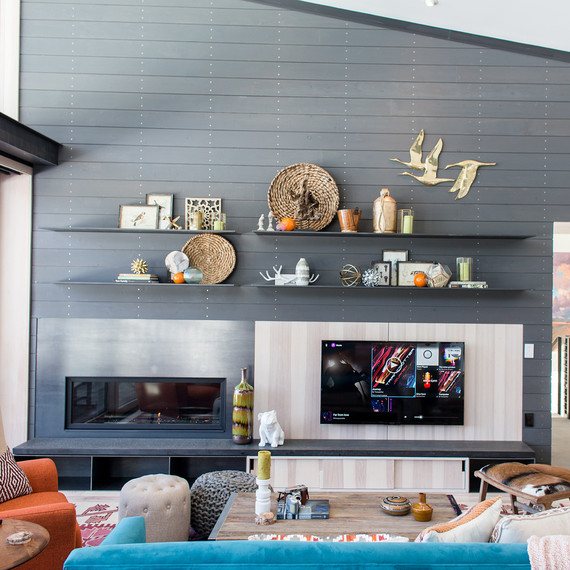 Install a sleek fireplace.
A gas-burning fireplace encased in metal can help to move your cabin in a more modern direction. That way, you can keep your mountain home cozy without falling into the more common cabin cliches.
Unable to install a brand-new fireplace? Consider incorporating a portable fireplace with contemporary styling to your space. The look will be up-to-date while still providing that signature cozy feeling associated with traditional cabins.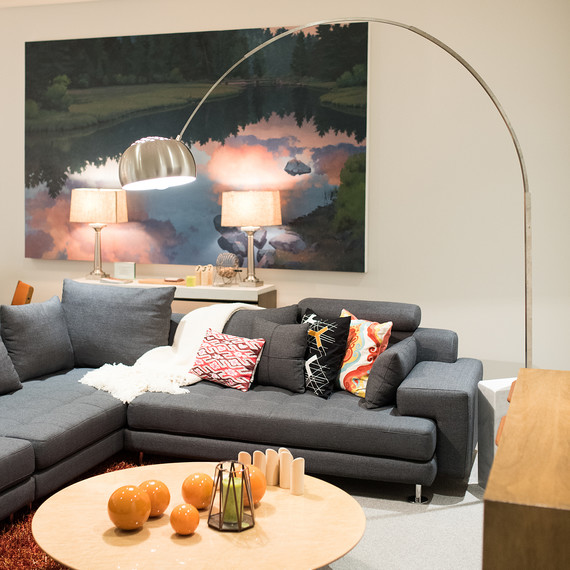 Add urban fixtures to your woodsy home.
Pick out large, statement-making floor lamps in subtle metals to add a contemporary touch to your space. Corridan loves adding modern touches that you wouldn't normally find in mountain homes, like cutting-edge media room gadgets and dramatic floor to ceiling windows in a master suite.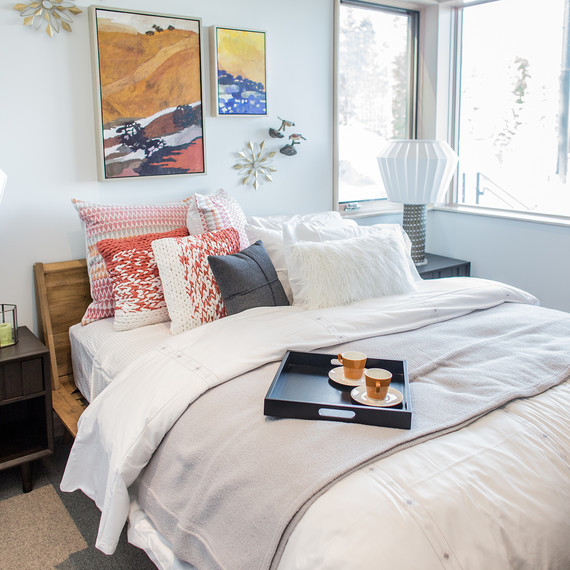 Refresh your cabin's look with the seasons.
Keeping up with the changes in the outside world can help to keep your mountain home feeling fresh. Corridan suggests breaking out the woolen and fur pillows and throws in October when temperatures start dropping. When spring comes, trade out the heavier fabrics for cotton pillows and chenille accessories. Candles, like this rosemary and lavender scented option, and other small but impactful decorations can also be swapped out during each season to bring new energy into your space.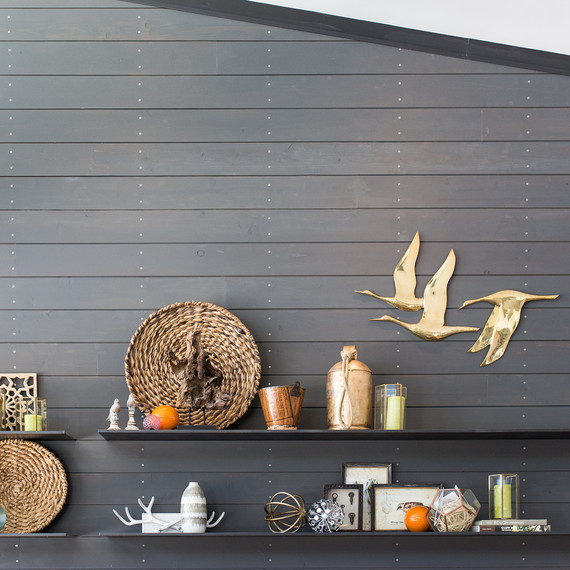 Add a fun twist to traditional cabin decorations.
Rather than decking your cabin out in classic taxidermy and antler motif decor, take a more modern (and animal-friendly) approach by hanging stylish ceramic animal heads in your hallway, or placing metallic bird figurines on different surfaces. The metal adds an urban feel to the space, while ceramic wall hangings in crisp white add a splash of modernity.
Do you have any design tips to keep your mountain-based abode feeling modern? Let us know in the comments!