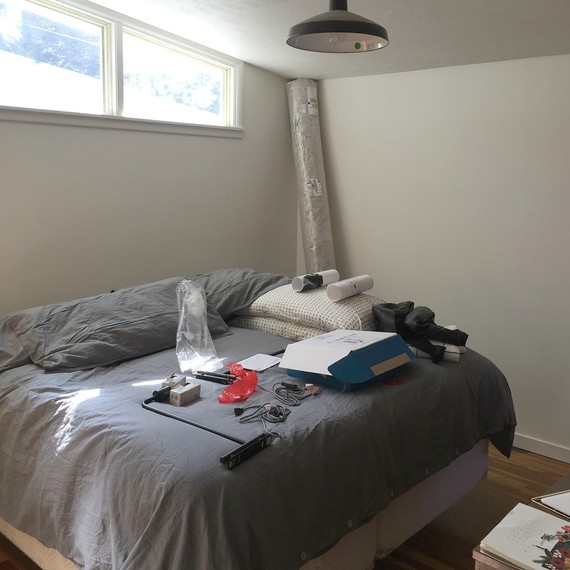 Before
There is a lesson to be learned with this mid-century bedroom makeover. For so many of us, our bedrooms come last on the home to-do list. We would much rather put our money into the kitchen or the living space, not realizing that our bedroom is as important as the main living areas. When you lay your head on your pillow at night, are you quickly falling asleep? Or can it be a fight to get some shut eye? Having a hard time sleeping can be a result of a chaotic, messy bedroom that doesn't allow any peace of mind. My client felt that way about her bedroom. She wanted to create a room that is peaceful and enjoyable. So, we acted fast and designed a modern, clean space with some added patterns and textures.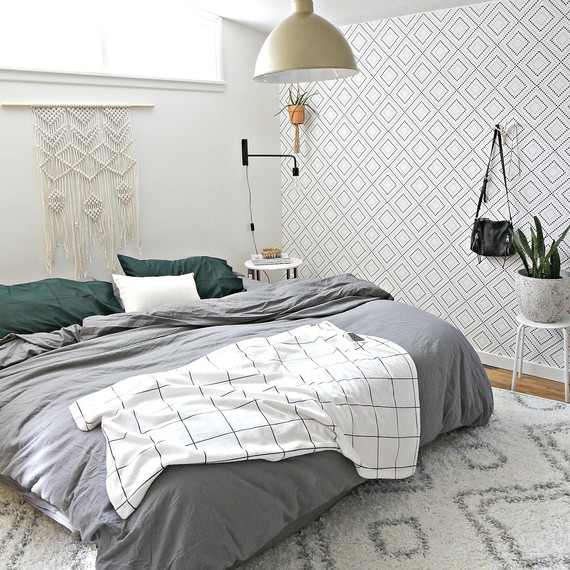 After
This bedroom resides in a beautiful mid-century home with lots of natural light. I wanted to keep it airy and bright, so we kept the walls white and then added a neutral wallpaper from Walls Need Love, for some needed pattern in the room. Instead of a headboard, we opted for a large Macrame piece from designer Monica Galvan of Alethia Designs. And to cozy the space up, we chose a large, plush rug with Moroccan flair. The bedding is all around neutral but I wanted to add a pop of the stylish and trending deep green color, so I chose Flanuer's Botanical Green.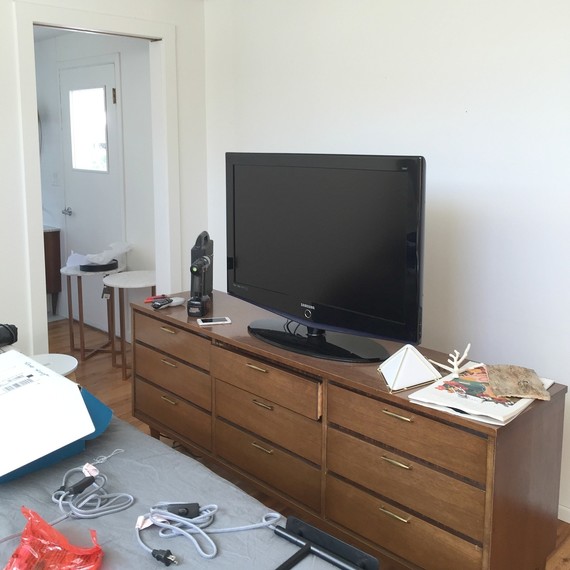 Before
It was important for the owners to keep their TV in their room. With kids in the house, sometimes you just want to sneak away to your own space for some needed alone time. I wanted the TV to disappear, so I created a gallery wall surrounding the TV.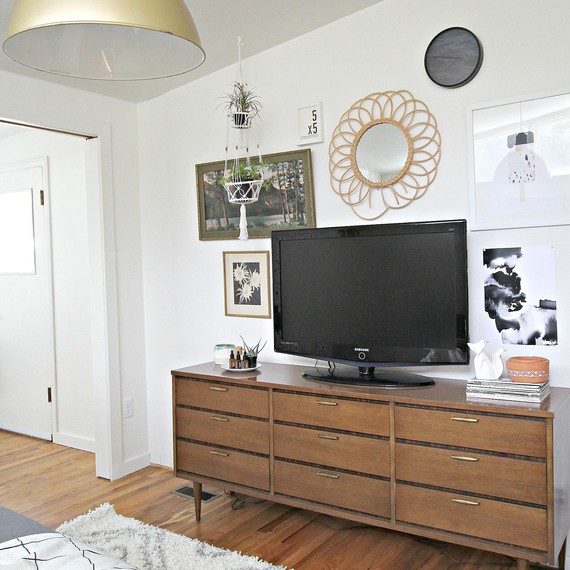 After
I created an eclectic gallery, using vintage art, new prints, a mirror, a clock and a macrame plant holder. You don't always have to stick to just art for a gallery wall. Mix it up for a fun, out-of-the-box look. This created a beautiful juxtaposition for this modern bedroom makeover.
Because the wallpaper is awesome on it's own, I chose not to hang any art on that wall. Instead I displayed one of the owners awesome bags, as well as a simple necklace. And of course I added a plant, because plants make everything better!