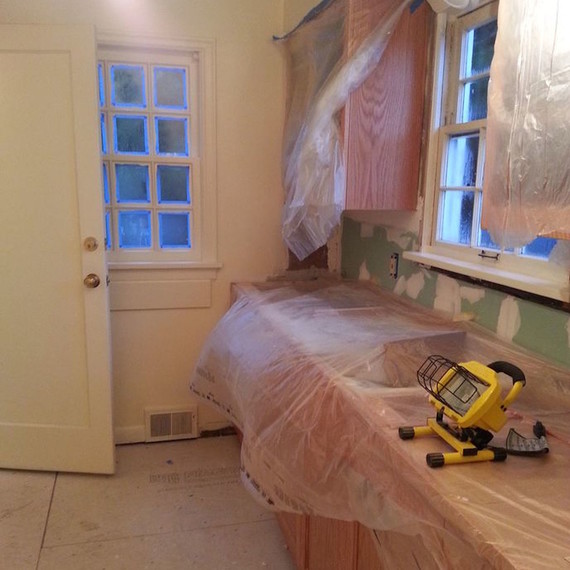 First, Find Out How long Your kitchen Will Be Unusable
If you are starting a major kitchen remodel then it is fairly likely that your kitchen will be torn apart and unusable for a variable length of time. How long will you be without a functional kitchen depends greatly upon the scope of the project and the estimated completion time. Simply replacing old appliances with new ones is quite different from installing custom cabinetry or expanding the kitchen square footage. It's important that before the project begins, you and your contractor discuss the details of the project and the time frame. You should be aware of when the water and gas will be turned off, when the old appliances will be removed, when the room might be closed off during tear-down, and when the pieces will start moving back in.
Since there are so many details involved in a kitchen remodel, having an organized timetable or work schedule will help set appropriate expectations. For example, just because the new oven or stove has been moved into place doesn't mean that the electrical or gas connections have occurred; it could be another several days (or much longer) before it's functional. It's not uncommon that some new kitchens are considered off-limits until all the parts and pieces are connected, inspected and dry. Having a weekly check-in with your project manager or contractor will help you understand how the project is going and give you a realistic time frame for completion.
Will it Change Your Eating Habits?
Most homeowners find that when their kitchen disappears, their eating habits change too, and not necessarily for the better. Even with the best intentions you may find that you simply can't cook the way you'd like to in a tiny or temporary kitchen. You may find yourself eating out more frequently or getting take out. It's important that you discuss this with your family and understand any cost implications, as eating out for every meal will definitely impact your budget. You may want to have some no-cook recipes on hand, use your outdoor grill more often, or you may want to see if any of your friends would welcome you over to do some cooking for them (and you!).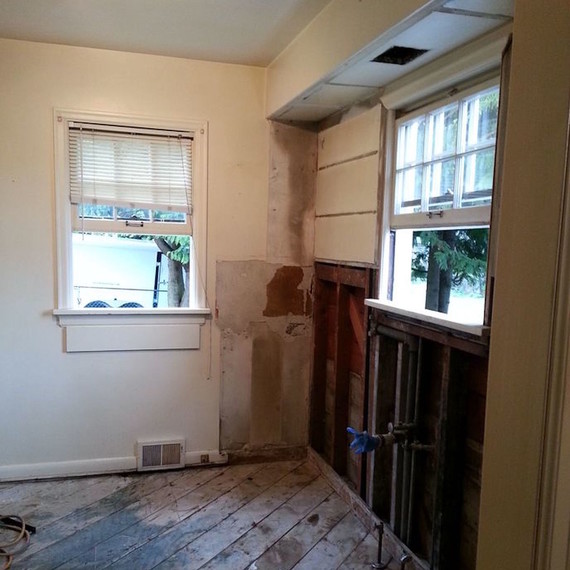 How to Set Up a Temporary Kitchen
Your temporary kitchen should be in a location with access to running water (like a bathroom), electricity, and lighting. In fact, one of the most important considerations for your temporary kitchen is how to keep your food storage and preparation safe and your kitchen tools hygienic even if your space happens to be the laundry room, garage or living room. Being able to cook food properly, and being able to wash hands and dishes is important. If washing dishes or tools won't be possible, consider purchasing biodegradable plates and cutlery. Keep in mind that the cleaning area of your temporary kitchen may need to be in a separate room from the temporary cooking or food prep area. For example, you may use your bathroom for cleaning dishes or washing produce while a corner of another room, like the living room, is used for heating up food or eating.
How you set up your temporary kitchen, and what appliances you need, may depend upon what you and your family require for meals or making lunches. If you and your family still plan on eating most meals at home during the remodel you'll most likely need several small appliances that can perform multiple tasks. An automatic tea kettle can prepare hot water for tea or coffee but can also help boil water for other foods. A toaster oven works for breakfast toast but also makes mini pizzas or quesadillas. Here are some appliances and supplies to consider:
a device for heating food (a hot plate, toaster oven or microwave)
drinkable water
coffee pot or automatic tea kettle for heating water
small table or flat surface for food preparation and storage
small refrigerator and/or freezer
small plastic bucket for dish washing
mini food prep area (chopping board, cutting tools, etc)
How to Make Your Temporary Kitchen Safe
Temporary kitchens have several safety concerns you should be aware of. First and foremost, purchase a fire extinguisher for this space and make sure everyone knows how to use it. Although you may not have a grease fire to contend with, fire can easily occur in toaster ovens, microwaves and toasters. Check the batteries of your smoke detectors as well (detectors should be replaced after 10 years) and make sure it's located in the appropriate rooms. When it comes to electrical safety, make sure you have your small appliances plugged into a surge protector in case of an accidental overload. Your temporary kitchen may not have ground-fault circuit interrupter outlets (otherwise known as a GFCI outlet). These are required outlets located near water sources and help protect you from electrocution; they may not be present in your temporary kitchen. Be safe and do not plug any appliance, even a small one, near water. Lastly, this temporary kitchen may not have drawers or tall cabinets to prevent children from grabbing or reaching for dangerous and sharp objects. You'll need to take extra care to place dangerous kitchen tools safely out of their reach; which may mean placing these objects in another room.
Keep Your Temporary Kitchen Clean
Kitchens are appropriately designed for making messes, but your temporary kitchen may be set up in a room that isn't designed for grease or water spills. Wall-to-wall carpeting, for example, isn't conducive to cooking, and you may find it helpful to lay down a temporary throw rug to protect the surface. Oil cloth or canvas drop cloths can be great for protecting other surfaces as well. A rolling cart or free-standing shelving can help keep this temporary kitchen organized and keep messes from piling up on the floor. You may find that most of your kitchenware like baking supplies, tools, equipment, dishware or other equipment needs to be stored during the renovation process. To keep your temporary set-up organized, only set out what you absolutely need on a daily basis and use clear plastic boxes with lids to stack and store pantry items so you can easily see what you have without needing to take everything out.
Other Tips For Surviving a Kitchen Renovation
According to Remodeling Magazine, the national average major kitchen remodel costs about $60,000 for a 200-square foot kitchen. Considering this great expense and investment your kitchen remodel should be thought out and planned carefully. Fortunately, many of the appliances, fixtures and features in the kitchen are designed to last a long time. Cabinets, for example, can last upwards of 50 years, the refrigerator should last about 13 years, and wood flooring can last 100 years or more! If you are considering a kitchen remodel, be sure you find the right professional who not only will help you realize the style you want for your new kitchen, but can help keep your project on time and within budget. To see a typical cost breakdown of a kitchen remodel read this article here.