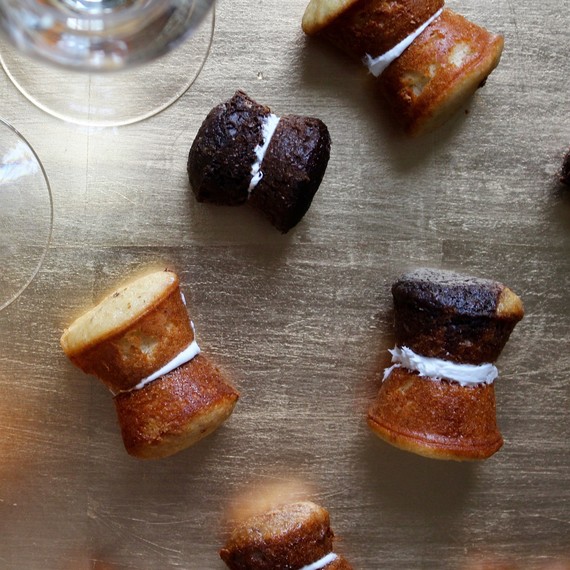 To me, champagne means celebration. Ok, so that's probably not the definition of a celebration but the unique bottle shape, weight, pressure popping noise, and overflowing foam to me says "it's party time!"
I love the first pour and watching the fizzling white bubbles race to the top, coming so close to spilling over the edge before they retreat. When a glass sits, it's not still, but instead, the tiny bubbles dance. It calls to mind the Jazz Age and "The Great Gatsby"; I picture Daisy Buchanan sipping something gold in color and slightly sweet as she twirled her pearls and flirted with Jay. And I also think of college game days. Not so elegant perhaps, but that's the thing about a celebration -- you make your own rules. Waking up earlier than usual on that Saturday, bundling up to tailgate, and pouring a bit of orange juice into a not-so-Great-Gatsby quality bubbly,  is just as exciting. That winning goal is just as worthy of a popped cork as is a wedding. This is proof there is always reason to celebrate -- no matter the occasion -- and we should do so more often.
Recently my fiance and I have saved a few important champagne corks. The first night in our new home, our engagement, his new job. Whatever the occasion may be, and no matter how big or small, corks are perfect reminders of these moments. Now more than ever, when I see a cork it reminds me of the time that I have celebrated or savored a moment in the past -- a best friend's birthday, a special New Year's Eve, a sibling's graduation, a new baby, heck -- a Friday night! I thought it would be fun to create corks for a party that were edible. When my guests arrived they could see these adorable cupcake corks and be reminded of their own celebrations with family and friends, their own reasons to smile no matter how small.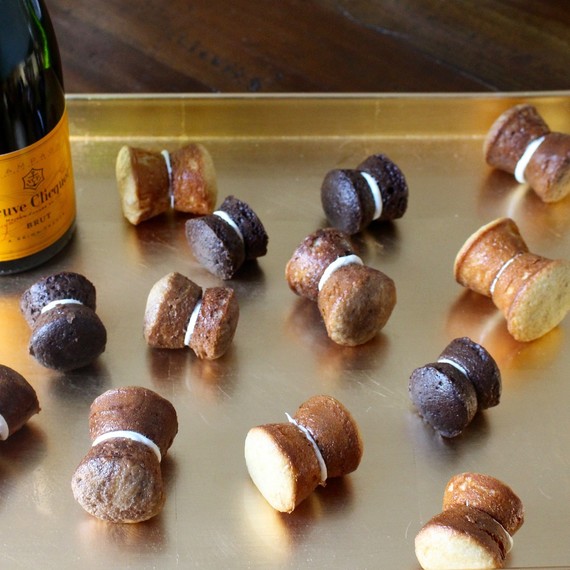 All you need for this project is a mini muffin pan. The champagne corks may look large in the image, but they are one or two bite-sized, the perfect pop-in-your-mouth dessert. Whip up your favorite cupcake batter and bake off the little sweets. I made these with chocolate and banana, and "glued" the two mini cupcakes together with my favorite basic buttercream.
Step One: Bake your mini cupcakes and allow to cool.
Step Two: Seal together (the bottom side of the cupcake) with your buttercream by placing a small amount on one cupcake and pressing the second cupcake on top.
Step Three: Let the buttercream sit for at least ten minutes, and serve, with champagne of course!
Note: Buttercream will start to melt at room temperature, so these are best stored in the fridge until 10 minutes before you are ready to celebrate and serve. 
Make Ahead: The mini champagne corks can be made ahead of time. Store them in an airtight bag for a few days.