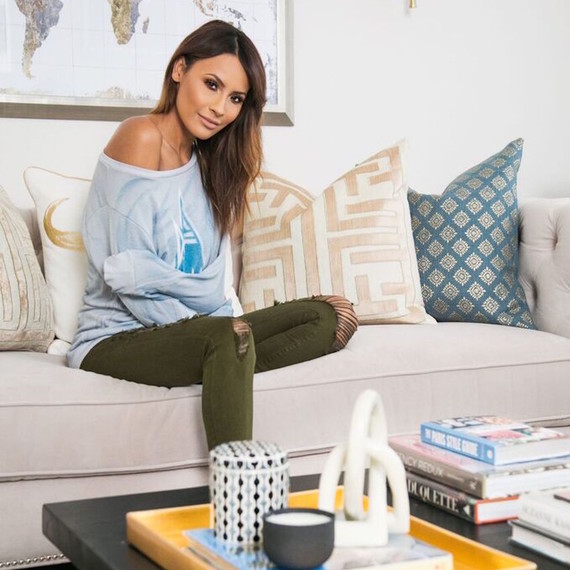 With playful humor and a down-to-earth attitude, Desi gives her viewers a peek into her glamorous world through her wide-ranging knowledge of beauty techniques, trends, and products. While there are many others on YouTube who have hopped on the makeup tutorial train, few have reached the same level of success.
Titled "Queen Desi" by her group of loyal social media fans, she has been named a YouTube guru and has even received an award for having such an expansive list of subscribers. With the growth of her following in mind, Desi felt it was time to create a home office with dual functions -- a space where she can keep her lively career organized, host meetings, relax, and record her videos.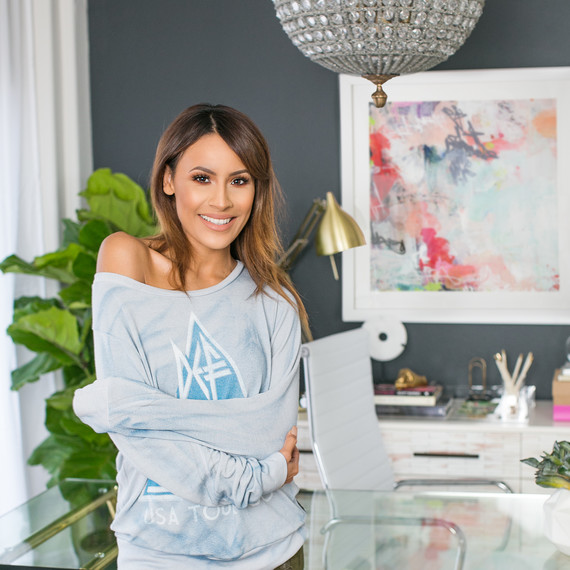 Desi originally imagined her dream office as a cross between industrial and glam style, but when she began working with Laurel & Wolf designer DeAnna Mackensen, that vision was reworked in order to create a space truly representative of Desi's glamorous, relaxed personality.
"For Desi's home office makeover, we explored industrial glam through multiple style boards but it didn't seem to suit her after all," says DeAnna on the collaboration process. "I started watching her videos and could see her playful personality, her dedication to the beauty industry, and her sense of fashion. All of these things influenced me to design a space that was fashionable, functional, and playful," says DeAnna.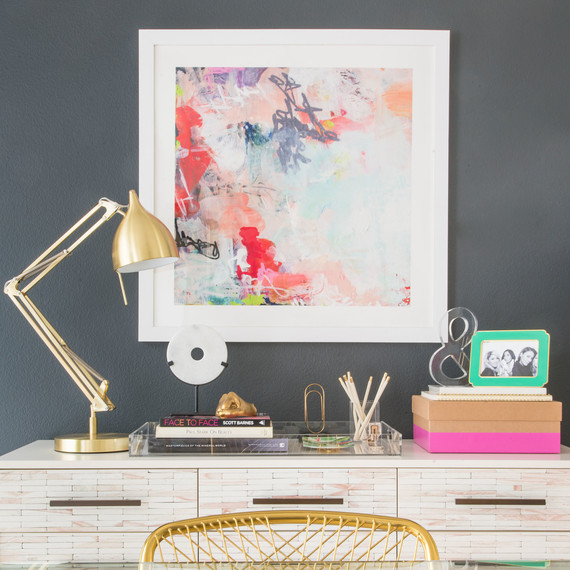 "I'm terrible at putting anything together, which is how I imagine some people might feel while watching my makeup tutorials, and that's how I felt with interior design," explains Desi. "Just having somebody who has all of these ideas was really exciting."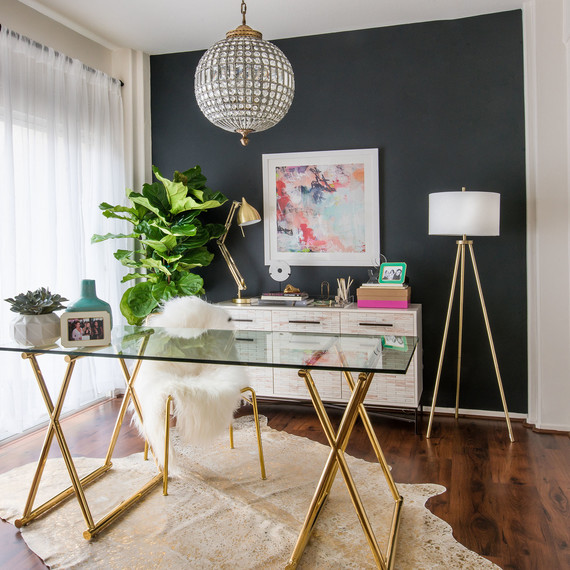 Using gold accents, luxe textures, and glossy finishes, DeAnna brought clean-lined, contemporary glamour to the office. To brighten up the space, a polished brass desk sits on top of a neutral cowhide rug while a black accent wall adds drama and depth to the room. "I always think of lighting as the jewelry of a space," explains DeAnna. To encompass Desi's glamorous lifestyle, DeAnna positioned a 19th-century Casbah chandelier above Desi's desk, which plays against the gleaming golds and vibrant accessories in the office. Touching the black wall is a wood-tiled sideboard that serves as both a storage unit for keeping beauty products organized and a countertop for office supplies.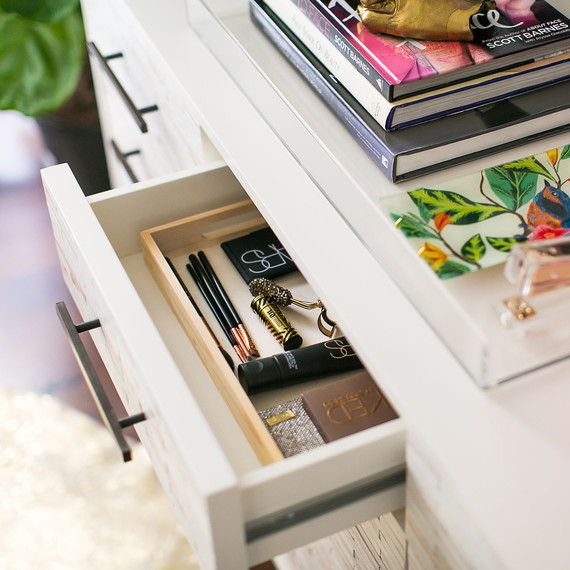 "Creative entrepreneurs can get a little crazy because we're always working from home," she says. Because of this, Desi felt having a dual space that functions as both a lounge and an office would help her strike a balance between business, fun, and relaxation. She explains that she often likes to lay down as she edits and the chic decor provides the perfect backdrop for her makeup tutorials as well as her Instagram photos.
There were a few essentials that Desi recognized when dreaming up her personal sanctuary. It was important for the space to be comfortable, personal, and highly functional. The existing architectural elements played a huge role in DeAnna's style choices. She used the fireplace to divide the office from the lounge area and transformed the space with a soft, pink studded couch, a pair of faux lamb fur stools, and a hair on hide chevron rug. It's become one of Desi's favorite places to relax, hold meetings with fellow vloggers, and even record videos.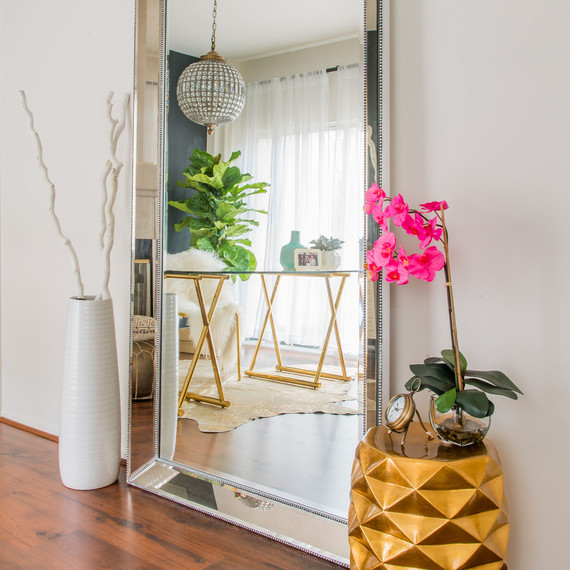 Because her job is creating beautiful content from the comfort of her home, it is important for Desi to have the ability to use several areas as the backdrop for her videos. The coffee table in the lounge area allows her to show off her beauty supplies while a metallic, framed mirror makes it possible for her to touch up her clothing and makeup before filming in front of the fireplace.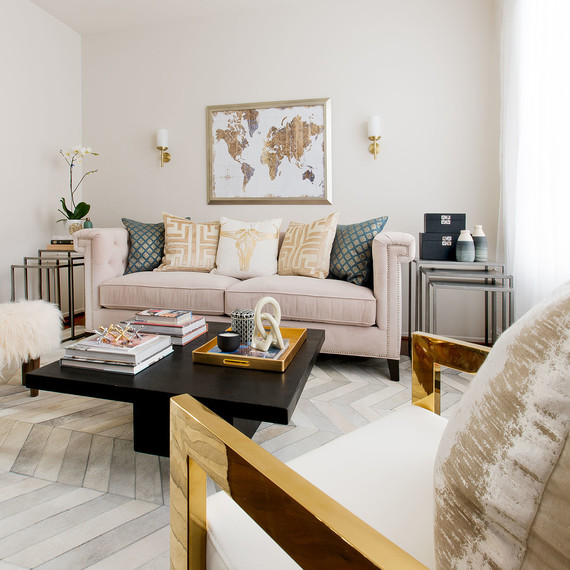 Desi's 24-Karat gold Youtube "Play Button" award is displayed on the wall above the fireplace as the focal point of the room. On the opposite wall is another relic of her achievements:
"The map of the world is a constant reminder of where her career accomplishments have taken her," explains DeAnna. "She has the world to conquer and she does it one video at a time."
Desi's fashionable new office perfectly captures her friendly spirit and cultivated sense of style. Inspiring her to work hard every day, the space is a foray into a new chapter of her career that helps further her commitment to sharing beauty advice, and welcomes her audience to become an even larger part of her glamorous life.
Want to see more? Watch her video interview, here!